Canales Museum in Jayuya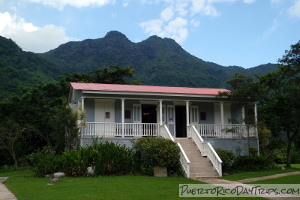 Jayuya is a nice little town in the middle of the La Cordillera Central mountain range. It is remote, green and lovely. As noted in previous articles the Jayuya area is rich in archaeological history. But, it is also rich in more recent history.
On same property as the Cemi Museum is the Museo Casa Canales. It was at this house where a short, but proud, freedom uprising took place in 1950. Today, it is an interesting museum that depicts the Canales family life, work and political beliefs.
The Story
Since the acquisition of Puerto Rico by the United States, there have always been people who believe that Puerto Rico should be an independent nation. These people are referred to as Nationalists or Independentistas.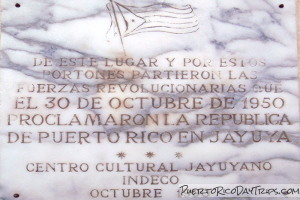 Blanca Canales was one of these people. She, along with a group of other people from Jayuya and neighboring towns, would hold meetings in her basement in Jayuya, discussing independence and developing a plan for a revolution.
Finallay, on October 30th, 1950, she and her group proclaimed Puerto Rico to be independent and renamed as The Republic of Puerto Rico (La Republica de Puerto Rico, in Spanish). Simultaneous revolutions occurred in other towns around the island.
The stand-off in this little house lasted 3 days, until the US National Guard was called in and the revolutionaries were arrested.
The House
Though the original house, built in the late 1800s, was destroyed by deterioration and hurricanes, the house was recreated as it was. Some of the family's original furniture and items are on display. Originally, the house had one large open room in the middle and four small rooms off to the sides. As the family grew, other rooms were added on.
In this recreation, each room has been set up with different displays of family members. The father, Rosario Canales, was the founder and first mayor of Jayuya. He had 10 children — among them Blanca. Two of her brothers were also notable historic figures. One, Nemesio Canales, was a writer and newspaper publisher. Another brother, Mario, was also the town mayor and was a member of the house of representatives for almost 20 years. Many of their writings and memorabilia are contained in one room set up like an office.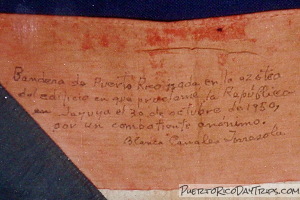 Another room has information about the town of Jayuya, with artifacts from indigenous people and other things. One room is set up like a typical bedroom from the time period — very simple. There are additional rooms in the house that really depict Puerto Rican family life of that era (between 1920-1950) — a nice dining room, a small kitchen and a bathroom. The independentista meetings were held in the basement of the house.
My favorite room has all sorts of memorabilia from the revolution. I thought this was fantastic — it had the original flag, on which they wrote their Declaration of Independence, photographs and more. The most interesting this was the contents of the pocketbook that Blanca Canales had when she was arrested. It was almost so ordinary. It contained receipts, her Social Worker registration card, family photos, a gun and a change purse with extra bullets!
Important Details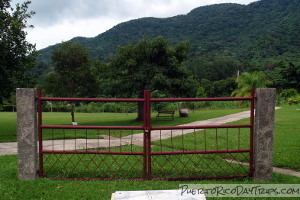 Unfortunately, the tour and information in the house is in Spanish. English-only tourists may not get the most out of this museum, but for the price it is a nice example of basic architecture of the period. But hopefully, on the day you go there will be a bi-lingual guide.
Admission is $2 for adults and $1 for kids. which gets you into both The Cemi Museum and this house.
The museum is open 7 days/week from 10am – 3:30pm (3pm on weekends) (closed for lunch 12:00-1p) (no admission after 2pm).
Allow 30 minutes to 1 hour at this museum.
You can call 939-268-1910 or 787-304-1976 ext. 2502 for more information.
Driving directions: From Route 149 in Jayuya, turn left on Route 144 and take it to KM 9.3 (or so). You will see the Cemi Museum. The Canales Museum is accessed through the same parking lot.
Click on a placename below to view the location on Google Maps ...
PuertoRicoDayTrips.com assumes no responsibility regarding your safety when participating in the activities described in this article. Please use common sense! If your mother or that little voice in your head tells you that you are about to do something stupid … then don't do it!