Discover Petroglyphs on Piedra Escrita in Jayuya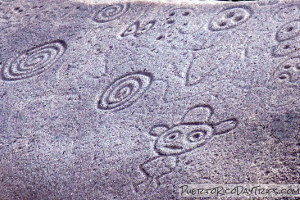 Puerto Rico has a long history of Indian cultures that lived here many hundreds to thousands of years ago. The most recent Indian culture, the Tainos, were really into making drawings or carvings (called petroglyphs) on rocks near rivers or in caves.
Coming across this evidence of indigenous people is always something that I find very cool. I really like seeing the petroglyphs, wondering what messages the people were trying to leave, and for whom or what those messages where intended.
Piedra Escrita Recreation Area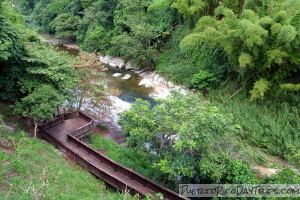 The town of Jayuya has a nice example of a written rock (piedra escrita, in Spanish) that contains many different Taino petroglyphs. The town has even created a recreation area (La Area Recreativa La Piedra Escrita, in Spanish) with a beautiful wooden walkway down to the river and rock so that everyone can appreciate this artifact.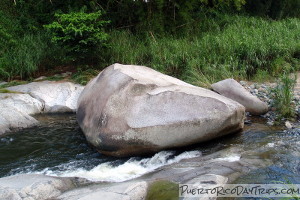 The petroglyphs are carved into a large rock in the middle of Río Saliente in Jayuya. Most of the drawings are on the top and on the river-side of the rock. There are all kinds of different shapes — many spirals, some faces and other beings.
There is a river where people swim and play in the water near this Piedra Escrita. Supposedly, there is another smaller rock with petroglyphs (La Piedra Taino) in the river about 1KM upstream. We found this trek upstream to be difficult — it is a large, fast-flowing river and it was deep in spots, too. Of course, this other rock is not marked, and we couldn't find it. If anyone knows specific information about it's location (GPS coordinates would be helpful), please leave us a note in the comments section below.
Preserving History?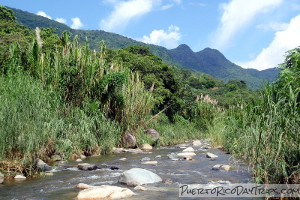 One thing that I find odd, and will never understand, is how no one is trying to preserve this historical treasure. People are allowed to climb, play on, and even picnic on this rock. The promotional video for the town of Jayuya shows kids jumping off of it into the river! I really hope they try to limit this activity in the future, so the petroglyphs remain intact for future generations to enjoy.
There are many sites with petroglyphs and other evidence of the Taino culture across the island. If you enjoy this type of stuff, you might also want to check out La Cueva del Indio in Arecibo, La Cueva del Indio in Las Piedras or the Cemi Musuem in Jayuya. Additional things to do nearby in this area include the Cemi Museum, Canales House and the Dona Juana waterfall.
Details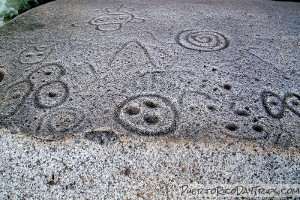 There is no fee to view these petroglyphs.
The recreation area is open during daylight hours.
Expect to spend about 30 minutes at this site.
You can contact Jayuya tourism office at 787-828-1241 for more information.
You can visit the Jayuya tourism web site for more information.
There is a restaurant (with restrooms) right next to the recreation area, but they're not open every day.
The boardwalk and ramp that leads down to the river is wheelchair friendly, but it will be a big push back up to the parking area!
Piedra Escrita is accessible from Route 144 (between KM 7.7 and KM 8 ) in Jayuya. There is a good-sized parking lot right next to the ramp that leads to the river.
Click on a placename below to view the location on Google Maps ...
PuertoRicoDayTrips.com assumes no responsibility regarding your safety when participating in the activities described in this article. Please use common sense! If your mother or that little voice in your head tells you that you are about to do something stupid … then don't do it!