Dona Juana Waterfall – Easy & Beautiful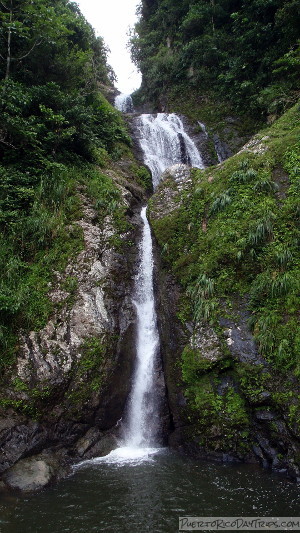 Waterfalls are fascinating — they are beautiful, powerful and natural. With a mountain range (the Cordillera Central) that runs through the middle of the Puerto Rico, we get a lot of rain that falls on those peaks, resulting in a number of waterfalls across the island. Many of them require hiking in forests and wading rivers to get to see them. But Dona Juana Waterfall is right along the road. How much easier can it get?
Dona Juana Waterfall it is a beauty! Called a number of different things by the locals (salto, charro or cascada), Dona Juana is probably the largest waterfall I have seen in Puerto Rico up to this point in time. If I had to guess, I'd say it is about 100 feet tall from the top. It's actually composed of a series of 3 waterfalls.
There is a pool at the bottom of the falls where people swim,but you have to climb down on either the right or left-hand side of the bridge. Water was pretty clean and clear.
Unfortunately, there was a some trash around from past visitors. I would expect these falls to be crowded on weekends and in the summer.
This waterfall makes a nice stop on the way to Jayuya to see the Taino sites or hiking in Toro Negro Forest.
How to Get There
The falls are located on Route 149 at KM 41.5, in Orocovis (near Villalba). On a Monday morning, it took us 1½ hours to drive from Rio Grande to Exit 91 (Juana Diaz) off of Route 52, then another 45 minutes (on twisting/turning roads) from the exit to get to Dona Juana Falls. There is parking on the right-hand side of the road just before falls.
Click on a placename below to view the location on Google Maps ...
PuertoRicoDayTrips.com assumes no responsibility regarding your safety when participating in the activities described in this article. Please use common sense! If your mother or that little voice in your head tells you that you are about to do something stupid … then don't do it!