Hiking in Toro Negro Forest
1/21 The Toro Negro Forest is OPEN! They are offering guided tours ( with previous reservation) . Camping area is maybe open, however getting a permit seems tricky. One of our readers said they camped their (there was water but no bathrooms) and they never saw a ranger to get permit. Others have said only the trail to the tower is usable. The others have high grass. We hear trails Doña Petra and Las Cuarentas are still closed. La Confessor trail is open but very slick.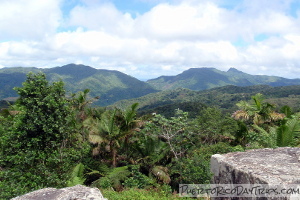 Almost everyone that visits Puerto Rico makes the trip to El Yunque National Forest to see some waterfalls, walk the verdant green trails and get some great views. But there are other forests in Puerto Rico, besides El Yunque, that offer all that.
We had hiked in the Toro Negro Forest a number of years ago. I remembered it was very nice and parts of the forest looked very much like El Yunque. So we decided to go back again recently to take notes and write about it for anyone who wants an alternative to hiking in El Yunque.
Overview
The Toro Negro Forest (Bosque Estatal de Toro Negro in Spanish) is located in the south/central part of the island. It actually is comprised of a number of different "forests" spread out across a few towns in the central mountain range (Central Cordillera). All together, it adds up to about 6945 acres of land. Within the various forest regions, there are some "points of interest" — the Doña Juana waterfall, the highest point on the island, camping facilities, hiking trails, rivers and charcos (natural swimming pools). You have the opportunity to see many species of trees, orchids, other plants, birds and animals.
Basics of Hiking in Toro Negro Forest
Though there are various forest regions in Toro Negro, all of the hiking trails are located in one area. That would be near the administration office / ranger station on Route 143 KM 32.4 in Villalba. The office is open Monday- Friday, and they will supply you with maps and other info about the forest and trees (all in Spanish). Note 8/14- One of our readers said no one is working here anymore- so print out this article and bring it with you as a map.
The map they give you is OK, but after hiking around and talking with one of the rangers, we found that their map includes trails that no longer exist. So, with the info we got from the ranger, and the data we got from our GPS unit we made a better map!
There are really only about 6.75 miles of trails all total, so with an early enough start, a little planning and the stamina, you can hike all of the trails in a day. We didn't hike on all of the trails — we only hiked about 4.9 miles the day we went. But there was still plenty of daylight left.
One weird thing about hiking here is that a number of the "trails" require you to walk along the road in order connect to another trail (to make a loop) or to get back to the parking area. These are small roads that have blind curves and, though they are infrequently-used, it was a bit unnerving.
In general, the trails are wide. Some trails are access/maintenance roads used by the staff, so those trail heads are blocked from vehicular traffic with a green gate. You are allowed to walk around the closed gate. There is an occasional sign along the trails, but don't expect to find a lot of direction along the way. This forest is not used much — only 2 other parties signed in at the office the day we went.
From the Office to the Observation Tower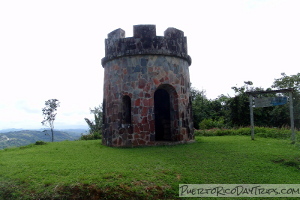 After stopping in the office, we packed our daypack with lunch and water, and off we went. We wanted to hike up to the observation tower, so we started off on El Bolo Trail. This trail head is across the street from the parking area (it starts out as the driveway for the forest maintenance area). This is a wide trail, that goes from forest to field and back to forest. It has lots of bananas and wild flowers along the way. It's pretty and well-maintained. It starts off with a steep uphill climb, but eventually flattens out. It was rocky at first but became an earthen/grassy trail.
Toward the top of the trail, it meets the paved road that goes to the right — we continued on the trail to the left. After that, this trail loops off to the left. You can take this trail all the way back down to Route 143, where you have to walk on the road about ¼-mile to get back to the parking area. Or, you can go farther uphill to the right and go on the Observation Tower Trail.
There is a sign that says El Torre for the trail to the Observation Tower. This trail was difficult — it was uphill and slippery … REALLY slippery. It is about 0.6 miles one way. It took us a while on both the uphill and downhill parts. The trail is made of rocks and, since these trails don't get much use, the rocks were covered in algae. We ended up walking in the muddy area on the side of the trail (which was also slippery, but a little less so).
But when we finally made it to the tower we found some really lovely 360° views. And a great breeze! The tower is about 3537 feet above sea level — so you can see for many miles! The distance from the office to the tower is about 2.14 miles.
The trail to the tower is a dead end, so we went back down the slippery trail until we got to El Bolo Trail. Then we back-tracked on El Bolo Trail until we got to the intersection with La Piscina Trail.
On La Piscina Trail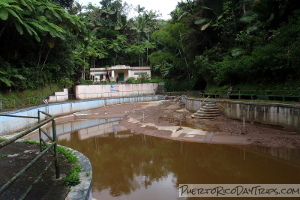 This trail is nice. From El Bolo Trail, it goes down hill through the forest for about 0.8 mile before ending on Road 143. The last part of it goes through 2 picnic areas (where we stopped and ate our picnic lunch) and you come to the river-fed "swimming pool" (La Piscina). This DRNA recreation area had an old river-water swimming pool. But when we visited, the swimming pool was in disrepair and closed. They have repaired it and were going to open it in 2016…But it never opened. Hopefully some time in 2019? If it does open, it will only be open during summer months.
Continuing down the trail a little past the swimming pool (just before the road), you will come to a small side path that leads down to the river where there is a pair of very pretty waterfalls and a small natural pool. Back on the main trail, you will end up on the road and must walk a little bit (about ¼ mile) on the road to the left to get back to the parking. It was here we had a 15-minute rain shower.
Camping Area & Charco La Confesora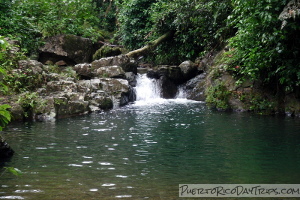 After coming out of La Piscina Trail, we walked along Road 143 until we got to the trail that leads down to the camping area and Charco La Confesora. The entrance to this trail is just 0.1 miles from the office parking lot.
This short trail (0.54 miles) goes down the paved road a bit into the camping/picnic area, then you cross over the river. From that point on, it is a bit muddy and there are some concrete steps in the steep area. But shortly you come to Charco La Confesora — with a small waterfall and a deep pool of lovely blue water. We didn't go swimming, but the water is as "refreshing" as these forest pools usually are.
Las Cuarentas & Doña Petra Trails
After leaving Charco La Confesora, we started going on the Doña Petra Trail (which is off of the Charco / Camping Trail), but decided to turn back, for multiple reasons: (a) it was really muddy, (b) it was getting late, and (c) we couldn't find a connecting trail that was drawn on the DRNA map that we picked up at the office that morning. As found out while talking to the ranger after the fact, the trail we couldn't find no longer exists! Needless to say, that trail is not on the map we made!
But, if you had more time after going to Charco La Confesora, you could take Las Cuarentas Trail (about 0.9 miles) up to Route 564, then walk along that road for about 0.6 miles until the green gate at the trail head to Doña Petra Trail and take that back down (about 0.4 miles) to the Charco / Camping Trail, making a nice loop.
Some Other Points of Interest in the Area
Cerro Punto, at 4390 feet, is the highest point in Puerto Rico. If you drive west on Route 149, you will eventually drive very close to Cerro Punto. You can identify it by the radio and communication towers on it.
Dona Juana Falls is just 4 minutes more on Route 149 North after the sign for the forest (and the turnoff for Route 143 East). It's right on Route 149 at KM 41.5. This is a really nice tall falls that we wrote about previously — don't miss it.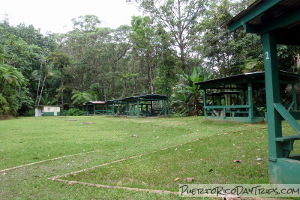 Camping is available in the Toro Negro Forest. There are 6 picnic shelters with covered BBQ, water at each site and a spot for a campfire. There are restrooms/showers….you might want to check that they are in working order before staying..
You need a permit for camping, which you can get at Toro Negro but you HAVE TO CALL 787-244-0768 or 787-612-1598 or for English- 787-210-1598 or 787-210-5618 for info and to reserve. The cost for camping is $4 per adult, and $2 per child under 12. Last I heard 12/2020, permits are hard to get, so people just camp and if a ranger shows up , ask them.
Waterfalls are all over this area. On the drive up Route 149 North, at KM 47.5, you will see 2 really tall ribbon waterfalls across the ravine. It's a quick photo opportunity, just be very careful about where you park on the narrow, winding road!
As of March 2021, they are offering guided tours of the forest but must reserve ahead of time. Ask for an English language tour if needed. Tours offered Tues- Sunday 9a-5pm. These are a 4-5 hr hike, $10 adults, $8 children. To reserve call (787) 210-5618?, (787) 217-4321 or (787) 612-1598. Or visit their Facebook page.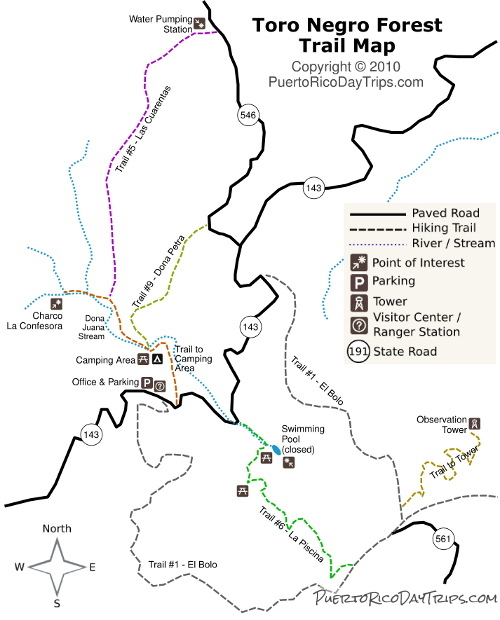 Details
There is no cost to hike in the forest. There is a per person charge for camping (as mentioned above).
The forest is open every day for hiking. The administration office / ranger station may be open weekdays from 7:30am until 4:00pm. Call 787-867-3040 to make sure. Given the small, winding, shaded roads that lead into the forest, it's probably smart to plan on driving out of the area before it starts getting dark (5pm or so).
Bring everything that you will need for the day — food, water, etc. There is nothing available for purchase in the forest. There are restrooms in the building behind the administration office and in the campsite area.
Allow at least 2 hours to see some of the forest. If you get an early start, you could easily hike all of the trails in one day.
Don't believe all the trails on the map that they hand out at the DRNA office! Trail 2 and Trail 4 on their map are just DRNA maintenance routes — short in and out roads, not really hiking trails. We never did find Trail 10 from their map, and the ranger said not to bother looking for it. Also, their map shows a trail that cuts across from Trail 5 to Trail 9 without having to go on the road. The ranger said that this trail does not exist. Save yourself a headache and print out our trail map and take it with you.
Driving directions from San Juan — Take Route 52 South/Sur as if you were driving toward Ponce. Continue on Route 52 to the Juana Diaz exit (Exit 91 – toll ). After the exit, turn left at the light onto Route 149 North/Norte. Follow this road for about 30 minutes. You'll be looking for Route 143 East/Este. You'll come to a left turn for Route 143 West/Oeste before you get to Route 143 East/Este. Do NOT turn left onto Route 143 West/Oeste. Stay on Route 149 (to the right). Continue on Route 149 until you see the Toro Negro Forest sign and Route 143 East/Este to the right. The administration office is on Route 143 East/Este at KM 32.4. If you're traveling to the forest from the north, get a good map and try to take the largest roads you can find!
Route 143 is part of the Ruta Panoramica. There are some really scenic points along the way. But realize these are small and twisty roads. You cannot drive fast — in fact I think it had a speed limit of 15MPH. Though in many parts people drive faster. Also, be aware that people drive closer to the middle of the road, so be REALLY careful when going around curves — there may be someone coming the other way in your lane!. Many drivers and large vehicles will honk — so keep an ear open, slow down and move to the right! I try to limit my travel times on these roads and try to get off them before it gets dark. If you are prone to motion sickness, buy some Dramamine and medicate early!
Allow a good 2 hours to get to the forest from the San Juan area.
Click on a placename below to view the location on Google Maps ...
PuertoRicoDayTrips.com assumes no responsibility regarding your safety when participating in the activities described in this article. Please use common sense! If your mother or that little voice in your head tells you that you are about to do something stupid … then don't do it!