Renting a Car & Getting Around in the San Juan, Fajardo & Ceiba Areas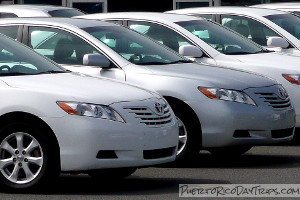 Car rentals are limited due to Covid production issue and high tourism. So book early!
To really see Puerto Rico, I think you need to get out and explore. Whether you are in port for the day with a cruise ship or you've flown in for a couple weeks, renting a car is a great way to get around.
Renting a car gives you flexibility to go where you want on your own schedule (as opposed to taking a tour). Renting a car is also a more economical way to get around. There are loads of agencies that have all types of cars and vans, so even with a large family, you're sure to find something that suits your needs. One note- if your car insurance covers you for rental cars, bring a copy of the declarations page of your policy. That way, you don't have to buy their insurance.
Many Rental Companies to Choose From
All of the major national car rental companies are represented here in Puerto Rico. These companies have the advantage of being ones whose names you recognize. They all have web sites that you can use to book your rental. Additionally, there are a number of local car rental companies. You may not recognize the names of these companies, but you can often times save some money by renting from them. Some rental agencies get better reviews than others. Read the contract well, have your insurance information available. And know about the toll pass- AutoExpreso and other driving info: Driving in Puerto Rico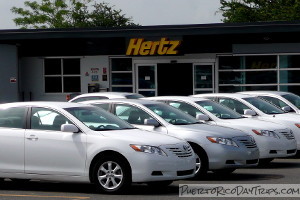 Some of the better known car rental companies have counters in the first floor of the parking deck, right across the road as you exit the baggage claim area. However, with some of them you need to take a shuttle to the company office and car lot. The shuttles all make the rounds every so often to the baggage claim areas. Some smaller companies you may need to call them for a pickup. Read you reservation for directions. There are a few companies that are located right in the airport complex (on-site), and some are outside the airport (off-site). The companies inside the airport complex are usually priced a little higher due to convenience and an additional tax. Many of these ones are open 24 hours.
There are also a number of companies that are located in the San Juan area, but in the hotel district instead of near the airport. These may offer lower prices than places at the airport, and the smaller local places may offer a shuttle from/to the airport. These are also really convenient for people staying in the San Juan / Isla Verde / Condado area who want to rent a car for just a day or two during the middle of their vacation.
I should add, UBEr is available in the San Juan Metro area and at the airport. Just use App and call for a car!. But they are not available or reliable outside the San Juan area…so if you think you will use it to go from SJ to somewhere outside SJ, you will not be able to call one to get a ride home. Something to think about.
There are also a couple local car hire companies- AquiCoqui Car Rental, Sunshine Transport of PR and to a much less extent Turo. There is also BeepBeepJeep that will bring the Jeep to you! I have never used them or personally know anyone who has used them, but you can try, I see good reviews and the are less expensive or more convienant.
Car Rentals at the Luis Muñoz Marin Airport (SJU)
On-site at the SJU airport walk to lot in the adjacent parking deck. Rental desks are on the ground floor, cars are on the second floor
Off-site, but still within minutes of the SJU airport
Car Rentals in Isla Verde
Car Rentals in Condado
Car Rentals for Cruise Ship Passengers in Port in San Juan
For people who want to rent at the airport and then drop-off close to the cruise ships, there are a few places that offer shuttles to the cruise piers.
For cruise ship passengers in port for the day who want to rent a car close to the piers, there are a few companies that offer shuttles between the cruise piers and their rental office. But be aware that most car rental company shuttles only operate between 8am and 4pm (or so). There's the chance that you may have to take a taxi back to your pier if you do a late drop-off.
Pan American Pier
Pier 4 in Old San Juan
Car Rentals Farther East — Fajardo & Ceiba
People taking the ferry or flying to/from Vieques or Culebra have other issues they need to consider — they usually need one-way rentals between the SJU Airport and the ferry terminal in Ceiba or the Ceiba Airport (RVR). There are a few companies that offer this, but it usually incurs an additional fee. Because of that fee, this options typically makes economical sense only if you want to use the car for at least a day or two before dropping it off. Some companies offer shuttles between their office and the ferry or RVR Airport, so you don't have to worry about getting a taxi.
Note you really shouldn't plan to take your rental car from the main island over to Culebra or Vieques with you. I don't know if it violates the rental contract, but it does add a problematic aspect- if you have car trouble on the small islands, I am not sure the rental company will be able to help.
Here is the list of car rental companies in the Fajardo/Ceiba area that might offer one-way rentals. Note that these are small offices and most are only open normal business hours, typically Monday to Saturday from 9am to 5pm. Some are open on Sundays.
Hiring a Driver Instead of Renting
If you only need a ride between the SJU Airport and the Fajardo/Ceiba areas, it would be cheaper and easier to just hire a driver and not bother with getting a rental car. You can contact these people to make an appointment for a pick-up. Ask them about making a mini-tour for you if you have a few hours to kill before your scheduled departure.
What's the Best/Worst Company to Rent From?
We hear about car rental experiences weekly, and we have heard good things and bad things about just about every company on the list. We have used Charlie Car Rental without any issue. You just have to realize that all of these places happen on island time. Very few things will happen quickly!
For the best rates, try using a local company and call a number of places to get rate quotes. Many places do have web pages that you can use to make reservation on-line if you prefer. Also, look for coupons for the major companies in the Entertainment Book or similar type coupon sites.
TIP – Get a good driving map. The Puerto Rico Tourism Company (PRTC) will send you one for free (if you contact them with enough notice) or get one in person at a PRTC office (there is one right outside the SJU Airport baggage claim area) or in Old San Juan. Or you can buy one at a gas station for a couple bucks.
Click on a placename below to view the location on Google Maps ...
PuertoRicoDayTrips.com assumes no responsibility regarding your safety when participating in the activities described in this article. Please use common sense! If your mother or that little voice in your head tells you that you are about to do something stupid … then don't do it!