Hiking on Vieques: Cayo de Tierra
2/21- Trail is usuable.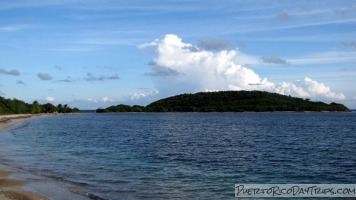 Vieques is a small island, located about 8 miles off the east coast of Puerto Rico. It is big on things to do, though most of them revolve around water sports and beautiful beaches.
There are a few opportunities to get in some hiking (well, maybe better classified as long walks) while on Vieques. One place that offers a bit of a challenging walk — the small Cayo de Tierra.
We did a little exploring on this cay, got some nice photos, found some neat shells and coral pieces, and worked up a thirst that can be quenched at the bars/restaurants just steps away in Esperanza!
Cayo de Tierra is a little cay on the southern coast of Vieques, on the western end of Playa Sun Bay. Cayo de Tierra, along with Cayo Afuera, are the little islands that you see while looking out from the Esperanza malecon.
Cayo de Tierra is the one on the left (looking at the water from Esperanza) and is accessed by walking on a thin isthmus of sand/stones/seaweed that connects it to the mainland. Cayo Afuera is only accessible by boat/kayak.
Our Walk
We parked at Playa Sun Bay and walked down the beach (though later, we found a dirt road which made for easier walking). The seaweed was very thick (and there were some biting flies in it), so we ended up just walking in the water. We then walked a little ways to the right (as you look at the cay) along the waters edge.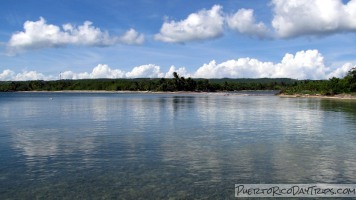 We were able to see some fish in the crystal clear water. This seems like a very protected area, so it looked like if you wanted to, there was some snorkeling here, though it looked like there was a lot of sea grass.
As you get to the end of the isthmus, you will find some paths that lead into the land. The path is sort of made of and lined with coral and shells and later just dirt and limestone. We walked by a marsh, which was a bit "fragrant", but we could hear birds enjoying it.
The path winds across the island, with a number of points where you can look out and get some nice views. The plant life is interesting — from cactus to eucalyptus trees to all sorts of drought-tolerant plants.
The path climbs up and up until you get to the top, where we walked out to the edge and got some nice pictures of the cliffs, Playa Sun Bay, and Mosquito Bay in the background. There was a pretty good breeze up there, so hang on to your hat! When we had finished looking around, we then took the same path out and back to the beach.

I have read online that you could also start out to the left as you look at the cay and go around the large lagoon and then access the path to the top. We did not try that. You can check that way out and let us know how it was!
Recommendations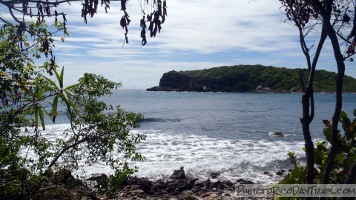 You need sturdy-bottom shoes, and plenty of drinking water for this hike.
You can park and walk from either Esperanza or Sun Bay. Or, for the easiest way, you can drive in on the dirt road just west of the Sun Bay entrance, take that to the end and park. That will put you right at the isthmus that leads to the cay.
Other walks/hikes
While on Vieques, we found some nice treks to the black sand beach and the Puerto Ferro Lighthouse ruins. Both offer a nice diversion. And of course you can walk along the long deserted beaches. We liked walking Sun Bay from end to end, and walking from Playa Grande westward until we couldn't go anymore. You can even walk the mile-long Esperanza pier from end to end. I have heard that walking up to Mt, Pirata is a good hike, but it is off-limits and closed to the public.
Click on a placename below to view the location on Google Maps ...
PuertoRicoDayTrips.com assumes no responsibility regarding your safety when participating in the activities described in this article. Please use common sense! If your mother or that little voice in your head tells you that you are about to do something stupid … then don't do it!