Sun Bay (Sombe) – The Perfect Beach for a Day-trip to Vieques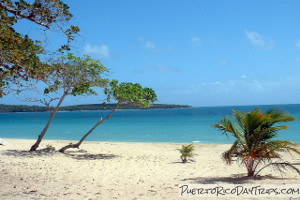 3/21- Beach is open, I am not sure about camping.
Visiting Vieques is usually best done as a multi-day trip — when you have time to rent a car and explore the most remote beaches. But what do you do if your vacation schedule only allows time to spend one day on Vieques? Head on over to Vieques and spend the day at Sun Bay, one of the many beautiful beaches on the island. Sun Bay (or Sombe to the locals) is a pretty beach with all the facilities necessary to make for a pleasant day trip. And it's easy to get to using public transportation.
Getting to Sun Bay Beach
You can get to Vieques via passenger ferry from Ceiba, or by flying from the San Juan (SJU), Isla Grande (SIG) or Ceiba (RVR) airports. What's the best way to get to Vieques? Well, that's really an individual decision. It's commonly said that "If you have more time than money, take the ferry. If you have more money than time, take a plane". So it's really up to you.
No matter how you choose to travel between the islands, once you get to Vieques, you can ask any of the many shared taxis (publicos) to take you to Sun Bay beach. The charge is $10/person, one-way. The driver will typically arrange a time to pick you up from the beach for your return trip back to the airport or ferry dock.
A Day at the Beach
Once you get to Sun Bay, your biggest decision will be where to sit. The beach is a 2-mile crescent of light-colored sand with blue Caribbean water separating you from the little islands off in the distance. It has all the makings of a picture-postcard and a lovely day. There are palms and other types of trees that provide shade all along the beach. A roped-off swimming area with lifeguards allows for easy and (assumed) safe swimming.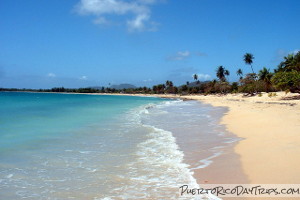 Sun Bay is one of the easiest beach on Vieques to access without your own car, so it can also get "crowded". This beach is popular with families, especially on weekends, but there is always plenty of room for everyone. When we went, there were about 15 groups of sun bathers. Not crowded at all! But if that is too much for you, you can walk along the beach until you find your own quiet spot. If you walk to the right (facing the water), you can actually walk to Esperanza Malecon, though it's probably about a ½ mile walk.
I think to get the most enjoyment out of this beach, you have to pick the best spot given the conditions of the day. We chose to stay near the cafeteria. But the day we went, there were some high seas and a good amount of wind. Looking back, I realize that we would have been better situated elsewhere on the beach. As we walked to the east (walk to the left when facing the water), we found calmer waters and more protection from the wind. And for waves, we walked to the right — there is usually more surf in that area. So take your time and search out the best spot given the conditions and your personal needs. Just as a side-note, there really isn't any good snorkeling at Sun Bay, though you may find some starfish or conch in the sea grass areas.
Sun Bay is the only beach on Vieques with facilities — there is a designated swimming area with lifeguards, working bathrooms, showers, and a snack bar for food, drinks and snacks. It occasionally wins the Blue Flag Beach award, but not this year.. You can bring your own cooler with food and drinks.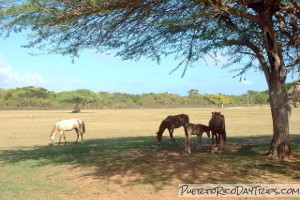 One nice bonus is the wild horses that visit Sun Bay (usually during the afternoon). They are so pretty and pose for pictures. But be careful where you step!
Camping
Sun Bay also has a campground administered by the Compania de Parques Nacionales. The fee is $10 per night. You have to bring your own tent and gear (or you can rent things from Black Beard Sports in Isabel Segunda). You don't need to make a reservation for a camp site, though it might be good to do during holiday weekends! Supposedly check in is until 4pm, but if you get there later, you can just pay the next day. Call 787-741-8198 for campground information. I have heard it is not safe to leave ANYTHING (tent included!) there when you leave for the day. It may not be there when you return.
You can visit the Puerto Rico National Parks web site for more information on all of the balnearios.
(in Spanish) has some information about the camping areas (areas de acampar).
You can access Media Luna and Navio beaches from this balneario. You will have to pay the parking fee to get your car in and then follow dirt "road" to the left and then look for signs for the other beaches.
call for info 787-741-8198.
The beach itself is free. There is a $4 charge to park if you have a car. Facilities are open during high season *May-August- 7 days a week 8:30am -6pm, Facilities are open Wed- Sunday the rest of the year (Sept- April)9- 5pm, however the beach is usable on Mon and Tuesday without facilities (used to be free parking those days).
Balneario Sun Bay is on the south coast of Vieques, to the east of Esperanza, off of Road 997
Click on a placename below to view the location on Google Maps ...
PuertoRicoDayTrips.com assumes no responsibility regarding your safety when participating in the activities described in this article. Please use common sense! If your mother or that little voice in your head tells you that you are about to do something stupid … then don't do it!