See Almost All of Puerto Rico from Cerro de Punta
Cerro de Punta, at just under 4400 feet in elevation, is the highest peak in Puerto Rico. If a trip to the peak is planned with weather in mind, on a clear day, the views are amazing! You can see from coast to coast! And the beautiful green mountains all around make it stunning.
Cerro de Punta is located on the Jayuya/Ponce town line, in the Toro Negro State Forest, along the Ruta Panoramica, which runs through the center of the island's mountainous region. The Ruta Panoramica can be picturesque if you take it slowly and enjoy it. Post-MARIA, the road isn't in the greatest shape, especially in some areas of the forest! But it is the only way to get to some beautiful places … like this peak.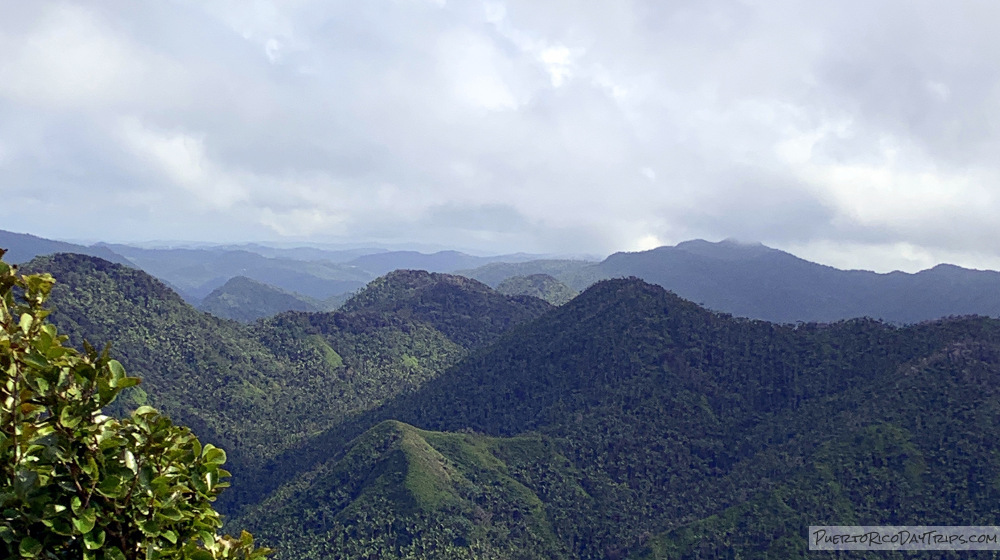 Drive or Hike: It's Up to You
Once you get to KM 17.2 on Road 143, there is a little flat area you can figure out your plan. You have two options to get to the peak: drive or hike … and neither easy!
To get to peak, it is a steep, one-lane "road", with drop-offs on the side. I heard it wasn't great pre-MARIA, but now it is in really bad shape. Full of pot holes, and loose gravel. It's a slippery slope going up and coming back down. I don't think anyone should try it, especially if you don't have a 4WD vehicle. We were happy to have the AWD and assist coming back down! With all the loose gravel, it was like driving on ice, down a steep, curvy slope. Really not worth the nerve-wracking experience…seriously, just walk!
The other, less scary but more strenuous way is to hike up the road. It will be a steep walk, and I have heard it takes about 20-30 minutes, but I guess that depends on the person! So take your time, enjoy, and get in your work-out as you go up! It will be worth it!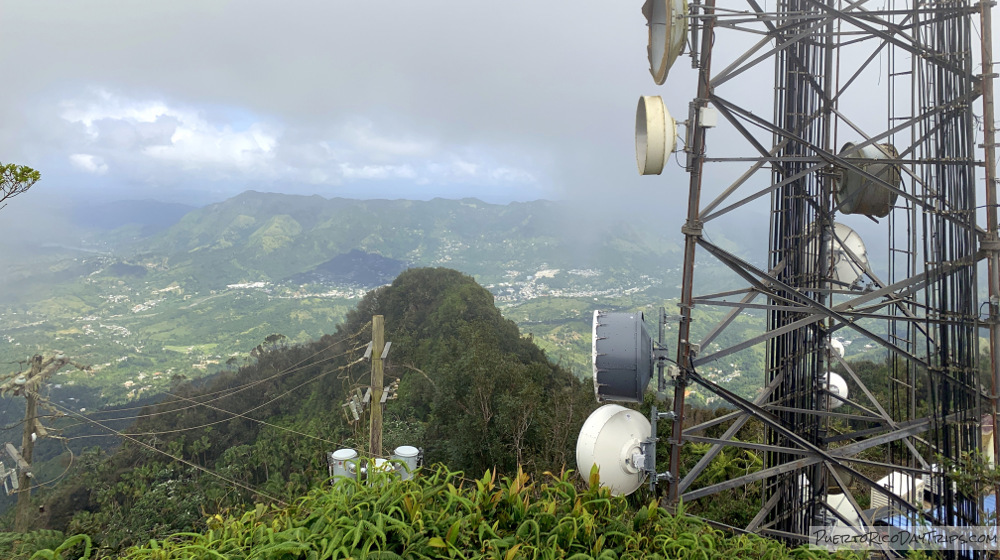 At the top, there are a number of communication antennas, so that does take away some of the beauty. But what can you do? We need services! Continue past the buildings, and then there is a parking area on left and there you will see some steps (almost covered by grass/weeds when we went) to take you to a viewing platform. Cool and breezy up there!
The view is amazing on a clear day (it wasn't clear when we went … we just caught glimpses of the view). There are green mountains all around (the Toro Negro State Forest), and sometimes you can see all the way to the north and south coasts … maybe even San Juan! It's best to try to go in morning, before the clouds build up in the mountains.
The viewing platform and guardrails need a little repair, so be careful up there!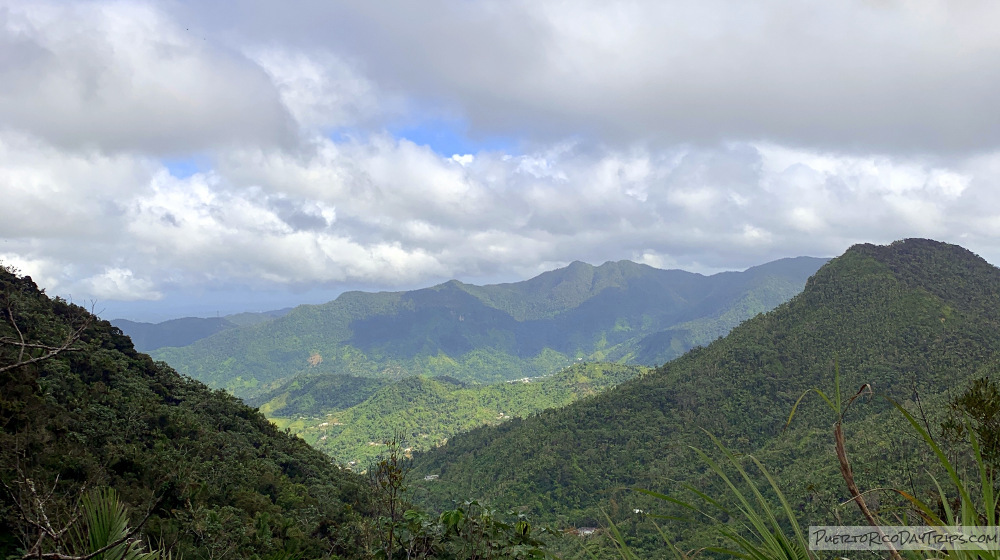 Details
You should only try to access the peak during daylight hours. There are no street lights on the road up to the peak.
Exercise caution if you opt to drive up to the peak. The gravel road can be treacherous if you don't have a 4WD vehicle.
Cerro la Punta is located on Road 143 (Ruta Panoramica) at KM 17.2 in the Toro Negro State Forest. There is flat "parking area" where the gravel road to the peak meets Road 143.
Click on a placename below to view the location on Google Maps ...
PuertoRicoDayTrips.com assumes no responsibility regarding your safety when participating in the activities described in this article. Please use common sense! If your mother or that little voice in your head tells you that you are about to do something stupid … then don't do it!