Go Back in Time 230+ Years at Fort San Cristobal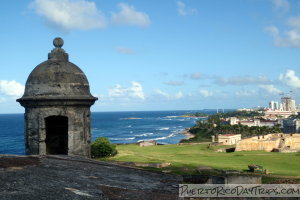 Fort San Cristobal is often considered the other fort in Old San Juan. For reasons that I can't fathom, people flock to El Morro and rarely visit Fort San Cristobal. But they don't know what they're missing – I think it is a definitely worth a visit!
Whereas Fort San Filipe del Morro (El Morro) protected the city from sea attacks, Fort San Cristobal was built to protect Old San Juan from land attacks. It stands where the eastern gate to the walled city of Old San Juan was located back in the 1800's, when the wall completely surrounded the city. Of the 2 forts in Old San Juan, Fort San Cristobal is the youngster – it is only about 230 years old. It is a huge fort (the larger of the two) covering 27 acres, with some of this acreage now accessible to the public.
A Short History
Being younger, Fort San Cristobal has a shorter story than El Morro. A basic, small defense was constructed starting in 1634 after a land attack in 1625 from the Dutch exposed weaknesses in Old San Juan's defenses. They chose to build the new fortress on the high ground at the northeast side of city.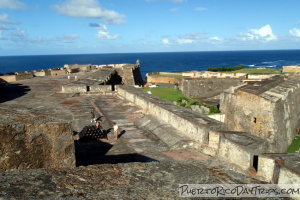 Between the years of 1765 to 1783, the major construction occurred resulting in the fort as we see it today. Fort San Cristobal is a huge structure, rising about 150 feet above sea level. Between the defenses at El Morro, Fort San Cristobal and the massive walls around the entire city, Spain made Old San Juan almost impervious to attack.
In 1797, there was another land attack on the city by the British, under the command of Sir Ralph Abercrombe. But this attack was halted before it even got to San Cristobal fort. In 1855, many of the soldiers living inside the fort held a mutiny in San Cristobal against the Spanish crown. But it lasted only 24 hours.
As time went on, Old San Juan outgrew its walls. The city needed to expand. So, in 1897, a large segment of huge city wall was destroyed – from Fort San Cristobal to the harbor – to allow for a better flow of traffic in and out of the city.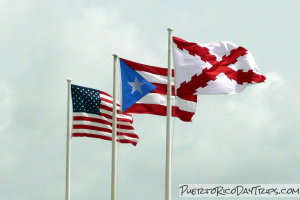 Fort San Cristobal saw it's final military action in 1898, during the Spanish-American War. Puerto Rico was under attack from the US Navy warships. The Spanish military tried to fight back, but the old cannons and forts could not withstand the assault, and they surrendered within 24 hours. Six months later, Puerto Rico became a territory of the United States.
The US continued to use the fort as an active military base. In 1942, during World War II, concrete pillboxes and an underground bunker control center were added to the ancient defenses of San Cristobal. In 1949, both forts were designated as San Juan National Historic Sites. In 1961, the US Army moved out of the forts of Old San Juan, and they became the jurisdiction of the US National Park Service, to be preserved solely as museums. In 1983, the San Juan National Historic Site was declared a World Heritage Site by the United Nations.
Your Visit to Fort San Cristobal
The National Park Service supplies you with a map when you pay your entrance fee. You can use that map, and the descriptions of the different parts of the fort, to do a self-guided tour of sorts.
When you visit Fort san Cristobal, you can sit in air-conditioned comfort and watch a short movie about the battles and construction of the forts. It runs continuously all day and is shown in English and Spanish, alternating throughout the day.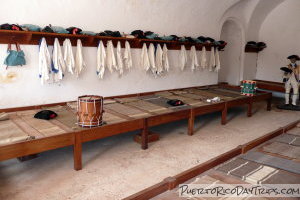 There are a couple of ranger run tours available, currently on weekends. But occasionally the rangers are around and they can tell you about life in the old days, what it was like to live in the fort, and they'll be able to answer any questions that you may have.
Both forts undergo constant maintenance for upkeep and repair. An interesting thing we learned on a ranger tour was that they are using the same techniques that were employed while making the forts originally (including the stonework and paint). Ask about it, it is very interesting.
It can get very hot in these stone structures – wear sunscreen, a hat and drink plenty of water. Wear comfortable shoes and be careful, the stone floors and tunnels can get slippery.
Special Tours
During COVID times, no tours are available. But they normally offer some great guided tours at Fort San Cristobal:
Tunnels Tour – It is a guided tour of the tunnels of the fort with lots of good historical information about these hidden defenses. It takes about 1 hour and is a really good tour. The maximum group size is 15 people and you must sign up at desk prior to the tour.
Outworks Tour –This tour takes you to the outworks to see the land defenses. You will be walking on grass and it is in the sun, so bring water and a hat/sunscreen.
Lantern Light tour –A ranger will lead a small group around and discuss what a soldier's life was like living inside the forts. You must sign up early-. Contact the fort to get exact day/time/tour abd language available during your visit..
Some Points of Interest
I like this fort better than El Morro. They have restored it, yet kept it alive like it was when it was a military fortress. There are a number of interesting things you should not miss when you visit this fort.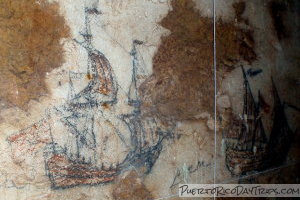 Tunnel System – These are long, dark and cool. One leads to a dungeon. In the dungeon, make sure you look for the soldiers' "graffiti" – 5 ships – drawn on the walls. If you happen to go with a guide, ask them to turn off the lights so you can see that the only light these prisoners had was through a tiny window slit.
Military Uniforms – There is a display of the uniforms these men had to wear. The uniforms were made out of wool and/or cotton, were layered and included coats and tights! And we complain how hot we are in our shorts!
Chapel – Santa Barbara chapel is in the central plaza of San Cristobal. She is the patron saint of any person in danger of fire or explosion. Cannoneers prayed for her intercession before working with the dangerous, big guns.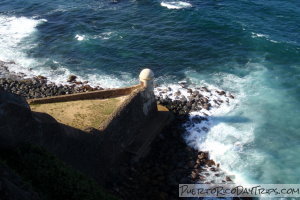 Garitas – The garitas, or sentry boxes, are located all around the outer walls of the fort. The one that sticks out all by itself close to the water, by the eastern corner, is called the Garita del Diablo (Sentry Box of the Devil). Legend has it that guards on duty in that garita would just disappear; that they were taken away by the devil. In reality, it is more likely that those guards saw an opportunity to slip away in order to get out of the military!
Cannon Balls – There are real mortar shells, or cannon balls, weighing 200 pounds each. Kids love to climb on these.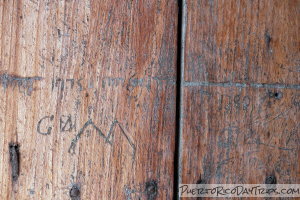 Living Quarters – The troops' quarters have been staged to show how it looked when the fort was in use. With the beds, uniforms and dining tables on display, you can imagine the soldiers going about their daily business. Go upstairs, look around, and pay special attention to the wooden window shutters. You will find more 100-200 year old graffiti etched into the shutters – more ships, some dates (like the sample in this picture that says 1775, 1776 & 1780), some Spanish words. Very neat!
Flags – The three flags flown at Fort San Cristobal (and El Morro) today are the United States flag, the Puerto Rican flag and the Cross of Burgundy flag. This white flag with the red X is the Spanish military flag used from the 16th to the 18th century to identify warships, forts and regiments of troops loyal to the king of Spain. When the great forts were built, this was the flag flown.
Outworks – The large expanse of green lawn and buildings to the east of the fort are called the outworks. Interesting to see the layers of defense built here, such as the moats and walls etc. And a great place to enjoy the breeze and watch iguanas. Great views of the Capitol building also.
The admission fee is $10.00/person for ages 16 and older, Kids under 15 and under are free. The ticket is good for visiting both El Morro and San Cristobal forts and is valid for 24 hours. No cash accepted, only debit/credit/apple/Google PAY. Your National Parks Service passes are valid here for free entrance.
The fort is open to the public 7 days/week 9:30am until 4:30pm. Closed New Years, Thanksgiving and Christmas days.
You will be walking around a large concrete and rock structure. It will be HOT. Wear sunscreen and drink lots of water (there are water fountains near the restrooms and they sell bottled water in the gift shop).
Allow a minimum of 1 hour, though you'll probably spend more time if you start looking at the exhibits.
You can call 787-729-6777 for more information.
You can visit their web site for more information.
There are 2 visitor entrances to Fort San Cristobal – one off of Norzagaray Street and one off Munoz Rivera Avenue. Fort San Cristobal lies just under 1 mile away, or about 20 minute walk, from El Morro along Calle Noragazey.
The fort has nice, clean bathrooms and water fountains are available.
Click on a placename below to view the location on Google Maps ...
PuertoRicoDayTrips.com assumes no responsibility regarding your safety when participating in the activities described in this article. Please use common sense! If your mother or that little voice in your head tells you that you are about to do something stupid … then don't do it!