Race Around the Track on a Go-Cart!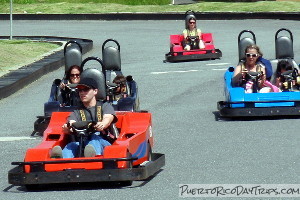 June 5/2020- – Carabali will be reopening June 15, 2020 with new Covid rules
Imagine speeding around a race track, in a convertible, with the wind whipping through your hair. What fun! OK — miniaturize that thought and think go-karts! It is a funny thing I have noticed — people of all ages love go-karts. I know I do. Ray always says it is odd, since I can drive and do at speeds much faster than a go-kart goes! But it is still one of those things that when I see it, I want to do! And of course kids love it because they get to drive! Luckily there are a couple places in Puerto Rico that offer go-karts for a reasonable price.
The go-karts are all similar — side-less, topless and easy-to-drive cars with bumpers (though you are not supposed to bump anyone). They have a gas pedal, a brake pedal and steering wheel — just like a real car — only smaller. These are not the all terrain go-karts, these are meant for soft fun. The tracks are asphalt closed loops of varying lengths. They don't usually have helmets available because I guess they assume it is all pretty safe. They usually give you an (ultra) short lesson on each and ask you stay in control at all time (slow down on the curves etc).
Puerto Rico East Go Karts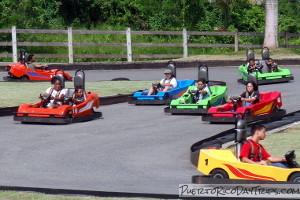 Carabalí Rainforest Park (formerly Hacienda Carabali) in Luquillo is home to Puerto Rico East Go Karts. They start you all off in a group and you race around the track. Each "session" is about 9-10 laps around the track — it lasts maybe about 5 minutes. They have 1 and 2-person cars. You need to be at least 4'6" tall to drive alone. The minimum age to be a passenger in a double car is 3 years old.
Price is $7.49/person or $14 for a double car with 2 people. There is no charge for family/friends that just want to watch. They do prefer drivers/passengers not wearing sandals.
Hours are 9:00am to 5:00pm. Open Wednesday- Monday.
Reservations are not required
Refer to our Carabalí Rainforest Park Horseback Riding article for contact info and driving directions.
Carolina Museo del Nino Go Carts- Also Reopened with new Covid guidelines!
The Museo del Nino in Carolina has new, cushy 2 seater go karts and a nice new track. Rides are $5 for kids and adults with Museum tickets. You have to be a minimum 4'8" to drive. Passengers have to be at least 3 feet tall to be a passenger, accompanying an adult driver.
Open Friday 9am-5pm, Sat- Sunday 10am – 6pm .
Reservations are not required
Ponce Karting Club
If you are in Ponce, on a weekend, try Ponce Carting Club. $5 for a 4 min turn. These are nice karts- and they go fast! You must be 9 years old and at least 4′ 6″ to drive. Little kids 5 years old can ride with parents. Hours: Thursday 1pm- 5pm, Friday 1pm, – 10pm, and Sat and Sun 11am- 5pm. 787-383-4009, or their website. In Ponce, right off of RT 2 W, just past Ponce, by the Quality Inn and the water slides.
Go Kart Rentals
Located in Julio Enrique Monagas Park in Ponce parking lot. Cost: 4 laps for $ 8.75. Kids must be able to reach the pedals to drive it (4 feet tall), if they can't, they can ride with a parent. Passengers pay $1.25 per session. Prices do not include IVU (sales tax). 250 pound weight limit/cart. Children must be accompanied by parent/guardian. Hours: Sat and Sun and holidays 10am- 5pm. If you go to there Facebook page, you can buy discount tickets online. (787) 601-5194.
La Cueva de Camuy
This park has Closed
Moisty Go Carts
2/13- this park has closed.
Fun Valley Park
9/15- this park has closed.
So put the pedal to the metal… in a go- kart!
We are in the process of updating the maps we use on our web site. While we're working on that, you can click on the GPS coordinates below to view the location on Google Maps ...
PuertoRicoDayTrips.com assumes no responsibility regarding your safety when participating in the activities described in this article. Please use common sense! If your mother or that little voice in your head tells you that you are about to do something stupid … then don't do it!