Horseback Riding in the Foothills of El Yunque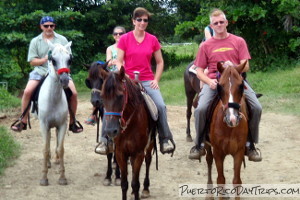 If horseback riding is one of those things that you enjoy, you can certainly do it during your visit to Puerto Rico. There are a few places around the island that offer different types of rides — forest trails, on the beach, through fields. Recently, we went on a 2-hour trail ride at Carabalí Rainforest Park (formerly Hacienda Carabali) in Luquillo, in the foothills of the El Yunque rain forest. Located just a minutes east of the main road (Road 191) into El Yunque National Forest, it is convenient for people spending time in the north-east part of the island.
While I am not trained rider, I do like horses. I had ridden a number of times when I was younger, but it has been a while. Since so many visitors ask about horseback riding in Puerto Rico, we decided that we had to do some "research" and write about our findings (it is a tough life but someone has to do it!). Since Carabalí Rainforest Park is so close to where we live, that's where we went.
The Horses
Carabalí Rainforest Park is a large place — about 600 acres. They have over 70 horses for the trail rides alone, plus they house and train many other privately-owned competition horses. We went during a local holiday weekend in July and the place was busy! I bet they had all 70 horses saddled and ready to go. This is the place all the cruise lines have their riding tours through, so they are used to large groups. They offer a 1-hour and a 2-hour tour.
The type of horse that is prevalent in Puerto Rico, and that you will be riding at Carabalí Rainforest Park, is the Paso Fino. They have a gentle gait, so you are not bounced around so much (or so they say!). My horse was named Semilla and Ray's was Shea. They were gentle horses. They knew the ropes — when one horse walked, they all started walking. You didn't really even have to "steer" the horse — they knew which way to turn while out on the trails. So this would be great for beginners! But, if you needed to, you could get them to do what you wanted with a gentle pull on the reins.
The horses were strong and capable trail horses. They seemed well-fed, clean and well-groomed. The day we went was a hot day, so the horses were hosed off before and after their rides. They spent the time between rides in a sheltered corral with water and fans. It looked like a nice place.
Our Tour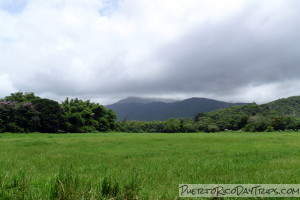 We had made reservations for the 12:30pm 2-hour tour. We arrived around 12:15pm, paid and signed the liability waiver. While we were waiting, 3 more people showed up for our tour — we were going to be a small group of 5 people … nice! They asked each of the people in our group how much experience we had — I guess to better match us up with horses. Then they started getting us each settled on our horses — adjusting the stirrups and showing us how to hold the reins. Once everyone was ready — off we went.
It was a leisurely, enjoyable trail ride. As our horses walked through fields and some forested areas we got to see some of the Puerto Rican countryside. The rain forest mountains could be seen in the distance. Our guide, David, was nice enough. He didn't give too much narration on the tour, just a few words about some of the things that we were seeing — fruit trees, the rain forest in the distance or the river.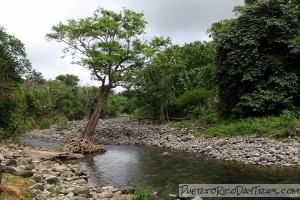 We rode along the Mameyes river and, after about 45 minutes of riding, we stopped at the river for about 20 minutes to rest the horses and allow people time to swim or use the restroom (note that the 1-hour tour stops at the river for only a few minutes).
After our break, we continued on through some more fields, forests and a neighborhood of haciendas until we got back to the stables. We only trotted or galloped a very small amount (though people that didn't want to could just walk their horses).
For a trail ride, it was fine (similar to what I remember from other rides). One thing I really liked is the horses seemed to get along. They didn't make you keep the horses in a single file — you could ride side-by-side with other people in your party.
Some Observations & Hints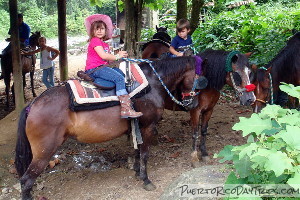 I was surprised they didn't offer helmets. If you want to use one, you can borrow one from the ATV area.
They allow children as young as 3 years old on the horses (another surprise!). For the kids, they have a loose "seat belt" thing that goes around the saddle — it is supposed to prevent kids from slipping off sideways.
Their literature says that "riding lessons are included". Maybe for beginners they do a bit more, but what I got was just a few quick words like "reins forward to walk, back to stop, move the reins to the right for right turn, left for left turn". But I guess that really is all there is to a trail ride! And like I said — the horses really knew the way and you almost had to do nothing to control them.
They offer a 1-hour tour that you can do without reservations. You can just show up and they will make a tour for you. The 2-hour tour requires a reservation. It bet that on weekdays the 1-hour tour wouldn't be as busy, but weekends and holidays expect large groups. The day we went, there were about 30 people in those 1-hour tour groups. You get almost the full hour of riding on that tour. Our 2-hour tour lasted about 1¾ hours, which included a 20-minute stop at the river. So unless you really want to swim or you want a more private tour, you can do the 1-hour tour and not miss too much riding.
To avoid chafing on your legs against the saddle and blanket, wear long pants. And closed-toe shoes (for safety). While riding in the fields, it is sunny, so wear a hat, sunglasses and sunscreen. People on the 2-hour tour should wear a swimsuit under their clothing so you can jump in the river.
Besides being reasonably priced, the location is great. You can do this and still have plenty of time for the rain forest, zipline, beach, biobay or other activity in the north-east part of the island. In addition to horseback riding, Carabalí Rainforest Park also offers ATVs, go-karts and mountain biking.
Carabalí Rainforest Park Details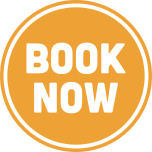 The cost of the 2-hour tour is $77/adult and $51/child (from 3 to 11 years old)
The cost of the 1-hour tour is $40/adult and $26/child (from 3 to 11 years old)
If you're happy, let them know it — Don't forget to tip your your bartender, tour guide or trip operator if you enjoyed yourself. Gratuities are appreciated and typically aren't included in the price they charge you.
They are open Wednesday- Mondays 9a-5pm. The 2-hour tour is offered at 9:30am, 12:30pm and 2:30pm. Reservations are required.
The 1-hour tour is offered throughout the day. No reservations needed.
There is a 240-pound weight limit.
You can call 787-889-5820 or 787-889-4954 for more info from 9:30am – 6:00pm.
Visit their web site for more info
They are located about 1 – 1½ hours from the San Juan area
They are located off of located just off Route 3 in Luquillo on Road 992, KM 4. They can provide transportation from SJ Hotels for an additional charge.
They now offer a beach ride! Book Beach Horseback Tour
Other horseback riding places in Puerto Rico
Campo Rico Trail Rides
Located in San Juan. The ranch in San Juan is about 10 minutes from the SJU airport.
They offer trail rides through the forest and fields.
Their 1 hr tour is $45, 2 hour tour in San Juan is $75/person. Children ages 6 years and up can ride their own horse. .
Open 7 days a week with 2 rides daily — 9am and the 3:00pm.
Call 787-629-0222 for reservations, or visit their web site for more info
Tropical Trail Rides
Located in Isabela — (The Isabela trip is good for people staying in the north-west part of the island).
The ranch in Isabela is about 2 hours west of San Juan or 30 mins north-east from Rincon.
They offer trail rides through the forest and along the beach.
$65 pp. Children ages 6 years and up can ride their own horse. Kids younger than 6 years old can ride with an adult $40.
Open 7 days a week with 2 rides daily — 9am and the 3:30pm.
Call 787-872-9256 for reservations, or visit their web site for more info
Hacienda el Madrigal
Hacienda 8A
Hacienda Campo Bello
Located in Vega Baja
Call 787-858-5642 or 787- 414-9341 for more info
Click on a placename below to view the location on Google Maps ...
Activities booked through this page are booked directly with the activity operator. Other than referring you to the activity operator, PuertoRicoDayTrips.com is not involved in the transaction between you and the activity operator. The activity operator is responsible for all aspects of processing bookings for its activities, including cancellations, returns, and any related customer service. PuertoRicoDayTrips.com makes no representations regarding the level of service offered by an activity operator. PuertoRicoDayTrips.com will receive a small referral commission for any activities that you book through this page.
All trademarks, logos and brand names are the property of their respective owners. All company, product and service names used in this website are for identification purposes only. Use of these names, trademarks and brands does not imply endorsement. Photos used to promote tours are the property of the original copyright owners.
PuertoRicoDayTrips.com assumes no responsibility regarding your safety when participating in the activities described in this article. Please use common sense! If your mother or that little voice in your head tells you that you are about to do something stupid … then don't do it!