Bio-Bay in Fajardo by Kayak – A Sparkling Experience
1/21 BioBay is open, tours are running.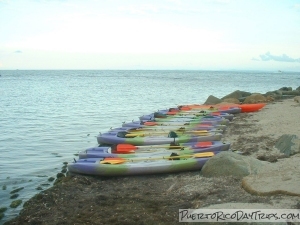 There are three bioluminescent bays (bio-bays) in Puerto Rico. One in the SouthWest – "La Parguera", one on Vieques – "Mosquito Bay", and the one in Fajardo – "La Laguna Grande". Out of all three, Mosquito Bay is the brightest, and La Parguera is the least bright. La Laguna Grande in Fajardo is very bright, and it is convenient to do from San Juan and the main island.
What Is It?
A bio bay is a body of water that contains millions of micro-organisms, called "dinoflagellates", that glow in the dark for a second when agitated. It is a rare, natural wonder that you can easily experience while visiting Puerto Rico. It is best seen on a dark night, try to go when it is moonless or close to it. It also is best on a warm night (summertime is brighter than wintertime, no rain is better than rainy days). But even on a less than ideal night, the bioluminescence will be visible. It is a fragile environment, that can be destroyed by excessive abuse from motor oil, sewerage, sunscreen and bug repellent.
Who To Use?
The usual way most people visit the Fajardo BioBay is on a kayak. There are many kayak operators that guide tours into the bio-bay. They are all similar except for the snacks at the end and the color of their glo-sticks. They all meet at Las Croabas, which is a small bay with a public boat dock. We, and our guests, have used Kayaking Puerto Rico and Las Tortugas in the past – they seem to limit the number of people on their tour and we found them to be very responsive to inquires.
Can I Do It?
We think kayaking is fun and relatively easy. Even if you have never done it before, are out of shape, are young or older – you may want to try it. All the kayak operators provide a mandatory life jacket to wear and will give you a brief "lesson" on how to kayak – and away you go! If you are really bad at it (or just feel uncomfortable) – the group leader usually will help you out. We found the kayaking in the canal isn't hard except for two places where the canal gets thin, so the current picks up. Some people do go astray and their kayak meets the mangrove bushes, but we didn't find it to be that big of a problem. We always easily get back on track.
The Details
There are usually 2 trips per night: one right at sundown and one about 8:00-8:30pm. They will ask you get there about 30 mins earlier. Each trip takes about 2.5 hours from start to finish. I like the earlier one because at that time you can still see the iguanas in the trees above you, and it is not so dark on your way through the channel, but it is dark by the time you get to the lagoon.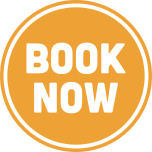 All the tours start off near the boat ramp, and then you kayak across the boat marina to a thin channel that leads to the lagoon. You have to go single file to avoid hitting each other and the sides of the channel. The mangrove trees make a canopy over your head, which is low in some spots. But as you get closer to the lagoon, you will notice little sparkles as you dip your paddles into the water.
Once you get through the channel, it opens up to a large lagoon. By now, your paddles leave a swirl of glow behind at each stroke. Your tour guide will gather all of the kayaks on your tour together, explain the bioluminescence phenomenon, and answer questions that you might have.
After spending some time playing with the water making sparkles, the guide leads you back through the channel. You may meet up with another group, but if everyone sticks to the right and it all works out. The guides are all bi-lingual, and knowledgeable about the area, the bio-bay and kayaking. They will answer your questions and may even suggest places for dinner after your workout!
Effective in April 2007, the Puerto Rico Department of Natural Resources no longer allows companies operating tours to swim in the lagoon. Though some rogue operators may allow it, be advised that, if the authorities see you swimming, there can be heavy fines levied against the tour operator.
We went again a few years later re-visited Laguna Grande in Fajardo and were happy to find that the ban on swimming has had a positive effect on the health (brightness) of the bio bay.
What To Wear?
All of the kayak operators use sit-upon ocean kayaks, which means that your butt will get wet – wear a bathing suit or shorts that you don't mind getting wet. Also, getting in and out of the kayak requires you to walk in the water (usually no more than mid-calf deep), so wear water shoes or go bare foot. There is really no where to change at Las Croabas, so wear shorts that will dry quickly, or be prepared to change in your car afterward. Bring a towel or something dry, so that when you get back to shore, you can dry your bottom off.
Most kayak companies run their tours Monday through Saturday, and give the lagoon the night off on Sunday to rest. Some companies do go out on Sundays.
The public bathrooms near the boat ramp are in bad maintenance, so plan accordingly. If you buy a drink at an area restaurant, you can use their bathrooms.
The minimum age to kayak is 6 years old.
Even if an operator has a web site, we recommend calling. Emails often go unanswered.
Details
Prices vary by operator, but are typically around $48-$68 per person. There is sales tax, which may or may not be included in price.
If you're happy, let them know it — Don't forget to tip your your bartender, tour guide or trip operator if you enjoyed yourself. Gratuities are appreciated and typically aren't included in the price they charge you.
The times for tours vary by operator, but they typically start around sundown, with a second tour around 9:00pm.
Allow at least 2.5 hours for your tour. Check with your tour operator if you're on a tight schedule.
Kayaking Puerto Rico — Book Now Tours Monday through Saturday. (787) 435-1665 or (787) 245-4545. Transportation available.
Pure Adventure — Book Now Tours Monday- Saturday. (787) 202-6551 or (787) 314-4347. Transportation available.
Las Tortugas Adventures — Tours Monday through Saturday. (787) 809-0253 or (787) 637-8356
Yokahu Kayak Trips — Tours Monday – Saturday. (787) 604-7375 or (787) 863-5374. Transportation available.
Island Kayaking Adventures — Tours Monday – Saturday.(787) 444-0059. Transportation available.
Peniel Access Eco Tours Bio bay Kayak Trips — They have an adaptive kayak for people in wheelchairs who can kayak. Tours run Sunday- Thursday (yes SUNDAY!). 787-463-1940. Transportation available.
Traveler's Eco Adventures Bio bay Kayak Trips — Tours run Monday- Saturday. 787-863-2821 or 787- 206-0290. Transportation available.
Glass Bottom PR — Tours run Wednesday- Monday (Yes- a Sunday tour!). Glass bottom kayaks. 1-787-616-9594 or (787) 613- 3928 or email them at ioprecotour@gmail.com . Also known as IO PR Eco-Tours, or The Kayak Rental. Transportation available.
Puerto Rico Bio Bay Tours — Tours run Tuesday- Saturday. (787) 888-2887 or (787) 564-9827. Transportation available.
There are other options for those who cannot kayak:
There are now 2 electric motorboat companies that is allowed to take people into the Laguna Grande BioBay. We think this is a great option for older folks, smaller children and handicapped people (or anyone else who doesn't want to kayak!). Refer to our review of the trip. Space is limited. One operator goes out on Sundays.
Las Cabezas Nature Reserve has a night tour. An educational tour that also lets you see and play with the bio-luminescent water without too much physical effort. Reasonably priced, it seems ideal for the elderly, handicapped or people with small children, where kayaking or the trip to the Vieques BioBay is not an option. Only available on Thursday – Saturday. Refer to our review for more information, including hours and pricing.
Los Croabas boat ramp is located at the end of Road 987 in Fajardo.
Los Croabas is about a 45-minute drive from our vacation rental in Rio Grande.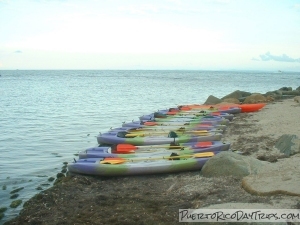 Hay tres bahías bioluminiscentes (bio bahías) en Puerto Rico. Una en el suroeste – "La Parguera", otra en Vieques – "Mosquito Bay" y la de Fajardo – "La Laguna Grande".   De las tres, la Bahía Mosquito es la más brillante y la de la Parguera que es la menos brillante. La Laguna Grande en Fajardo es muy brillante, y es conveniente transportarse allí  desde San Juan y/o desde la isla.
¿QUÉ ES?
Una bahía bioluminiscente es un cuerpo de agua que contiene millones de micro–organismos, llamados "dinoflagelados", que brillan en la oscuridad por un segundo cuando se agita el agua. Es una maravilla rara que usted puede experimentar durante su visita a Puerto Rico. Se puede apreciar mejor cuando la noche está oscura, trate de ir cuando no haya luna o cuando haya poca luz. También es mejor visitarla durante una noche cálida. Pero de todas maneras, la bioluminiscencia será visible. Se trata de un medio ambiente frágil, que puede ser destruido (al igual que ha pasado con la bahía de La Parguera) por el abuso excesivo de aceite de motor, protector solar y repelente de insectos.
¿COMO VERLA?
La mayoría de la gente que visita la bahía de Fajardo lo hace en kayak. Hay muchos operadores de excursiones o tours de kayak que van a la bahía bioluminiscente. Todos ellos son similares a excepción de los aperitivos que algunos de estos brindan al final de la visita y al color de sus varitas luminosas. Todos ellos se reúnen en Las Croabas, que es una pequeña bahía que posee un muelle público. Nosotros y nuestros invitados, hemos utilizado los servicios de Kayaking Puerto Rico y de Las Tortugas Adventures en el pasado – que tienden a limitar el número de personas en sus giras y cuyo personal lució dispuesto a contestar nuestras preguntas.
¿PODRE HACERLO?
Creemos que el kayak es divertido y relativamente fácil de hacer. Incluso si ustedes nunca lo han hecho antes, están fuera de forma, son jóvenes o personas de edad, hay probabilidad de que desearan tratar de hacerlo. Todos los operadores de kayak suministran un chaleco salvavidas el cual es obligatorio usar y le darán una breve "lección" sobre la forma de hacer kayak – y eso es todo.  Si usted es realmente malo en ello (o simplemente se siente incómodo al hacerlo) – el líder del grupo por lo general le dará una mano. Nos pareció que usar el kayak en el canal no es difícil, con excepción de los dos lugares donde el canal se hace estrecho.  Debido al agite de la corriente,  algunas personas se desvían un poco  y van a parar a  los arbustos de mangle, pero este no es un gran problema. Es relativamente fácil  retornar al grupo.
LOS DETALLES
Por lo general hay dos viajes por la noche: uno al atardecer y otro cerca de las 9:00 pm Cada viaje dura aproximadamente dos horas y media de principio a fin. Me agrada el primer viaje, porque a esa hora todavía se pueden ver las iguanas en los árboles que cruzan por encima de uno, y la travesía no es tan oscura a través del canal, aunque se hace ya de noche cuando se llega a la laguna.
Todas las visitas comienzan cerca de la rampa para botes, y luego se toma el kayak a través de la marina de barcos hasta llegar a un canal estrecho que conduce hacia la laguna. Se debe  ir en una sola fila para evitar golpear a los demás y no chocar con las orillas del canal. Los árboles de mangle forman una especie de arco, bajito en algunos puntos, por encima de las cabezas de las personas, en otros. A medida que se va acercando a la laguna, se dará cuenta poco a poco de los destellos que producirá su remo al moverse en el agua.
Una vez que atraviesa el canal, el mismo se abre a una gran laguna. A estas alturas, notará que sus remos crean un remolino de luz tras cada golpe. Su guía de turismo reunirá todos los kayaks de la gira para explicar el fenómeno de la bioluminiscencia y para responder a preguntas que usted pudiera tener.
Luego de pasar algún tiempo jugueteando con el agua debido a su brillo, el guía los llevará de vuelta nuevamente a través del canal. Usted podría encontrarse con otro grupo, pero si todo el mundo se arrima a la derecha no habrá ningún problema. Los guías son bilingües y conocedores de la zona, la bahía y el kayak. Ellos incluso responderán a sus preguntas y hasta podrían sugerirle algunos lugares para cenar esa noche luego de terminar la excursión.
Hay una ley del Departamento de Recursos Naturales de Puerto Rico que esta en vigor desde abril del 2007 y que prohíbe nadar en la bahía.  A pesar de que algunos operadores deshonestos lo permiten, tenga en cuenta que si las autoridades les sorprenden nadando,  podrían imponer multas contra el operador turístico.
En julio de 2008 volvimos a visitar la Laguna Grande de Fajardo y nos complació mucho el hecho de que la prohibición de la natación ha tenido un efecto positivo en la bioluminiscencia y en la salud general de la laguna.
¿QUE ROPA SE DEBE USAR?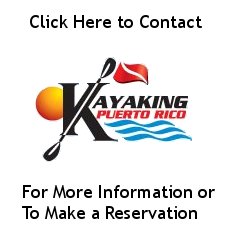 Todos los operadores usan kayaks de mar, lo que significa que su trasero se va  a mojar – use traje de baño o unos pantalones cortos si no le importa mojarlos. Además, para entrar y salir del kayak se requiere caminar por el agua (por lo general no más de media pierna de profundidad), así que use zapatos de agua o vaya descalzo. En realidad no hay donde cambiarse de ropa en Las Croabas, así que lleve pantalones cortos que se sequen rápidamente, o puede cambiarse de ropa en su automóvil luego  .Traiga una toalla o algún paño seco, de modo que cuando regrese a la orilla, se puede secar.
La mayoría de los operadores ofrecen sus viajes de kayak de lunes a sábado, para así dar a la laguna un descanso el domingo en la noche. Algunos operadores suelen hacer excursiones también los domingos.
Los baños públicos, cerca de la rampa del barco, se encuentran en mal mantenimiento, por lo que debe planificar hacer sus necesidades con antelación.
La edad mínima para hacer kayak es de 6 años de edad.
Algunos operadores de kayak poseen su página de Internet, sin embargo se recomienda llamar por teléfono, ya que el correo electrónico  (e–mails)  no es contestado con regularidad.
El precio varía según el operador, pero suele ser alrededor de $45 por persona.
Si usted estuviese complacido con la excursión déjeselos saber– No se olvide de dar una propina al camarero del bar, a su guía o al operador del viaje, si es que realmente lo disfrutó. Las propinas son apreciadas y por lo general no están incluidas en el precio.
El horario del viaje puede variar dependiendo del operador pero a menudo comienzan en la puesta del sol y hay un segundo viaje alrededor de las 9:00 pm
Calcule por lo menos dos horas y media para el viaje. No se olvide de consultar con su operador turístico si está corto de tiempo o si su horario es limitado.
Kayaking Puerto Rico – Excursiones de lunes a sábado. (787) 435–1665 o (787) 245–4545
Pure Aventure Tours –     (787) 202–6551 o (787) 314–4347
Las Tortugas Adventures – Excursiones de lunes a sábado.(787) 809–0253 o (787) 637–8356
Yokahú Kayak Trips – Excursiones de lunes a sábado (787) 604–7375 o (787) 863–5374
Island Kayaking Adventures – Excursiones de lunes a sábado (787) 444–0059
Traveler's Eco Adventures Bio Bay Kayak Trips – 787–863–2821 o 787–206–0290
The Kayak Rental  – Van 6 días a la semana, incluyendo los domingos (787) 613–3928
Enchanted Island Eco Tours – (787) 888–2887 o (787) 564–9827
Eco Action Tours – (787) 791–7509 o (787) 640–7385
Hay otras opciones para aquellos que no puedan o quieran hacer kayak:
En la actualidad hay dos empresas de lanchas eléctricas a las cuales se les permite llevar pasajeros a la bahía luminiscente de Laguna Grande. Creemos que ésta es una gran opción para personas mayores, niños pequeños y personas con discapacidad (o alguna otra persona que no desee hacer kayak). Puede referirse a nuestra reseña de interesarle hacer esta excursión. Ojo, el espacio es limitado. Hay un operador que hace este tipo de excursión los domingos.
La Reserva Natural de las Cabezas de San Juan cuenta con un tour nocturno. Un viaje educativo que también le permitirá ver y jugar con las aguas luminiscentes de la bahía sin mucho esfuerzo físico. Esta excursión es de precio razonable e ideal para las personas mayores, discapacitados o personas con niños pequeños, donde el kayak o el viaje a la bahía de Vieques no es una opción. Sólo está disponible de jueves a sábado. Puede referirse también a nuestra reseña para obtener más información, incluyendo las horas y los precios.
La rampa de partida del barco en Las Croabas, está situada al final de la carretera 987 en Fajardo.
Las Croabas está localizada a unos 45 minutos de nuestra casa de alquiler vacacional en Río Grande.
We are in the process of updating the maps we use on our web site. While we're working on that, you can click on the GPS coordinates below to view the location on Google Maps ...
Activities booked through this page are booked directly with the activity operator. Other than referring you to the activity operator, PuertoRicoDayTrips.com is not involved in the transaction between you and the activity operator. The activity operator is responsible for all aspects of processing bookings for its activities, including cancellations, returns, and any related customer service. PuertoRicoDayTrips.com makes no representations regarding the level of service offered by an activity operator. PuertoRicoDayTrips.com will receive a small referral commission for any activities that you book through this page.
PuertoRicoDayTrips.com assumes no responsibility regarding your safety when participating in the activities described in this article. Please use common sense! If your mother or that little voice in your head tells you that you are about to do something stupid … then don't do it!