Bio-Bay in Fajardo by Kayak – A Sparkling Experience
2/22 BioBay is open, tours are running.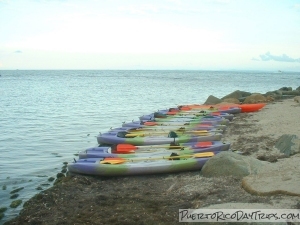 There are three bioluminescent bays (bio-bays) in Puerto Rico. One in the SouthWest – "La Parguera", one on Vieques – "Mosquito Bay", and the one in Fajardo – "La Laguna Grande". Out of all three, Mosquito Bay is the brightest, and La Parguera is the least bright. La Laguna Grande in Fajardo is very bright, and it is convenient to do from San Juan and the main island.
What Is It?
A bio bay is a body of water that contains millions of micro-organisms, called "dinoflagellates", that glow in the dark for a second when agitated. It is a rare, natural wonder that you can easily experience while visiting Puerto Rico. It is best seen on a dark night, try to go when it is moonless or close to it. It also is best on a warm night (summertime is brighter than wintertime, no rain is better than rainy days). But even on a less than ideal night, the bioluminescence will be visible. It is a fragile environment, that can be destroyed by excessive abuse from motor oil, sewerage, sunscreen and bug repellent.
Who To Use?
The usual way most people visit the Fajardo BioBay is on a kayak. There are many kayak operators that guide tours into the bio-bay. They are all similar except for the snacks at the end and the color of their glo-sticks. They all meet at Las Croabas, which is a small bay with a public boat dock. We, and our guests, have used Kayaking Puerto Rico and Las Tortugas in the past – they seem to limit the number of people on their tour and we found them to be very responsive to inquires.
Can I Do It?
We think kayaking is fun and relatively easy. Even if you have never done it before, are out of shape, are young or older – you may want to try it. All the kayak operators provide a mandatory life jacket to wear and will give you a brief "lesson" on how to kayak – and away you go! If you are really bad at it (or just feel uncomfortable) – the group leader usually will help you out. We found the kayaking in the canal isn't hard except for two places where the canal gets thin, so the current picks up. Some people do go astray and their kayak meets the mangrove bushes, but we didn't find it to be that big of a problem. We always easily get back on track.
The Details
There are usually 2 trips per night: one right at sundown and one about 8:00-8:30pm. They will ask you get there about 30 mins earlier. Each trip takes about 2.5 hours from start to finish. I like the earlier one because at that time you can still see the iguanas in the trees above you, and it is not so dark on your way through the channel, but it is dark by the time you get to the lagoon.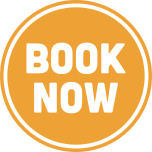 All the tours start off near the boat ramp, and then you kayak across the boat marina to a thin channel that leads to the lagoon. You have to go single file to avoid hitting each other and the sides of the channel. The mangrove trees make a canopy over your head, which is low in some spots. But as you get closer to the lagoon, you will notice little sparkles as you dip your paddles into the water.
Once you get through the channel, it opens up to a large lagoon. By now, your paddles leave a swirl of glow behind at each stroke. Your tour guide will gather all of the kayaks on your tour together, explain the bioluminescence phenomenon, and answer questions that you might have.
After spending some time playing with the water making sparkles, the guide leads you back through the channel. You may meet up with another group, but if everyone sticks to the right and it all works out. The guides are all bi-lingual, and knowledgeable about the area, the bio-bay and kayaking. They will answer your questions and may even suggest places for dinner after your workout!
Effective in April 2007, the Puerto Rico Department of Natural Resources no longer allows companies operating tours to swim in the lagoon. Though some rogue operators may allow it, be advised that, if the authorities see you swimming, there can be heavy fines levied against the tour operator.
We went again a few years later re-visited Laguna Grande in Fajardo and were happy to find that the ban on swimming has had a positive effect on the health (brightness) of the bio bay.
What To Wear?
All of the kayak operators use sit-upon ocean kayaks, which means that your butt will get wet – wear a bathing suit or shorts that you don't mind getting wet. Also, getting in and out of the kayak requires you to walk in the water (usually no more than mid-calf deep), so wear water shoes or go bare foot. There is really no where to change at Las Croabas, so wear shorts that will dry quickly, or be prepared to change in your car afterward. Bring a towel or something dry, so that when you get back to shore, you can dry your bottom off.
Most kayak companies run their tours Monday through Saturday, and give the lagoon the night off on Sunday to rest. Some companies do go out on Sundays.
The public bathrooms near the boat ramp are in bad maintenance, so plan accordingly. If you buy a drink at an area restaurant, you can use their bathrooms.
The minimum age to kayak is 6 years old.
Even if an operator has a web site, we recommend calling. Emails often go unanswered.
Details
Prices vary by operator, but are typically around $48-$68 per person. There is sales tax, which may or may not be included in price.
If you're happy, let them know it — Don't forget to tip your your bartender, tour guide or trip operator if you enjoyed yourself. Gratuities are appreciated and typically aren't included in the price they charge you.
The times for tours vary by operator, but they typically start around sundown, with a second tour around 9:00pm.
Allow at least 2.5 hours for your tour. Check with your tour operator if you're on a tight schedule.
Kayaking Puerto Rico — Book Now Tours Monday through Saturday. (787) 435-1665 or (787) 245-4545. Transportation available.
Pure Adventure — Book Now Tours Monday- Saturday. (787) 202-6551 or (787) 314-4347. Transportation available.
Las Tortugas Adventures — Tours Monday through Saturday. (787) 809-0253 or (787) 637-8356
Yokahu Kayak Trips — Tours Monday – Saturday. (787) 604-7375 or (787) 863-5374. Transportation available.
Island Kayaking Adventures — Tours Monday – Saturday.(787) 444-0059. Transportation available.
Peniel Access Eco Tours Bio bay Kayak Trips — They have an adaptive kayak for people in wheelchairs who can kayak. Tours run Sunday- Thursday (yes SUNDAY!). 787-463-1940. Transportation available.
Traveler's Eco Adventures Bio bay Kayak Trips — Tours run Monday- Saturday. 787-863-2821 or 787- 206-0290. Transportation available.
Puerto Rico Eco Tour — Tours run Wednesday- Monday (Yes- a Sunday tour!). Regular kayaks(NOT glass bottoms). 1-787-616-9594 or (787) 613- 3928 or email them at ioprecotour@gmail.com . Also known as IO PR Eco-Tours, or The Kayak Rental. Transportation available.
Puerto Rico Bio Bay Tours — Tours run Tuesday- Saturday. (787) 888-2887 or (787) 564-9827. Transportation available.
There are other options for those who cannot kayak:
There are now 2 electric motorboat companies that is allowed to take people into the Laguna Grande BioBay. We think this is a great option for older folks, smaller children and handicapped people (or anyone else who doesn't want to kayak!). Refer to our review of the trip. Space is limited. One operator goes out on Sundays.
Las Cabezas Nature Reserve has a night tour. An educational tour that also lets you see and play with the bio-luminescent water without too much physical effort. Reasonably priced, it seems ideal for the elderly, handicapped or people with small children, where kayaking or the trip to the Vieques BioBay is not an option. Only available on Thursday – Saturday. Refer to our review for more information, including hours and pricing.
Los Croabas boat ramp is located at the end of Road 987 in Fajardo.
Los Croabas is about a 45-minute drive from our vacation rental in Rio Grande.
Click on a placename below to view the location on Google Maps ...
Activities booked through this page are booked directly with the activity operator. Other than referring you to the activity operator, PuertoRicoDayTrips.com is not involved in the transaction between you and the activity operator. The activity operator is responsible for all aspects of processing bookings for its activities, including cancellations, returns, and any related customer service. PuertoRicoDayTrips.com makes no representations regarding the level of service offered by an activity operator. PuertoRicoDayTrips.com will receive a small referral commission for any activities that you book through this page.
All trademarks, logos and brand names are the property of their respective owners. All company, product and service names used in this website are for identification purposes only. Use of these names, trademarks and brands does not imply endorsement. Photos used to promote tours are the property of the original copyright owners.
PuertoRicoDayTrips.com assumes no responsibility regarding your safety when participating in the activities described in this article. Please use common sense! If your mother or that little voice in your head tells you that you are about to do something stupid … then don't do it!