Tour the Foothills of El Yunque on an ATV at Carabali Rainforest Park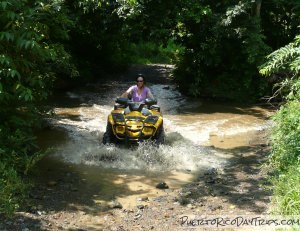 Carabali is open with new Covid rules in place
If you like a little excitement while on your vacation, you can take a trip to Carabali Rainforest Park (formerly Hacienda Carabali). This 600 acre facility, located in the foothills of the El Yunque National Forest, offers a wide range of activities. They have horseback riding, ATV, mountain bikes and go carts to get your heart pumping.
Our Visit
On this visit, we decided to go on a 2 hour ATV adventure. We have been ATV-ing before on a few other islands and really enjoyed it. We called a day ahead of time and reserved a 2-hour tour for 9:30am. When you check in, of course you have to sign the usual insurance waiver. We were greeted by our bi-lingual guide, Francisco. It turns out he lived in NJ and PA, pretty close to where we used to live, and he recently moved back to PR, so we had lots to talk about! He gave us our required helmets and a brief lesson on the operation of the ATVs. These are large vehicles (larger than any we had driven before). But they were easy to drive – as long as you have a strong right thumb! Really, to make it go, you press a lever with your right thumb and to brake, there was a lever on the left hand handle bar (like a bicycle brake). Now you are ready to go!
As it turned out, we were the only ones on this tour, so we had the road all to ourselves. Here is an overview of our trip: You start off on the mostly flat lower area, where they also ride the horses. Here, you can get used to the throttle button and work out your driving skills. They tell you that you are always responsible to be in control. Throughout the tour, we got to go pretty fast on occasion, going up and down hills, through puddles and across fields. Our guide was always in the lead, but he drove almost standing up, constantly watching to make sure we were OK. We then left the low area and started uphill. We stopped a few times at scenic spots for pictures and some discussion about the land, the park, plant life in the area, etc.
Depending on when the last rains were, there will probably be some puddles. It had rained the day before, so we had lots of muddy puddles to splash through! I always tried to kick up as much mud as I could, to try to get Ray (who was behind me) dirty, but he caught on pretty early and left a lot of space between us! We went through a few water areas that were deeper than the foot rests on the ATV. That is were you get the dirtiest – as the water splashes up and around the wheel wells.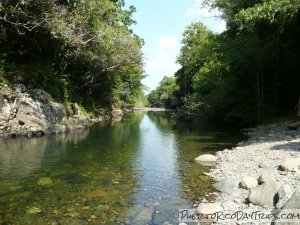 In the hills, we passed a number of old structures that look like old "Jibaro" (which, loosely translated, means "hillbilly") houses. As it turns out, they are going to be filming a movie on the property. So the movie company is making all sorts of movie sets, but these looked very old and authentic. I hope they leave them up after the movie – it was kind-of cool to see (a little PR history – even if it is fake!).
Half way through the trip, you get to a nice section of the Mameyes river. They stop here for about 15 minutes to swim if you wanted (it is about 6 feet deep) or just play and explore in the river. There are fish and shrimp in this cool, clear water. Very refreshing!
Then you start to head back. On the way back, we saw the halfway rest point for the 1 hour ATV and the horseback riding trips. This point had bathrooms, and another spot on the river that was only a few feet deep – just enough to splash around in. We saw the Coco Rio (the nice pool and building they have available for weddings or events). We also passed a few horseback riders on the trails. Everyone looked like they were having fun!
We really enjoyed our trip. It was a lot of fun. We will be back – my niece and nephews would love it (and the go-carts and the horses, too!).
If you are going to do this, I would wear something you don't mind getting dirty and/or wet. Long pants would be best since the engine compartment gets kind of hot and your left leg touches close to it. Wear closed-toe shoes that you don't mind getting wet or dirty. I find Crocs or sneakers will do. Wear a bathing suit under your clothes so if you want to go in the water. Bring a towel to dry off and a bottle of water for the trip. I found you need to wear glasses – sun glasses and if you have one, maybe a bandana on your face – you will have mud, dirt and bugs flying into your face during the trip! There are bathrooms at the check-in office. There are also men's and women's shower/changing rooms available in each of the respective bathrooms so you can clean up after your trip. There is also a snack bar. They have 22 ATVs, so that is the maximum number of people that would be out on any tour. Francisco said that they have a number of tour guides, and they try to limit each group to 5 or so ATVs.
They offer 1 and 2 hour tours. The 1 hour tour is $56 per driver, and $31 per passenger. The 2 hour tour is $100 per driver, and $56 per passenger.
If you're happy, let them know it — Don't forget to tip your your bartender, tour guide or trip operator if you enjoyed yourself. Gratuities are appreciated and typically aren't included in the price they charge you.
2Hr ATV tours are at 9:30am, 12:30pm and 2:30pm. 1 Hr trips are more often throughout day. But if you have another time in mind, call and ask if they can set you up with a tour.
The ATV's are 2-seaters. You must be at least 16 years old to drive(with drivers license), but passengers 12 years old and up. Bring drivers license (with photo ID) and credit card.
You can call 787-889-5820 or 787-889-4954 for more info. Open Wednesday-Monday and most Holidays from 9:00am – 5:00pm. Website: www.CarabaliRainforestPark.com
They are located off of located just off Route 3 in Luquillo on Road 992, KM 4. They can provide transportation for an additional charge.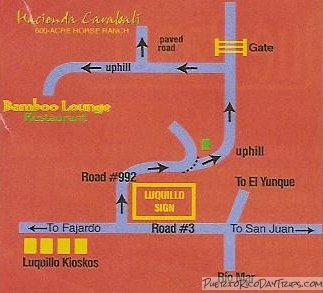 PuertoRicoDayTrips.com assumes no responsibility regarding your safety when participating in the activities described in this article. Please use common sense! If your mother or that little voice in your head tells you that you are about to do something stupid … then don't do it!