Spend a Half Day on an Exciting Zip Line Tour in El Yunque
Zip lining is one of those adventure activities that is on almost everyone's must-do vacation list. And, when you're in Puerto Rico, El Yunque National Forest, the beach, and kiosks in Luquillo are also usually on that list. So they guys at Yunque Zipline Adventure decided to help make the most of your time on vacation — they offer a zip line tour in Luquillo, in the foothills of El Yunque National Forest. Now you can spend half a day zip lining, and the rest of the day doing other vacation activities that are nearby.
For those of you that haven't been on a zipline before — a zip line canopy tour allows you to sail from tree to tree, and platform to platform, on a network of horizontal cables that are mounted above the tropical forest floor. We think it is really a lot of fun!
Yunque Zipline Adventure and canopy course is located just up the road from the El Yunque National Forest. It is set on a beautiful, 38-acre piece of land, high up in the Luquillo mountains. Their course has 5 zip lines, and a rappel and a hanging bridge. The views from the zip lines and platforms are fantastic! You fly out of the forest and get an amazing view of the northern limit of El Yunque National Forest, and El Yunque & Este peaks.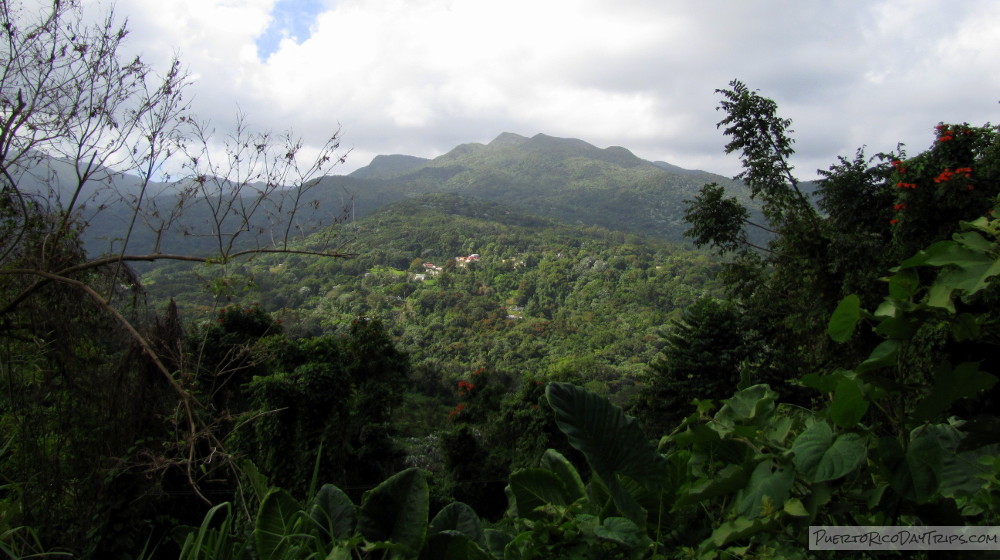 Our Adventure
After meeting up with our group, we followed our guide for a 4-minute drive to the base camp for their operation. They have a house on this 38-acre property. Here our guides gave us the initial briefing on what we'd be doing over the next couple hours. They explained the equipment we would be using that day, and how safe it really is.
They explained that during our adventure, we would be wearing a harness (that attaches you to the cable system), helmet and gloves. Between the harnesses, carabiners, double zip line cables, a safety clip when you are on the platforms, and these guys watching out for us each step of the way, we knew that we would be in good hands.
The guides had a great sense of humor. They made everyone feel at ease, and were great about answering everyone's questions. When we were all ready, they handed out the gear, and helped us into our harnesses. The harnesses were new and much more comfortable than other ones I have used on other zip line tours.
Here's a tip — There is a restroom in the house, which I suggest you visit BEFORE gearing up!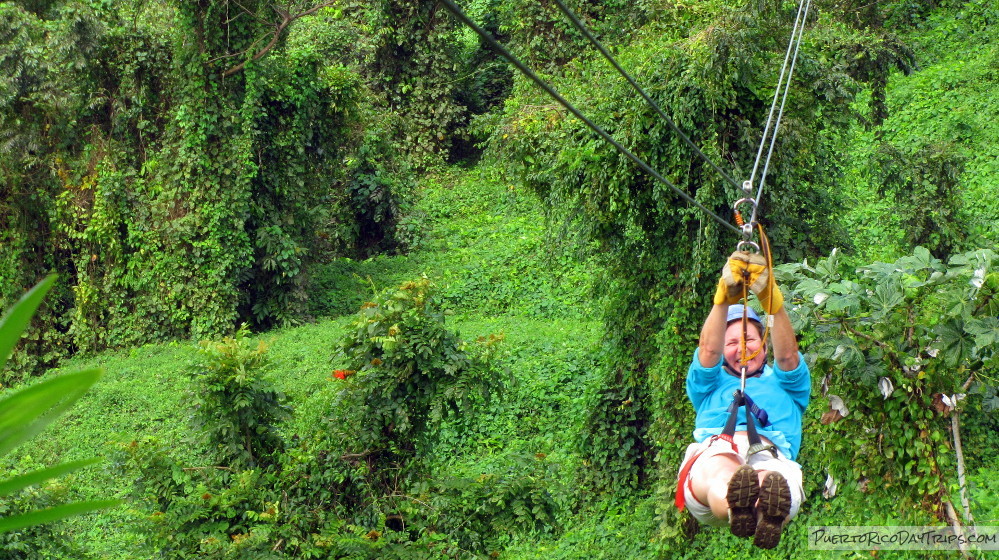 Then off we went. The first line is just steps away from the house. The second one is also just steps away from the end of the first. Then the third one takes you into the forest. And they all have great views of the peaks of El Yunque and the valleys of the forest. The lines are pretty long between 500-800 feet … no baby lines here!
Zip lining is fast and fun and exhilarating! What an adrenaline rush, stepping off the platform and flying through the air!
At each platform, the guide re-instructed us about the zip line, our equipment, how we should land on the platforms, and the safety practices they would be following. There is always a guide clipping you onto the line, and one at the other end, making sure you stop safely and un-clipping you from the line.
Next was the nature walk in the forest, which was a guided 15-minute walk. The path can be slippery and tricky in parts, but there are ropes to hold onto, and the guys let you take your time and help you if you need it. Since it is a natural forest, each walk through is different, depending on what animals happened along at the same time as we did.
The guides made frequent stops and pointed out all sorts of interesting things — every time a bird chirped, they would identify it for us. They told us about a number of the plants that grew along the way and their uses. They talked about the island, how it was formed, the original peoples … really all sorts of interesting things!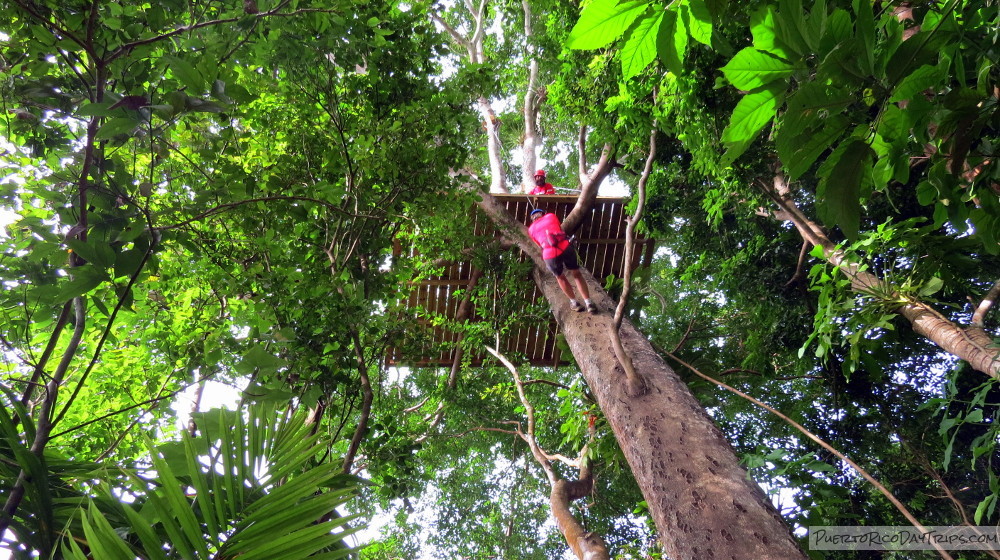 At the end of the walk we arrived at the next zip line platform. While only 250 feet long, it is a thrill — it is short but FAST! That put us at the final zip line which was really long and fun. They also offer a chance to rappel down a rock wall , it is about a 50 ft rappel down. This is assisted, which means they hold the rope (using a hand brake) and control the speed of your descent (so you can't mess up and fall). Fun!
Once you catch your breathe from the fun, you can get some great photos with El Yunque in the background as you make the short walk back to the house.
Hints, Tips & Other Info
This is a small operation, It was easy to see that the guides really love the land and culture of Puerto Rico, and want to preserve it and educate people about it. And, at the same time, provide a fun and safe adventure for everyone.
Because of the location, one can experience all the fun and excitement of this zip line course and still have lots of time left to visit the rain forest, Balneario Monserrate in Luquillo, the biobay in Fajardo), or any of the other great activities that are available in the north-east part of Puerto Rico.
You need to be of moderate physical ability — there are some steps up each platform and a 15 minute walk in the forest (some of it up hill) in the middle of your adventure. Closed-toe shoes are required. We recommend wearing longer shorts (no short-shorts) or light-weight pants. Bring water. Bring a small backpack for 1 person in your group (to hold your bottles of water, camera, etc). They do this trip rain or shine.
Normally, when we review an activity that is not free to the public, we pay the admission price out of our own pockets. However, we just want you to know that the guys at Yunque Zipline Adventure were kind enough to offer us this trip for free. While we don't feel that this free ride influenced our review one way or the other, we felt that we should tell you, just as a matter of fact.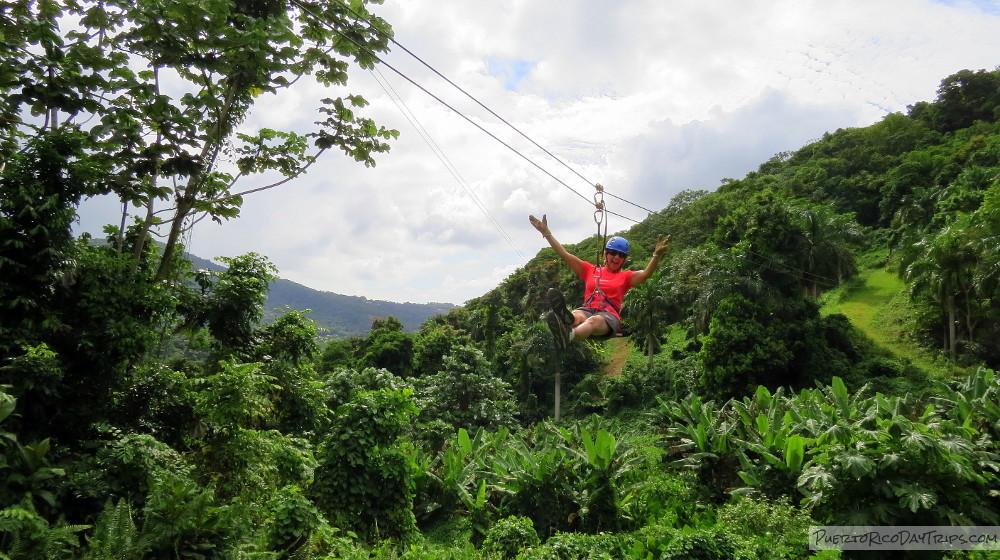 The Details
check for the current price online. Price includes some snacks and juice. They can offer round trip transportation also if needed (additional cost).
If you're happy, let them know it — Don't forget to tip your your bartender, tour guide or trip operator if you enjoyed yourself. Gratuities are appreciated and typically aren't included in the price they charge you.
They do this trip twice/day (at 8:30am and 1:30pm) 7 days/week.
Open to participants 7 years old and up to 68 yo. Children between the ages of 7 to 18 must be accompanied by a parent or guardian. Participants should weigh between 60 to 230 pounds and at least 4 ft tall.(call them for specifics).
Allow 3 to 4 hours.
Call 787- 529-2496 for more information or to make a reservation. It's better to call or book online.
You can visit their web site for more information.
Take Route 3 to the Luquillo area. Then pick up Road 992. The meeting point is at the basketball court at KM 4 on Road 992. .
Yunque Zipline Adventure is about a 45 – 60 minute drive from the San Juan area.
Click on a placename below to view the location on Google Maps ...
PuertoRicoDayTrips.com assumes no responsibility regarding your safety when participating in the activities described in this article. Please use common sense! If your mother or that little voice in your head tells you that you are about to do something stupid … then don't do it!