40 Things to do in Northeast Puerto Rico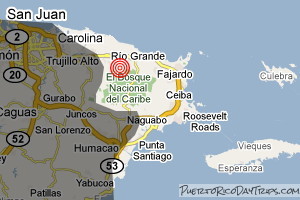 I am the vacation planner in our family, so I know how difficult it can be to figure out where to stay or what to do when you are visiting some place for the first time. This article may help you plan some of your time here in Puerto Rico, particularly on the northeast part of the island. By "northeast", I am referring to the part of the island that you can reach by driving east from the San Juan area.
We live and have a tourist vacation rental in Río Grande next to El Yunque National Forest, so we have had the opportunity to spend a lot of time enjoying this part of the island. Fortunately, the northeast area has so much to do that one could spend many days here and still have not done it all!
Spending Time in the Northeast
It will be easy to fill up your vacation time whether you have a couple hours, a full day or many days to spend in the northeast. Of course, there are some things in the area for which you have to set aside a fixed amount of time. There are others where you can spend as much or as little time as you want, depending on your level of interest.
Let's use El Yunque National Forest as an example. You could spend a few longs days in the forest and still not see/hike all that the forest has to offer. At the other extreme, you could just drive up the road, enjoy the greenery, waterfalls and views from the comfort of your air-conditioned car and be "done with it" in 2 hours!
Everyone has their own ideas about what they want to get out of an activity. Here is a list of things available to do in the northeast and the average time people take to enjoy them.
4 Hours or Less
These things generally take 4 or fewer hours to enjoy. We usually pick 2 of these and make a full day out of it.
Piñones — you can either walk or bicycle on the nature boardwalk, or kayak in the lagoon
Route 66 Outlet — a small mall with outlet stores, a food court and movie theaters
Camarero Race Track — horse races in the afternoon, 5 days/week
El Yunque National Forest — hike 1 or 2 of the short trails like Mount Britton, Juan Diego, or Angelito
Balneario Monserrate — a beautiful, crescent-shaped beach in Luquillo with palm trees and a view of El Yunque. There are lifeguards, food stands, gated parking lot, restrooms and showers available.
Luquillo Kiosks — 60 beach-front food vendors, offering everything from local fare, to Italian, Mexican and burgers. Good for a quick lunch or a sit-down dinner.
Surfing Lessons — in Luquillo for beginners and experienced surfers.
Hacienda Campo Rico — ATV tours, horseback riding, or a zipline adventure, just minutes away from San Juan.
Carabalí Rainforest Park (formerly Hacienda Carabali) — ATV tours, horseback riding, go carts and mountain bikes all in the foothills of El Yunque.
Yunque Zipline Adventure — zip lines and hiking in the foothills of El Yunque
Resort Casinos — try your luck at the casinos in the Rio Mar resort.
Golf Courses — play a round of golf at one of the Resorts.
Nature Reserve Tour — get an enjoyable and educational tour at Las Cabezas de San Juan in Fajardo
Seven Seas Beach — a beautiful beach in Fajardo, with lifeguards, gated parking lot, restrooms and showers available.
Secret Beaches — Playa Colora or Playa Escondida near Seven Seas in Fajardo for more private sun bathing.
Island Hop & Snorkel Guided Mini Boat Tour — you're the captain on this "drive-it-yourself" motorboat tour that combines white sand beaches, snorkeling and high-speed boating
Take a tour with Pirate Snorkel Shack and take a trip that combines kayaking and snorkeling near Seven Seas Beach in Fajardo
Monkey Island — kayak in the ocean to Cayo Santiago to observe free roaming research monkeys and have the opportunity for some snorkeling.
Humacao Nature Reserve — enjoy a half-day of walking and/or kayaking and birdwatching
More than 4 Hours
These places and activities take more than 4 hours to do — some are full-day activities — so one can usually only do one of these per day. Although, with some planning and with the understanding that you'll have a really long day, you could do one of these during the day and then a biobay trip in the evening.
A Biobay is a must-do at Night
If you're heading to the northeast, one thing that I really like above all others is a trip to a biobay. You need to take the moon into consideration (we have this handy biobay/moon calendar that shows the best nights) because a bright moon washes out the glow of the biobay.
If the moon is favorable, I think this is an incredible experience. And since the first tours of the biobays start after dark, you could still do something else from the list above during the day and then visit a biobay at night.
There are 3 options for visiting a biobay in the northeast. You can do the Fajardo biobay on foot at Las Cabezas or via kayak with a guided tour or via an electric motor boat,.
I think any biobay trip is a perfect ending to a great day!
Click on a placename below to view the location on Google Maps ...
PuertoRicoDayTrips.com assumes no responsibility regarding your safety when participating in the activities described in this article. Please use common sense! If your mother or that little voice in your head tells you that you are about to do something stupid … then don't do it!