Carefree Kayaking & Snorkeling on Culebra
Kayaking Puerto Rico is running tours! Culebra Island Aquafari.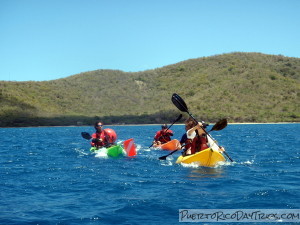 If your idea of vacation fun includes good snorkeling, then you need to get out of San Juan!
I think the closest and best snorkeling you'll find around the north-east of Puerto Rico is on the out-islands of Culebra and Vieques. But getting to those islands can be a bit of a hassle and worrisome — waiting in line for ferry tickets, not knowing exactly where to go, where to get snorkel gear and how to get to the best snorkel spots.
Now, Kayaking Puerto Rico and Culebra Island Adventures have removed all of the roadblocks to a great snorkeling experience. They both offer an all-day kayak excursion to the Luis Peña Nature Reserve on Culebra. They've organized a trip that takes you from Ceiba to Culebra and back again. They both even have an culebra-only option for people who are staying on Culebra and don't need the additional transportation from Ceiba. They do all the planning, so all you have to do is sit back and enjoy yourself!
We had the opportunity to join the guys from Kayaking Puerto Rico on their inaugural Culebra Aquafari trip and again in 2012. Where you go depends on the weather, the group and the guides, so your experience may differ. We went to different places both times and really enjoyed both.
The Snorkel Area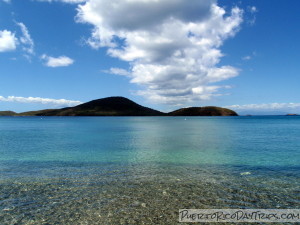 Snorkeling on Cuelbra and its cays is some of the best you will find in Puerto Rico. The Luis Peña Channel Nature Reserve was designated as the first aquatic no-take nature reserve in Puerto Rico. The west-side beaches including Melones, Tamarindo and Carlos Rosario, the Cayo Luis Peña, and the waters around them all, are protected as part of the Culebra National Wildlife Refuge. Because of the fishing ban, the underwater flora and fauna have flourished. Some of the best snorkeling you will find in Puerto Rico.
Starting Your Day in Ceiba
The staff of Kayaking Puerto Rico takes care of you from start to finish. The only thing you need to do is arrange for transportation to/from the ferry terminal in Ceiba. I think the best (and most economical) way to do that is by renting a car.
Your day begins when you arrive at the ferry terminal in Ceiba . A rep from Kayaking Puerto Rico will be waiting for you and they'll hand your your round-trip ferry ticket. Sometimes they even have someone waiting in line for your group and you join them when it is time to board. (They will have already purchased your ferry tickets, so you don't have worry about waiting in the ticket line, or if tickets sell out, etc.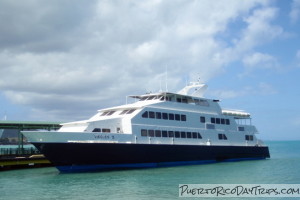 The boarding announcements are only in Spanish, so just follow your KPR representative or the crowd as you're herded onto the ferry. You can sit where ever you want on the ferry. Just note that the AC will be on full-blast inside, so you may want to choose one of the outside seats on the upper deck. Also, if you're prone to sea-sickness, a seat outside is better than one inside. The ride to Culebra is typically bumpier than the ride back to Ceiba. In any case, just sit back and enjoy the 90-minute ride.
Once you get off the ferry in Culebra, there will be another Kayaking Puerto Rico rep waiting for you. Just scan the dock for the guy holding the Kayaking Puerto Rico sign.
You'll be taken to Flamenco beach to enjoy it for about 1.5 hours. Flamenco beach has been listed as one of the Top 10 most beautiful beaches in the world, so it is a treat to be able to visit it. Note that lunch is not included in this trip, so bring $7 – $10 per person for a sandwich and a soda. You'll have an active day ahead of you, so you'll want to make sure you're not hungry. After lunch, you'll get onto a waiting tour bus for the short ride to Tamarindo Beach.
Instructions & Equipment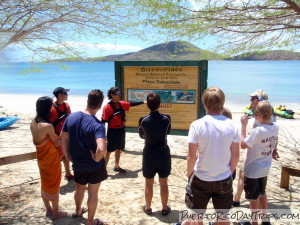 The active part of our day began at about 12noon. Our tour guides, Julio and Joel, gave us a briefing on where we were and will be going. They also talked about the conservation efforts and what we needed to do to keep from damaging the coral during our trip. You also are given your life vest and snorkel gear. You should try on your mask and fins to make sure they fit correctly — it's easier to adjust those things while standing on the beach versus floating in the water. For people who have never kayaked or snorkeled before, they also will give you a brief lesson and make sure you're comfortable with all of the equipment. They have a safe place to lock up all your personal items where they will stay dry. They use 2-person, sit-upon kayaks, so you'll be paired up with someone if there are an odd number of people in your party. .
Our Trip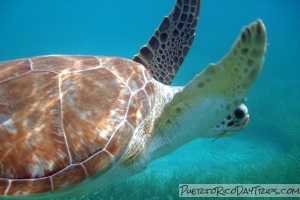 The first trip we went on we paddled across to the Luis Peña Cay. The second time, we paddled to Tamarindo II. Both times, we kayaked for about 15-20 mins. Not too difficult, and you can do it as fast or slowly as you are able. Once to the destination, they anchor the lead kayak and then hook all of the kayaks together so they'd stay put while we snorkeled. As always with Kayaking Puerto Rico, they were very careful not to touch or hurt the reef in any way, and they continually stressed how important it was for us to stay clear of the reef while we were in the water.
Once all the kayaks were hooked up, there was nothing left to do except put on our snorkel equipment and jump in the water. If you are not a strong swimmer, you can keep your life jacket on while snorkeling. But they also have floats with them, in case you get tired while in the water. They always have a few guides with you in the water (both of who dive down to find neat stuff to look at) that you can go to if you have a problem. They also have a guide that follow along with a kayak and rescue gear. You follow the guide as you snorkel the reef.
The Snorkeling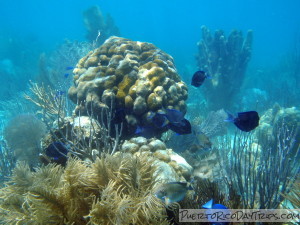 I was very impressed by the number corals and sponges. There were all types of healthy corals — even elk horn, which is getting harder to find. The yellow and purple fan corals made a beautiful backdrop for the fish. There were lots of different types of fishes. We saw everything from barracuda to colorful wrasses, angel fish and rainbow colored parrotfish. A school of blue tangs and even a spotted eagle ray. And, a first for me here in Puerto Rico, a spotted drum fish.
The reef is very colorful, very alive. Visibility varies depending on the weather/water conditions but it is usually great for snorkeling. This area is one of the best snorkeling locations I have been to in Puerto Rico. And the guides have underwater cameras, so they take your pictures and pictures of the amazing stuff you are seeing and then post them on Facebook later, so you always have some great pictures of your trip.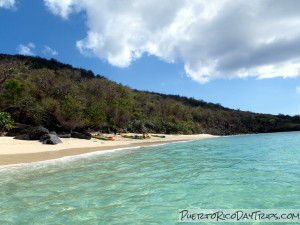 After snorkeling, we got back into our kayaks an paddled back to Tamarindo beach, where they provided us with snacks and water.
After our break, we walked down the beach to the left and snorkeled. Here there is sea grass, where the turtles love to hang out and eat. We saw a bunch of turtles, close up. So beautiful! And then we snorkeled around this area where they are doing coral restoration projects. This also was a great area to see all sorts of fish and other things.
Heading Home
All too soon it was time dry off, have some more water & snacks, and talk about everything that we had seen and done.
Around 4:15pm, the tour bus showed up and took us on the short ride back to the ferry. We had time to get a quick drink and then get on the ferry. By 5:00pm, we were back on the ferry and underway for the trip back to Ceiba. No stress, no worries!
Hints, Tips & Other Info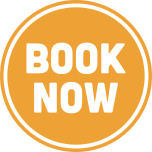 Since you'll be in full sun for about 3 hours you should wear a t-shirt or rash guard. Also, make sure you put sunscreen (lots!) on your back, legs and arms. Don't forget the backs of your knees. You will get sunburned while snorkeling!
Make sure you bring a change of clothes and something warm to wear on the ferry. The ferry has the coldest AC in the world! Better yet, try to score a seat outside on the upper deck. You'll be glad you did.
The Details
Check their website for the current rates. This includes the round-trip ferry and transfers to the launch site at Tamarindo Beach. They will take you to Flamenco beach where you can buy your own lunch after they pick you up from the ferry. There is a reduced rate for people already in Culebra. This does not include any transportation. All trips include snacks and water. If you really don't want to take the ferry, contact them, they can arrange a flight for the tour instead (for additional fee). Add IVU (sales tax) to all prices. Book Now
If you're happy, let them know it — Don't forget to tip your your bartender, tour guide or trip operator if you enjoyed yourself. Gratuities are appreciated and typically aren't included in the price they charge you.
Depending on the conditions, the kayaking can be strenuous. Because of that, the activity level of this trip is rated as moderate.
If you're staying on Puerto Rico, allow a full day (8:30am until after 6:00pm). The actual kayak/snorkel part is about 3 hours.
You can call Kayaking Puerto Rico at 787.435.1665 or 787.245.4545 for more information.
You can visit their web site for more information.
Please refer to our article about the Ceiba Ferry for driving directions to the ferry terminal.
Click on a placename below to view the location on Google Maps ...
Activities booked through this page are booked directly with the activity operator. Other than referring you to the activity operator, PuertoRicoDayTrips.com is not involved in the transaction between you and the activity operator. The activity operator is responsible for all aspects of processing bookings for its activities, including cancellations, returns, and any related customer service. PuertoRicoDayTrips.com makes no representations regarding the level of service offered by an activity operator. PuertoRicoDayTrips.com will receive a small referral commission for any activities that you book through this page.
All trademarks, logos and brand names are the property of their respective owners. All company, product and service names used in this website are for identification purposes only. Use of these names, trademarks and brands does not imply endorsement. Photos used to promote tours are the property of the original copyright owners.
PuertoRicoDayTrips.com assumes no responsibility regarding your safety when participating in the activities described in this article. Please use common sense! If your mother or that little voice in your head tells you that you are about to do something stupid … then don't do it!