Pinones Mangrove Forest – Nature Boardwalk & Waterfront Fun
Update 1/21- The area was hit hard by Maria, but things are making a come back, lots of rebuilding of the restaurants. The boardwalk is usable but does need to be repaired in places. You can use the beaches.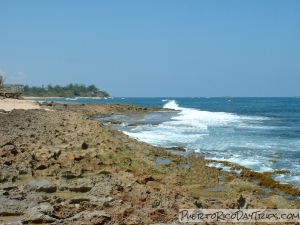 Pinones mangrove forest (Bosque de Pinones) offers a unique experience for tourists and locals alike. We find that almost no matter what we like doing, we can find it and spend an enjoyable day or evening in this area.
Even though this area is located just east of the airport and Isla Verde, it seems like a totally different world. There are no high rise buildings or traffic lights. This area is designed for recreation and relaxation.
During the day, it offers an 11 kilometer long nature trail/boardwalk that runs through the mangrove forest and along the northern coastline. The boardwalk is open to any non-motorized transportation, though mostly people walk or bike along it. I enjoy walking parts of it, and then stepping off the path and onto the beach, or to look at the rock formations, or the splashing waves coming in, and exploring the tidal pools. You can watch local fishermen catch large sea snails and other things.
Biking along the path is very popular with both tourists and locals. There are a few places along Road 187 that will rent bikes (usually about $5 per hour). These tend to be "well-used" bikes, but they usually will get you up and down the boardwalk just fine. The trail has no lights, and its use is prohibited at night. Unfortunately, there is a fair amount of trash along the path, so one must overlook the mess and see the bigger picture. Hopefully it will get a good cleaning soon.
There is a place called COPI (a Pinones Cooperative that wants to encourage the Pinones area enjoyment and the Loiza heritage) that has bikes and kayaks for rent. This place is open every day from 9a-4p. When we went, their bikes are in good shape (helmet is included), they sell water and have a clean bathroom available, and gated parking. They rent the kayaks for $10 per person per hour and the route is to kayak out into the mangroves. They also occasionally have Bomba dance classes and shows.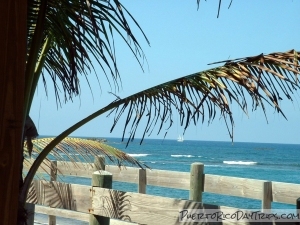 Another great part of Pinones that we love is the food! There are many places to eat and drink, ranging from dilapidated road side stands to great water-front restaurants. We have eaten at a couple different little shacks for snacks. We occasionally go to The Waterfront restaurant and really enjoy the stuffed Mofongo, as well as the view of the ocean. Bamboobei is also nice. There are a number of more casual/local places that serve frituras and you can eat there at picnic tables or take it with you. Some of the restaurants are closed Monday and Tuesdays, but usually are open for lunch and dinner the rest of the week. There are a few beaches along the boardwalk. The one across from the kiosks is very popular. This area (pozo) is separated from the ocean by a large rock divide. This makes a wide shallow pool to splash around in. It also is a great place to get sea urchin shells, and find a few other types of shells.
If you go, be sure to bring a bottle of water, the path is sometimes shaded and sometimes in full sun, and it can get hot! There are gazebos to sit and rest in along the way. Wear bug spray if you are going into the mangroves.
There are also road side stores to buy all sorts of vacation needs – hats, towels, sunscreen, some neat PR essentials, like hammocks and mortars and pestles. You can spend some time going from shop to shop. I would plan a stop at a few food shacks for drinks and snacks so you have the energy to keep going!
Pinones is the place to be seen for locals on the weekends – especially Sunday afternoons. It comes alive with people and music and dancing. Live bands and musicians appear at various places in the area. This fun goes on long into the night – there are dance floors, pool bars, and all sorts of roadside hangouts. However, traffic congestion comes along with that. Since Route 187 is the only road into and out of this area, be prepared to spend some time in traffic.
As a side note, You can also easily take the D45 bus from Isla Verde.
Contact for Bike or Kayak rental from COPI
Plan on spending ½ to a full day between the beach, boardwalk, bike riding, kayaking, eating, dancing and people-watching.
From San Juan: Take Route 26 east or Route 37 east to Route 187 east and cross the bridge over Boca de Cangrejos You are now in Pinones! COPI is located on the right, just at the east end of the bridge.
From Ri­o Grande: Take Route 3 west until you get to the RT 66 Mall. Turn right onto Route 188 north toward Loi­za. Once you're in Loi­za, turn left onto Route 187 west toward Pinones.
Swim at your own risk. I only swim in a cove beach in this area. I also am leary of parking far from others or in a secluded area. I try to park by a restaurant, at COPI or in an area with lots of other cars and I never leave valuables in the car. I don't usually feel comfortable hanging out in this area at night, unless with a group of people. Use common sense.
It is just about 10 mins away from Isla Verde.
Click on a placename below to view the location on Google Maps ...
PuertoRicoDayTrips.com assumes no responsibility regarding your safety when participating in the activities described in this article. Please use common sense! If your mother or that little voice in your head tells you that you are about to do something stupid … then don't do it!