Kayak in Pinones – Just Minutes from San Juan
Update 1/21- They are open and renting kayaks!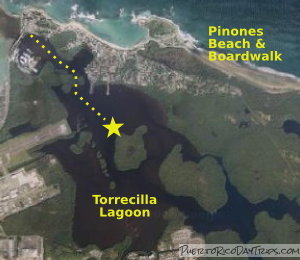 The Pinones area is just minutes away from the city of San Juan, yet it has a totally different atmosphere than the city. This laid back area is loaded with natural beauty, including a beach and mangrove forests, and delicious local food! I think a trip to this area is a must-do if you want to see a more traditional side of Puerto Rico.
If you enjoy kayaking, you can rent them from the COPI community center. This building is right at the edge of the Torrecilla Lagoon, so it's an easy entry and exit for your kayaks.
The lagoon opens to the ocean, so there are a number of marinas in the lagoon. But we only saw one boat going out, and another one that was quietly fishing. We felt no safety concerns with boat wakes, etc. An airport runway ends at the lagoon- we didn't see a plane take off from it while we were out there, but that might be cool to be right there when a plane takes off over your head! The kayaks they rent are the double sit-up ocean kayaks, so your butt does get a little wet. Their rental equipment includes back supports, paddle keepers and (mandatory) life jackets. All of the equipment was relatively new and in excellent condition.
It is a large lagoon, with many mangrove islands in it. We got very close to the islands, and this is were we saw lots of iguanas sunning themselves in the tree branches. We also saw lots of different birds, which we seemed to startle from their perches, so I was never able to get a picture of them!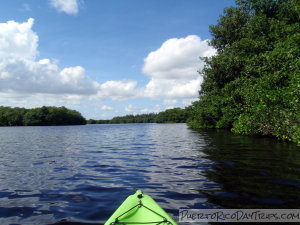 It was a nice relaxing kayak trip. There is not a lot of shade on the open lagoon, so it can get hot out there, even though there was a breeze. You will want to apply lots of sunscreen. You may also want to bring a bottle of water with you.
When you are done kayaking, you can take some additional time to enjoy the rest of the Pinones area – the boardwalk, the beach, and the mangroves. In addition to the kayaks, COPI also has bikes that you can rent to ride on the boardwalk. Whether you end up walking or riding a bike, make a point to stop along the way for some of the yummy local food when you get hungry! In addition to the many "road-side" places to eat, there are some really excellent restaurants in Pinones.
The cost of the kayaks is $15/person/hour, which includes all the gear you'll need.
Kayaks are available 7 days a week from 9am to 5:00pm.
Apply lots of sunscreen and bring water to drink!
Kayak rentals are by the hour. So allow as much time as you plan to kayak, then add on another hour or 2 to give yourself enough time to explore the rest of the Pinones area.
You can check their facebook page for more information.
You can call them at 787-253-9707 to reserve a kayak or for info. They have about 12 2-person kayaks. Reservations are not required unless you are a large group.
From the Isla Verde area, take Road 187 East past the Carolina Balneario. As soon as you cross over the little bridge, make a quick right into their parking lot.
Click on a placename below to view the location on Google Maps ...
PuertoRicoDayTrips.com assumes no responsibility regarding your safety when participating in the activities described in this article. Please use common sense! If your mother or that little voice in your head tells you that you are about to do something stupid … then don't do it!