Ride a Bike on the Boardwalk in Piñones
Update 1/21- The boardwalk did sustain some damage in the hurricane, but it is being repaired. It is usable. COPI is renting bikes.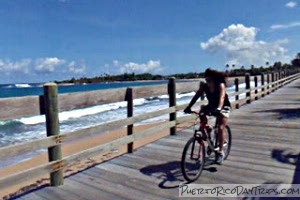 It's not surprising that biking in Piñones is a favorite activity of locals and tourists alike. This beautiful area, located just minutes east of Isla Verde, has beaches, mangroves, restaurants, and an 11-kilometer nature trail. It feels like a totally different world than the busy tourist areas of Isla Verde and Condado.
I love this area, it is so pretty and you can get a million beautiful pictures. The trail runs along the ocean and beach, then into the mangrove forests. I really enjoy biking on it – it is mostly flat and the breeze is great. It takes about 2 hours to go directly from one end and back. But you'll probably want to spend more time, so you can stop and take pictures, grab a bite to eat and explore some beach areas.
COPI, which a Cooperative that helps promote the Piñones area and local businesses (the acronym comes from it's name in Spanish), hosts a company, CicloNatura, that rents bicycles. These "comfort" bikes (the ones with the fat tires) are in ok condition. It is the only place in Piñones I know of that gives you helmets, too. They have bikes in all sizes, from small ones for kids, regular bikes, bikes with baby seats, and even bikes built for two.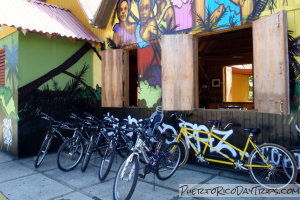 The COPI building has clean bathrooms and they sell water & soda. They are very close to many places to grab a bite to eat. They also have kayak rentals.
There are a few other places along RT 187 that haves bikes for rent,but they are also in bad condition. For people who don't want to ride a bike in very used shape, there is "Best Tour Connection" 6471 Ave Isla Verde located in Isla Verde (by the Hampton Inn), that rents bikes for $6/hr (787) 253-1886). Rent A Bike in Condado charges $20 for all day rental 787-967-7770.They will deliver the bike to your hotel. Or you could contact Rent The Bicycle and either take a tour or rent the bikes through them.
The only "problem" with the Piñones area and boardwalk is the garbage. There has been a lot of dumping of trash. You need to look past the garbage and see the beauty beyond.
Bike rentals are $10.00 per hour. Baby seats bikes and bicycles built for two are extra. Fee includes required helmet.
You can check their facebook page for more information.
You can call them at 787-253-9707 to reserve a bike or for info.
They are open everyday from 9:00am to 5:00pm (or so) . The last bike rental starts at 4:00pm. The gate to the parking lot closes at 7:00pm.
COPI is located at the end of the Boca de Cangrejos bridge. There's a green fence around the parking area. They have a sign that says Cultural and Ecotourism Center.
From San Juan: Take Route 26 east or Route 37 east to Route 187 east and cross the bridge over Boca de Cangrejos. You are now in Pinones! COPI is located on the right, just at the east end of the bridge.
From Ri­o Grande: Take Route 3 west until you get to the Outlet 66 Mall (formerly Belz Factory Outlet Mall). Turn right onto Route 188 north toward Loi­za. Once you're in Loi­za, turn left onto Route 187 west toward Piñones. Go to the end, you will see a green fence on the left.
Click on a placename below to view the location on Google Maps ...
PuertoRicoDayTrips.com assumes no responsibility regarding your safety when participating in the activities described in this article. Please use common sense! If your mother or that little voice in your head tells you that you are about to do something stupid … then don't do it!