Spend the Day at Flamenco Beach on Culebra
4/1/2023- Beach, parking area, kiosks, and services are open! Only the camping areas remains closed. There is an entrance fee $2 per person required "donation"/admission to the beach. plus Parking is $5 per car or $4 for golf cart. Gates close promptly at 5:30pm!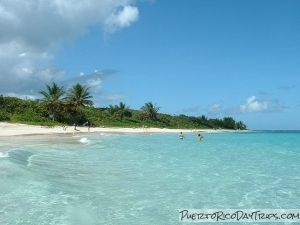 If you are a sun worshiper, a beach lover or snorkel fanatic, I don't think a trip to Puerto Rico would be complete without a trip to Culebra. It can be done as a day trip or stay for longer (there are a few hundred hotel rooms and vacation rentals available).
Culebra is an island 20 miles off the north-east coast of Puerto Rico. This small island (seven-by-four-miles) is a favorite of tourists and locals alike, not only for the things on the island , but also for the things you will not find here. Culebra has no luxury resorts, casinos, elegant restaurants, theaters, or night life to speak of. It also has no crowds, crime or traffic. What it does have is just a laid back island feel and great beaches and snorkeling.
I have been to Culebra as a day trip a few times. I went to snorkel, and visit Flamenco beach. Flamenco is the most popular beach on Culebra, but the beach is usually never too crowded (except Holy Week and summer weekends). Flamenco beach is the gem of this small island. It is one of those "picture postcard" beaches – it is very pretty, with super white sand, beautiful views, and crystal clear water. It did not win this year, but this beach usually gets the prestigious Blue Flag beach. You can expect clean water, lifeguards, and facilities. There are bathrooms (sometimes cleanliness is questionable) and a few small changing rooms, and the showers are available. The gate at the beach is open from 7am until 5:30pm. When we go, we try to get a spot closer to the tree line, so that in the afternoon there will be some shade. You can rent lounge chairs and umbrellas at the beach for $10 each- the guy is located just outside the beach gates (you will see his truck). Note- there are paths you can use before/after hours to enter the beach, they are located outside the gate.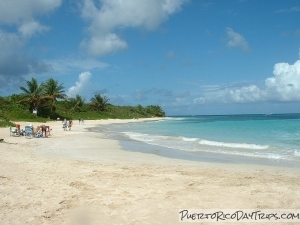 Flamenco beach is a 1½ mile long crescent on the north side of Culebra. It is a protected cove, so there are usually hardly any waves, and I think the snorkeling is easy (it can get rougher in the Winter, monitor water and wave conditions- don't go in if there are too many waves or if red flags are flying). I have found really great snorkeling right off the beach. Loads of different types of fishes. This is where I took my niece and nephew (7 & 10 years old) to try their first snorkeling adventure, and they loved it. I think the best snorkeling is out along the outer edge of the reef, so you are in over your head. We bring boogie boards so the kids can "hang out" holding onto the board when they get tired. Wear a T-shirt while snorkeling to avoid getting a sunburned back.
Currently it is locked, but sometimes you can walk through the gate in the back of the parking lot along a long trail , you will end up on another beach that also has great snorkeling (Carlos Rosario beach). However there are no facilities there.
There are food and drinks available for sale at Flamenco Beach (in the parking lot area) during the day. There are picnic tables under the shade of some pine trees, so you can enjoy your meal in the shade, or you can bring your lunch back to the beach with you. You can also bring your own food and drinks in a cooler, but glass is not permitted. This is the only beach (that we've been to) where they actually check your coolers before letting you onto the beach.
An interesting thing, as you walk along this beach, is the remains of old tanks left over from military practice. One of them is all painted up, while another is just rusting in place. It reminds you that even in "paradise", the real world is not far removed.
If you want to snorkel, you can rent snorkel equipment at Culebra Divers (dive shop)or Culebra Bike Shop, which are both right across the street from the ferry dock, Culebra Snorkeling ad Dive Center in town's Mercado area, or KPR Adveture Shop by the airport. You can also get guided snorkel trips from both the dive shop and KPR. A number of the car rental places and even the taxi drivers sometimes rent snorkel equipment (I know Jerry's Jeeps does).
Getting around the island is easy – there are loads of reasonably priced taxis. There will be tons of taxis at the ferry dock, and the airport, to take you right to Flamenco beach (about $4 per person each way). The taxis will start coming back to Flamenco beach to take you back to the Ferry dock starting at 3:30pm. If you already have your ticket, you don't have to leave until a little after 4pm (since it is only a short drive). If you are more of an adventurer and want to explore on your own, you can rent cars and scooters (make reservations ahead of time). Parking at Flamenco Beach is $5. Walking is always on option, but it is not really feasible. It would be a long hot walk!
Campng is Not currently allowed, that area is closed. You will need to bring your own equipment. Tents and other gear are available for rental on the island (I hear someone at the beach rents equipment, but I don't know for sure). You will need to register and pay for a permit – you will find the office at the entrance of the campground. You will be assigned an area to pitch your tent. Permits cost $30/night . There is no electricity, and campfires are not permitted, but there are BBQ pits if you bring charcoal. I hear it gets crowded on the weekends, and you need to bring bug repellent.
It is easy to get to and from Culebra by either taking the passenger ferry from Ceiba, or by plane. The Fast Ferry from Ceiba takes about 45 mins (the slower ferry can take up to 1.5 hrs) each way, and costs $2.25 each way. But the lines are really long for the ferry, so you need to get there very early. If you want to take a plane, they are available from the Ceiba airport, Isla Grande in San Juan, or Luis Munoz Marin airport. It is a short flight in a small plane. You need to make a reservation for a flight before going. Once you get to the airport, you will be on island time – your flight may or may not leave on time. Patience is a virtue.
For info on the plane ride from Ceiba airport, see our Ceiba airport article
For info on the ferry from Ceiba, see our Ceiba Ferry article
Jerry's Jeeps Rental 787.742.0587
Carlos Jeep Rental 787.742.3514
KPR Adventure Store 787.742-0523
Culebra Dive shop 787.742.0803
Flamenco Beach Campground Info 787.742.0700
Click on a placename below to view the location on Google Maps ...
PuertoRicoDayTrips.com assumes no responsibility regarding your safety when participating in the activities described in this article. Please use common sense! If your mother or that little voice in your head tells you that you are about to do something stupid … then don't do it!