Camping at Flamenco Beach on Culebra
As of January 2023, the camping area at Flamenco Beach remains closed.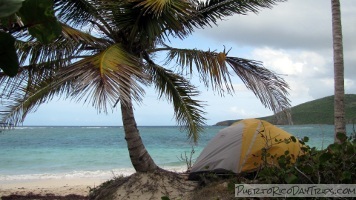 Culebra is a beautiful island, probably one of our favorite local beach mini-vacation getaway places. But lodging can be pricey. If you are looking for really low cost "lodging", and don't mind roughing it a bit, camping might fit the bill.
The only campground on Culebra is the right on Playa Flamenco, and is managed by the Department of Natural and Environmental Resources (DRNA). It is an amazingly beautiful location, offering breezes and most of the amenities any camper could want. We don't camp, but have visited the campsite and asked around to get the info for this mini-guide. We hope it helps.
Getting There
If you're on the big island of Puerto Rico, getting to Flamenco Beach can be a bit of a hassle since Culebra is a different island. Your options of getting to Culebra are either to take a ferry from Ceiba or to fly from Ceiba, SJU, or Isla Grande. The ferry is the most economical way to get to Culebra , plus additional charges for tents, coolers, etc.
Camping Gear
Figuring out what gear you are going to need, and how you are going to get it to Flamenco Beach, requires some advance planning. Personally, I would bring all my own gear to Culebra, which would mean to bring it from home or to buy it on the big island. Some stores here, like Walmart, Kmart, Sears, Sams, and Costco, carry a limited assortment of camping gear.
Another option is to rent most of your gear once on Culebra. We have found two places on Culebra that rent camping gear: Tent City and Culebra Bike Shop. Currently (3/15) there is an enterprising person on AirBnB who will have tent and all needed sleeping stuff set up for you at the campsite when you arrive!
If you opt to rent your gear, I would suggest that you call them to (1) make sure they will have the gear you need, (2) try to reserve your gear, and (3) make sure they will be open when you arrive. Don't assume that either place will be open when you arrive.
Even if you decide to rent gear, you will still have to bring something to sleep in (sheets or sleeping bag), since that kind of thing can't be rented. Or maybe just bring a hammock and string it up between a couple trees!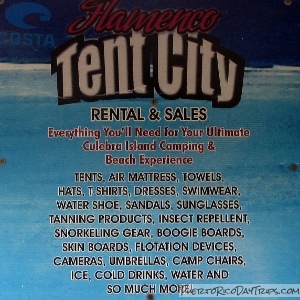 Culebra Bike Shop is located in town, just across the street from the ferry terminal. They have tents, coolers, hammocks, chairs, and bikes for rent. The tents are mostly small 8×8 4-person tents and rent for $10 to $15 per night. Their phone number is 787-742-0589. You can try emailing them at TheWonderlust@gmail.com.
Tent City is one of the kiosks located right at Flamenco Beach. They rent tents and other camping gear like mattresses, flashlights, and propane stoves. They also sell fuel for camping stoves. They charge $20/night for a tent, plus a $50 deposit. Their phone number is 787-226-0232. Note- they haven't been open about 85% of the times I have been at Flamenco beach.
Transportation on Culebra
I would recommend getting some type of transportation on Culebra. The campground is a good 30-minute HOT walk from town. You can easily get a $3 taxivan ride during the day. After 5pm, you will need to call one of the many taxi drivers posted at the campground for a ride back and forth to town. It will cost a few bucks more after dark. Renting a car would be a good idea if it is in your budget. Parking at Flamenco is $5/day.
Food and Supplies
I would recommend getting your supplies as soon as you get to Culebra. Colmado Milka is only a few blocks away from the ferry dock — just over the orange bridge. The Costa del Sol supermarket is close to the airport. Note that most markets close early on Sunday, usually by 1pm, so plan accordingly. Glass bottles are not permitted at Flamenco Beach, so stick to cans!
Reservations and Check-in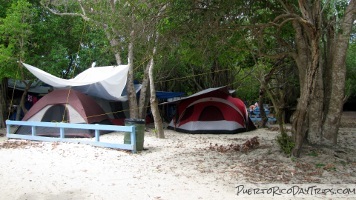 They don't usually take reservations as there is room for over 400 tents. However, the campground is extremely popular during Holy Week, the whole month of July, holiday weekends, and most summer weekends.
You need to check-in/registrar at the office right at the entrance to the balneario. The posted office hours are 6am to 7pm. However, if they are not open when you arrive, just pick a campsite, set up and settle up in the morning. It costs $30 per tent per night, maximum 6 people per tent ($20 for senior citizens and people with disabilities). Check-in is after 8am, check-out is before 4pm. They accept cash, credit cards and ATH.
At the Campground
The campground is packed dirt and sand, shaded by palms and pine trees. The camping areas are located just a few feet away from the beach, so you get ocean breezes, views and sounds. It is maintained pretty well, and it appears relatively clean.
The campground is divided into 5 areas, labeled A to E. Camping Area A is closest to the food and supply kiosks, but also closest to the parking lot and bus-loads of beach-goers. Camping Area E is farthest from the parking lot. There are some picnic tables in each area, but not enough for each campsite. So get there early and claim a table!
Camping Areas A to D are for families, groups, and (usually) weekend party-goers. Camping Area E is designated as the "quiet" zone. We were amazed at the elaborate tent cities that the large local groups set up while we were there, with giant tarps strung in the trees above their tents and picnic tables. These are some serious party set-ups!
For cooking, you can't have an open-flame fire. You either have to use a propane camping stove or get a site close to one of the BBQ pits. You need to supply your own charcoal for the BBQ pits. Note that tanks of propane cooking gas are prohibited on the ferry and planes. You will have to buy cooking fuel on Culebra, so plan ahead.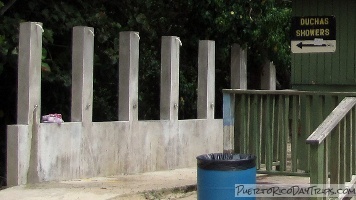 There are a number of food kiosks at the balneario parking lot, but these close soon after the beach-goers leave for the day (about 6pm), so eat early, plan on cooking your own meals, or go into town for dinner.
The facilities at the campground are pretty basic. There are only outdoor showers, so you need to shower in your swimsuit, or have someone set up a privacy screen for you. Note that the water in the showers is non-potable.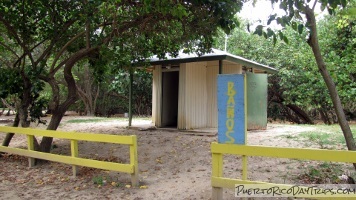 The bathrooms are flush toilets (that are usually decently clean except for really busy weekends), but there are no sinks. I suggest you bring your own toilet paper.
There are large water tanks of potable water at each camping area for cooking, cleaning, and brushing your teeth. The shower water is not always on, though I noticed it was on during the afternoon we were there.
Last-minute checklist
Remember to take camping gear, something to eat/drink, sunblock, insect repellent, toilet paper, trash bags, flashlight, personal care items, first aid kit, and matches to light a BBQ. We also recommend hard-soled shoes, since Culebra has lots of Acacia thorn bushes and coral rocks.
Personal Safety
While there is virtually no crime against tourists on Culebra, and there are guards that patrol the campground, I would be leery of leaving cameras, passports and other important or valuable items unattended in tents or on beaches. We always double dry bag our important stuff and bring it with us when we go in the water. Some people opt to dig a hole under the tent and hide stuff there.
Details
For info, you can call the Flamenco Campground Office at 787-742-0700 or the Culebra Conservation and Development Authority at 787-742-3880, or you can write to them at:
Autoridad de Conservación y Desarrollo de Culebra,
Attn: Playa Flamenco
Box 217
Culebra, PR 00775
There is a $2 per person "donation" required for admission to the beach. Parking is $5 per car for parking, and $4 per golf cart.
The maximum number of nights you can register for is 7 nights. If you want to stay longer (we were talking to a guy that have been camping there for 3 months) you need to go to the office and re-register every 7 nights.
When you register, you will be given a set of campground rules that everyone must abide by — typical things like no littering, quiet time after 11pm, and don't bother the wildlife.
When you register, they may assign you to a specific campsite, but they just usually let you decide where you want to set up camp.
Sorry, no animals allowed at campsites unless they are certified guide dogs.
If you have a car, ask about a reduced parking rate
All info about camping or having parties at Playa Flamenco (and the registration/reservation paperwork) are in this Rules and Regs document
Click on a placename below to view the location on Google Maps ...
PuertoRicoDayTrips.com assumes no responsibility regarding your safety when participating in the activities described in this article. Please use common sense! If your mother or that little voice in your head tells you that you are about to do something stupid … then don't do it!