Currently not available from Flamenco Beach parking lot-Solitude and Snorkeling at Playa Carlos Rosario
2/23 Currently the gate at the Flamenco beach trailhead is closed, so there is no access to this Trail.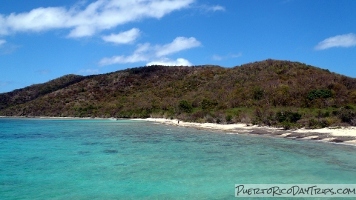 Culebra has always been a popular island to visit, with its beautiful beaches and easy snorkeling right from the beach. The problem is, the amazingly beautiful Flamenco Beach has also become so popular that it can be a bit crowded at times. For people who are looking for a quiter beach that still offers great snorkeling, Playa Carlos Rosario may be just right for you.
Our Plan
We went to Culebra, with my sister and my nephew, on Palm Sunday. Since lots of people travel to Culebra during Easter week, the Port Authority ran two 9am ferries out of Ceiba that day. We knew that Flamenco Beach would be very crowded, so we planned to make the hike to Playa Carlos Rosario in search of a quieter beach that still had snorkeling. The reward was well worth the effort!
Getting to Playa Carlos Rosario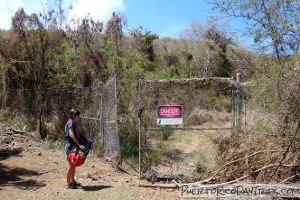 Once in Culebra, we took the taxi from the ferry terminal to Flamenco Beach. We then headed to the back, left-hand corner of the parking lot, where we found a chain-link fence with a (partially chained) gate (note 2/14- the gate is now open). Just through the gate is the beginning of the trail that leads to Playa Carlos Rosario.
We had pre-planned this trek, so we were wearing decent footwear, which was a good thing because there are rocks and thorns all along this trail. We also knew we had to bring everything we needed (since Playa Carlos Rosario has no facilities), so we were lugging a cooler with lots of fluids, lunch, and our two bags with snorkel gear and towels. It is a 30 minute walk (just under 1 mile) up a hot hill, and then down the other side. We took our time and stopped to rest while we enjoyed some of the pretty views along the way.
Note that there is a sign on/by the gate that states "DANGER – Unauthorized Personnel Keep Out – Unexploded Ordinances". Entry and use of this trail is at your own risk.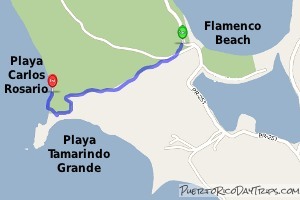 As we followed the trail, it swung close to a beach to our left. The official sign at that beach says Playa Tamarindo Grande, though Passage Beach was handwritten on the back of the sign in marker. After continuing on the trail for about another 700-feet, we came out onto the beach at Playa Carlos Rosario.
We turned right and walked along the crescent of sand until we found a shady spot to spread out our beach blankets. The beach isn't real wide, and it is "natural" — expect to find rocks and other debris on the beach. All in all, we were happy with the spot we chose and the views of the beach and ocean.
Note: Be careful, there are some thorns in the sand by the bushes.
Empty Beach and Snorkeling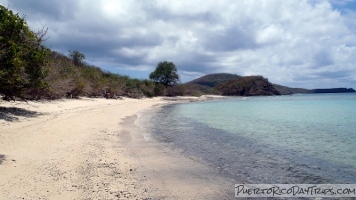 Given that we went on a holiday weekend, which makes it a busy beach day in Culebra, we shared the beach with only four other families throughout the day — and even they weren't there the whole time. There were also two commercial catamarans (from East Island Excursions, on the big island of Puerto Rico) of snorkelers there, but they left after about an hour. Later in the day, a private boat stopped at the beach for a short visit. But, compared to Flamenco Beach, there was nobody there. I bet that the beach would be empty on a non-holiday weekday.
Our main goal, besides not being surrounded by people, was to snorkel. My sister and her son were a little new to snorkeling, but they are good swimmers. After a little practice, they both did great. There is a reef that goes almost all the way around the horseshoe sand cove of Playa Carlos Rosario. To me, the best snorkeling is out to the left by the boat buoys, and then continuing toward the rock "mountain" closer to Tamarindo beach.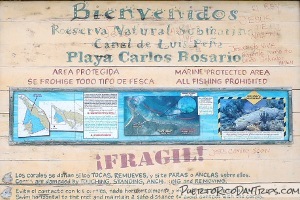 There is a sign with a map of the snorkeling area that says to go to the right. So who knows where is "best"? Just swim around and see what there is to see!
I thought the snorkeling was nice, but not "amazing" (maybe if had we seen large things like turtles and stingrays, which people do frequently see here, we would have liked it more!).
But we did see lots of fish, some live corals, and lots of fan corals (purple and yellow). We also saw a barracuda that followed us around for a while. We hoped to see turtles, but they were elusive that day. The water was warm and clear. It is part of the Cayo Luis Pena Natural Reserve, so the fish and all marine life there is protected.
Short Stop at Flamenco Beach Before Heading Home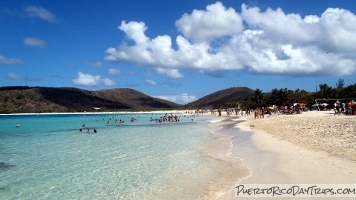 We left Playa Carlos Rosario around 2pm in order to make it back to Flamenco Beach in time to catch a taxi back to the ferry terminal.
We had a little time to kill, so we spent some time walking along Flamenco Beach, just because it is so amazingly beautiful. As you can see from this photo, there were just a few more people at this beach, as compared with Carlos Rosario.
After our walk along the beach, we used the facilities at Flamenco Beach, and then caught the taxi back to the ferry terminal for the ride home.
Details
There is no fee to use Carlos Rosario Beach. The only cost is transportation to get there, or $5 parking fee and a $2 per person admission/donation fee to enter the Flamenco beach area..
The water was calm at both beaches that day, but since Playa Carlos Rosario is on the leeward side of the island, it is protected from the usual north-east winds that can make the water rough at Flamenco Beach. So, if you go to Flamenco Beach and the water is too rough, you may want to try Playa Carlos Rosario.
Be careful, there can be a strong current in some areas at Carlos Rosario.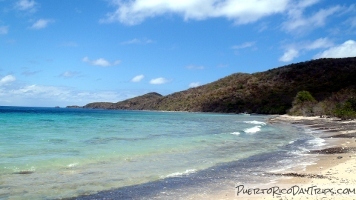 There are no facilities at Playa Carlos Rosario, you must pack in and pack out everything you need for the day. This includes any garbage you generate throughout the day.
You can walk to Carlos Rosario Beach by following the trail from the parking lot at Flamenco Beach (like we did).
You can also get to Carlos Rosario Beach by hiring a water taxi in town, or by renting a boat or kayak.
Click on a placename below to view the location on Google Maps ...
PuertoRicoDayTrips.com assumes no responsibility regarding your safety when participating in the activities described in this article. Please use common sense! If your mother or that little voice in your head tells you that you are about to do something stupid … then don't do it!