An Easy Get Away to Culebra for the Day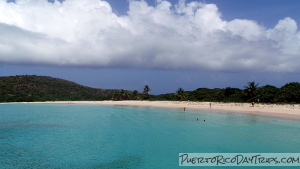 3/21 update- Due to COVID, BIG changes- box lunch instead of buffet, canned beverages only, you must bring or buy snorkel equipment, only 1 stop….may or may not be a reef or Flamenco beach. Check their web page for more info.
I am a BIG fan of the island of Culebra. I think this little island is an easy day-trip away from the main island, and it is full of great beaches, decent snorkeling and SCUBA diving. We have been there a few times and have never been disappointed.
Generally, to get to Culebra you have 2 options — the ferry out of Ceiba or fly from one of the main island's airports. But there is another great choice — a fast power catamaran with East Island Excursions. When we were invited to take East Island Excursions' Culebra Get-Away to check out their trip, we were excited to go.
But, no matter how well East Island Excursions plans the trip, Mother Nature has her own plans. The trip can be different every day, depending on the weather, water and wind conditions. The Captain decides each day which places are the best and safest, depending on the current conditions.
Our Boat Ride
Like all of the East Island Excursions trips, this one departed from Puerto del Rey marina in Fajardo. I like this marina since there is plenty of free parking available. Once you sign in with East Island Excursions, you're welcome to board the boat and choose a table to sit at. East Island Excursions uses their Island Flyer boat, a high speed catamaran, when they go to Culebra and Vieques. It does a nice job cutting through the waves, but you do still feel the motion of the ocean.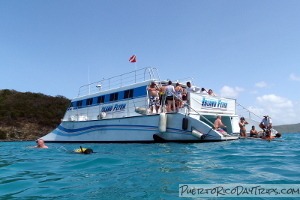 The day we were scheduled to go, there were some pretty high seas and a strong south wind. Captain Tito suggested that anyone on the boat who is prone to sea sickness should take Dramamine before we got underway. This is good advice.
Due to the sea conditions, we had to ride inside on the way over to Culebra. Here's a little free advice — If you, like Ray, are prone to motion sickness, try to get a forward-facing seat.
The crew is really attentive — they start offering ice water and sodas as soon as you get on board. Once everyone is settled in, they do a safety briefing and tell you various things you need to know (like how to use a marine head and where the life jackets are located). After the briefing, we got started on the 45-minute trip east to Culebra.
The tables seat 4-8 people (40 people total I think), so we met some nice people that were sitting at our table. Now, I won't try to kid you and say the ride was a breeze — it was a bit bouncy. This is one of those trips where it actually IS the destination, not the journey. Hang in there! And, just in case you're wondering, the ride back is usually much smoother.
At Culebra
This trip typically stops at a nice reef in the Luis Peña Marine Reserve. Due to the waves, we couldn't stop at the usual spot. But the Captain found a nice, protected cove there that had some reefs. Here, we got a briefing on the reefs and they gave out snorkel gear. If you needed a lesson or review on snorkeling, the crew was happy to help you out.
I can't say the snorkeling was the greatest in this spot, but there was some stuff to see underwater, and it is impossible not to love the sun, blue water and pretty island views topside. And some more good news —As soon as we got to this spot, the bar opened. All the rum drinks, soda and juices you wanted. Ray & I waited until we were done snorkeling, and then a nice cold Cuba Libre hit the spot! And, I am happy to report, they were not skimpy with the rum!
After about 1 hour, they called everyone back to the boat and we headed for our second spot for the rest of the day. Usually they try to go to Flamenco Beach, but as we passed by it, we were able to see that the waves were huge — not good conditions. So the Captain continued on until we got to Culebrita (one of the small islands off of Culebra). I am so happy he did, as we had never been there before and it was gorgeous!
With the exception of 2 small sailboats, we had the place to ourselves. We were in a protected cove called Turtle Beach, with a crescent of white sand beach and water in many hues of blue. At this stop, they set up a nice cold-cut lunch buffet. After eating we set out to explore.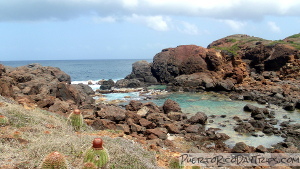 Here is another tip — If you are lucky enough to get to this beach on Culebrita, you'll want to have sturdy shoes — like Tevas or at least water shoes. If you walk all the way over to the left, (over rocks) you will find a number of natural salt water pools — some with cool water, some with warm water. We had these pools all to ourselves for a while, until other explorers from our boat joined us. It was nice. If you do this little trek, grab some water or a can of soda to take with you — it's hot.
After exploring the area around the pools and climbing up to the top of the hill, we walked back to the boat, checked out the snorkeling and then finally just enjoyed the open bar, the sun, the views and talking with the other people.
And, here is the promised shout out to the group from Arkansas!
All too soon, it was time for the trip back to Fajardo. Luckily, the waves were much smoother, so we were able to sit on the outside benches and enjoyed the scenery, sun and sea air on the way home. Everyone agreed it was a great day.
Normally, when we review an activity that is not free to the public, we pay the admission price out of our own pockets. However, we just want you to know that the folks at East Island Excursions were kind enough to offer us this trip for free. While we don't feel that this free ride influenced our review one way or the other, we felt that we should tell you, just as a matter of fact.


Details
The cost is $125/adult and $105/child (3-11 years old), plus IVU (sales tax) and a $3.00 Natural Resource fee. Includes lunch buffet, Piña Colada, Rum Punch, sodas, water, iced tea and juices. Beer (Medalla) is available for $2.00 each.
If you're happy, let them know it — Don't forget to tip your your bartender, tour guide or trip operator if you enjoyed yourself. Gratuities are appreciated and typically aren't included in the price they charge you.
This trip departs from the marina at 9:30am and returns around 4:00pm. They ask you to arrive around 9am so everyone can sign in, pay, etc. and still get going on time.
Allow a full day for this trip. You will be back to the marina in time to catch a trip to the bio-bay that same evening, so you can check-off 2 things from your list in 1 day.
You can call them at 787-860-3434 for more information or to make a reservation.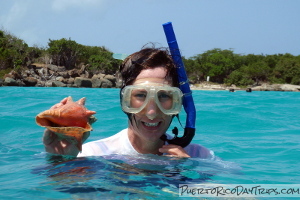 You can visit their website at their web site for more information.
Bring towels, sun glasses and sunscreen. Wear light clothing over your swimsuit. Underwater cameras and sunscreen are available for purchase on-board. Always drink responsibly, don't drink and drive and snorkel at your own risk.
Directions to the marina: From the San Juan area, take Route 3 or Route 66 east. Continue on Route 3 east to Fajardo. Just as Route 3 merges with Route 53, you'll see an exit sign for Puerto del Rey marina. Take that exit, cross under Route 53 and follow the road to the marina on your left. Please note that if you get to the toll booth on Route 53 then you have missed the exit. East Island offers transportation to/from the marina at an additional cost.
Travel time from the San Juan area to the marina is about 60 to 90 minutes, depending on traffic and the route taken (Route 66 versus Route 3).
Other companies: Casa Del Mar also offers a Culebra snorkel trip from Fajardo. For more info on their trip visit their website or call 787-860-3483 or email: casadelmar@live.com. And now Tobias also does a snorkeling trip from Fajardo to Culebra. For more info on their trip check out their website .
Click on a placename below to view the location on Google Maps ...
PuertoRicoDayTrips.com assumes no responsibility regarding your safety when participating in the activities described in this article. Please use common sense! If your mother or that little voice in your head tells you that you are about to do something stupid … then don't do it!