Icacos – A Private Island Paradise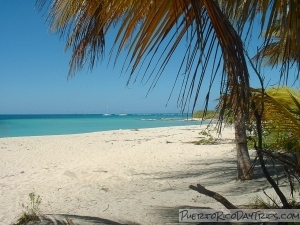 We went to Icacos for a day of quiet beach time and snorkeling. Icacos is a small island off of Fajardo. The boat ride took us only about 10 minutes from the boat launch in Las Croabas. It was a bit windy, but the trip was not bad at all – very few hard bumps or splashes. As we pull up to the island, the Captain explained how to navigate the snorkeling reef and then dropped us off. There were only 2 other families on the island that day, but we all picked a different stretch of beach, and we all had our privacy. The sand was white (bits of coral and shells), the water was clear and blue, and we had just little waves lapping the sand. The snorkel catamarans usually all stop at this snorkel spot, so at about 10:45am the invasion began — 2 boats pulled up and the snorkelers went to the reef. They all seem to paddle about the same area, stopping and standing every so often. But by 12 noon, the snorkelers were done and all back on the boat for lunch and away they went. We then tried the reef – where the snorkel boat people all "snorkeled", the reef is in poor shape and not many fish. Once we got to the outside reef, it was really nice. We saw sting rays and octopus, and lots of little fishes and a number of large schools of fishes. The coral was alive and there were many different varieties.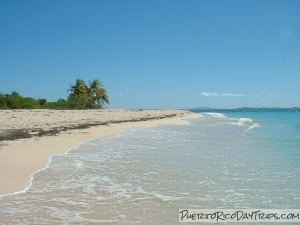 We took a break to eat the lunches that we had packed, then went exploring the island. It has a nice sandy beach area. The captain gave us the tip: Stay on the sand – if you go into the foliage, you will step on lots on sand burrs. We found an area of water grass were conch hang out- we were able to find some live ones and many neat shells of dead ones. There was also an area with tidal pools that I bet kids would love to splash around in. We got in another nice snorkel, then our boat showed up to take us back home in time for dinner. All in all a great day! We went with Capt. Mingo, though there are other guys that will take people out to the island. We called to make reservations (787-383-6509). We felt he was very good – he called to reconfirm our reservation, and was very flexible about dates and times of pick-up and drop-off. He quoted us $100 for the boat (we had 4 people in our group). He says his prices vary according to the number of people in the group. He will also go to other islands on request – Palominitos or another Cay. Captain Mingo's boat is bright yellow! This is what we plan for the trip: Make sure the sea conditions are favorable/safe for going in the water. Take plenty of waterproof sunscreen and apply often! It is a white coral beach and the sun reflects off the sand. Bring a beach umbrella. You need to bring everything you may need for a day – towels, food, drinks, personal flotation devices – there are no facilities on this little island. And bring footwear to avoid the sand burrs. And bring a trash bag to take your garbage back with you. The beach was relatively clean, but it could use a cleanup – some trash washes in with the tides, and some people don't care and leave their trash behind after their visit. At least some people care – Capt. Mingo made an extra stop to pickup trash from one of the groups that left with a different boat captain. Bring bug spray- sand fleas come out after showers and later in the afternoon.
When we last went, Captain Mingo's prices started at about $60 round trip/pp. Prices vary by the number of people in the group, where he takes you, etc. Captain Mingo will also take you to reefs for snorkeling or to other out-islands. He takes payment at the end of the trip – so you know he will be back to pick you up at the end of the day!
If you're happy, let them know it — Don't forget to tip your your bartender, tour guide or trip operator if you enjoyed yourself. Gratuities are appreciated and typically aren't included in the price they charge you.
7 days/week. Call to set up your times.
Allow 5 hours minimum.
phone: Captain Mingo 787-383-6509. Tell him you heard about him from Gwenn and Ray!
I have the number for another boat captains who also do this route:
Captain Domingo 787-299-2830
Captain Reynaldo 787-562-4226
Don Julio Boat Charters 787-435-6675 or email at Donjulio5028@gmail.com
East Coast Water Taxi (787) 518 8337 or Email: contact@watertaxipuertorico.com
If you want to go but don't want to make reservations, just show up at Las Croabas and take the chance – the boat captains usually hang out by the boat dock. Look for signs, or ask the men sitting around the dock – they are probably waiting to take you to an island of your choice!
Note: I have no idea if these captains follow all the "Tourism" rules/regs or are insured to take people out. They are supposed to and they do get checked regularly for it. If that is important to you, ask them prior to going.
From Route 3 take Ave. El Conquistador (follow the signs to El Conquistador resort). When you get to the "tee" in front the of the resort, turn left onto Road 987 and follow it to Las Croabas. When you get to the end of road, you'll find a parking lot and the boat ramps.
It takes about 45 minutes to drive there from our house in Ri­o Grande.
We are in the process of updating the maps we use on our web site. While we're working on that, you can click on the GPS coordinates below to view the location on Google Maps ...
PuertoRicoDayTrips.com assumes no responsibility regarding your safety when participating in the activities described in this article. Please use common sense! If your mother or that little voice in your head tells you that you are about to do something stupid … then don't do it!