Icacos – A Secluded Island Paradise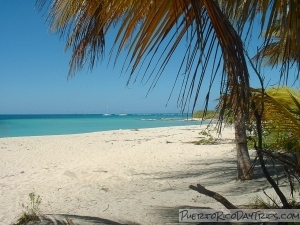 Icacos is a small island off of the east coast of PR. It has a nice beach, with white sand and beautiful crystal clear water. An Island Paradise!
When family visits, this is a day trip they always want to do. Of course you can visit the island for a short while on one of the catamaran snorkel trips which will supply you with everything you need for a day of fun. But if you have all the supplies needed for a beach day and like to spend the day and explore on your own, a water taxi ride over might be for you! That is what we do almost all the time we go and we always use Captain Mingo with Punta Brava water taxi.
We recently went to Icacos for a day of quiet beach time and snorkeling. The boat ride took us only about 10-12 minutes from the boat launch in Kayak Village. It was a bit windy, but the trip was not bad at all – very few hard bumps or splashes. It is easier in smoother seas, and it is always calmer on the way back! Before dropping us on the island, Mingo knew we wanted to snorkel, so he took us to a snorkel spot and we all jumped in while he waited for us on the boat.
When we decided we had snorkeled enough, we got back on the boat and the Captain showed us a few other snorkel spots we could do from the shore and then dropped us off. He also let us borrow some swim noodles! We set a time for a pick up and we set up our spot for the day. This is the beach where the snorkel boats dock for a few hours, so it is a little busy for a while, but eventually, they all leave and we had the beach area almost all to ourselves! Locals with boats tend to dock on either side of the beach area, which is roped off for swimming, so it leaves a nice open space for enjoying the beach. The sand was white (bits of coral and shells), the water was clear and blue, and we had just little waves lapping the sand. It has a nice sandy beach area. The captain gave us the tip: Stay on the sand if bare-footed. If you go into the foliage, you will step on lots on sand burrs.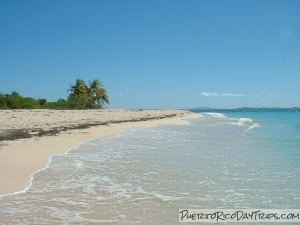 There used to be more sand along the shorelines in either direction from the beach area, but the hurricane took that away. But you can still reach the snorkel reef and other areas to explore by walking along the shoreline. Depending on the weather and current, it may be safe to go out and around, beyond where the boat snorkelers have killed the reef. If you are good swimmers, you can get to areas that are healthy and have all sorts of animals. We saw sting rays and octopus, and lots of little fishes and a number of large schools of fishes. The coral was alive and there were many different varieties. But if the weather/current isn't good, don't try it! After our lunch, we went for a walk, further exploring the island. We found an area of water grass were conch hang out- we were able to find some live ones and many neat shells of dead ones. There was also an area with tidal pools that I bet kids would love to splash around in. There is even a way to get to the other side of the island! Once done exploring, we cooled off in the water. Mingo showed up right at our agreed upon time to take us back to the dock. Where he docks at Kayak Village there are bathrooms and showers. So we cleaned up and were all set to go to dinner. All in all a great day!
There is nothing on this island, so you need to be self sufficient and bring whatever you need/want for a beach day. We had packed towels, lunch and beverages, shade tent, sunscreen, bug spray and sturdy shoes and a drone. And bring a trash bag to take your garbage back with you. The beach was relatively clean, but it could use a cleanup – some trash washes in with the tides, and some people don't care and leave their trash behind after their visit. There are no facilities on this little island.
When we last went, prices were about $60 round trip/pp. Prices vary by the number of people in the group, where you go and how long you stay with the boat. Mingo takes payment at the end of the trip – so you know he will be back to pick you up at the end of the day! I know on of the boats has an online payment system you book ahead of time. You choice.
If you're happy, let them know it — Don't forget to tip your your bartender, tour guide or trip operator if you enjoyed yourself. Gratuities are appreciated and typically aren't included in the price they charge you.
7 days/week. Call to set up your times.
Allow 5 hours minimum. But you set the times you want to come and go.
phone: We have always used Captain Mingo with his bright yellow boat Punta Brava. 787-383-6509. He does not have facebook or a webpage, just call…he is fully bilingual. We felt he was very good – he called to reconfirm our reservation, and was very flexible about dates and times of pick-up and drop-off. And he is an authorized tour operator for the islands. Tell him you heard about him from Gwenn and Ray!
Other water taxis: Other Taxi Boat Operators
East Coast Water Taxi (787) 518 8337
Sea Promotions PR 787-645-2247
Cariduro Water Taxi (787) 562-4226
Other captains that may be available: Mandibula Water Taxi (787) 909-0226
Captain Domingo 787-299-2830
Captain Reynaldo 787-562-4226
Don Julio Boat Charters 787-435-6675 or email at Donjulio5028@gmail.com
Capt Mingo and most of the water taxis go to "Kayak Village" by Las Croabas.
From Route 3 take Ave. El Conquistador (follow the signs to El Conquistador resort). When you get to the "tee" in front the of the resort, turn left onto Road 987 and follow it almost all the way to Las Croabas. On the left side you will see Kayak Village. There are bathrooms and showers and plenty of parking. Just walk to the boat dock, Mingo has the yellow boat.
It takes about 45 minutes to drive there from our house in Ri­o Grande. Would be about 1.25 hr from SJ.
Click on a placename below to view the location on Google Maps ...
PuertoRicoDayTrips.com assumes no responsibility regarding your safety when participating in the activities described in this article. Please use common sense! If your mother or that little voice in your head tells you that you are about to do something stupid … then don't do it!