Explore "Jurassic Park"- The Other Waterfall at La Planta
Update 5/22- this area has been closed to visitors
La Planta waterfalls in Arecibo are pretty and popular. These man made dams for the electric company make for some pretty photos. But there is a third waterfall up the road a bit that is less well known. Locally, it is called "Jurassic Park" for reasons that I do not know. But it is pretty cool. This one takes a little more effort to get to, and I don't think the falls are as pretty as the other two, but I think the walk is so pretty, it was well worth it!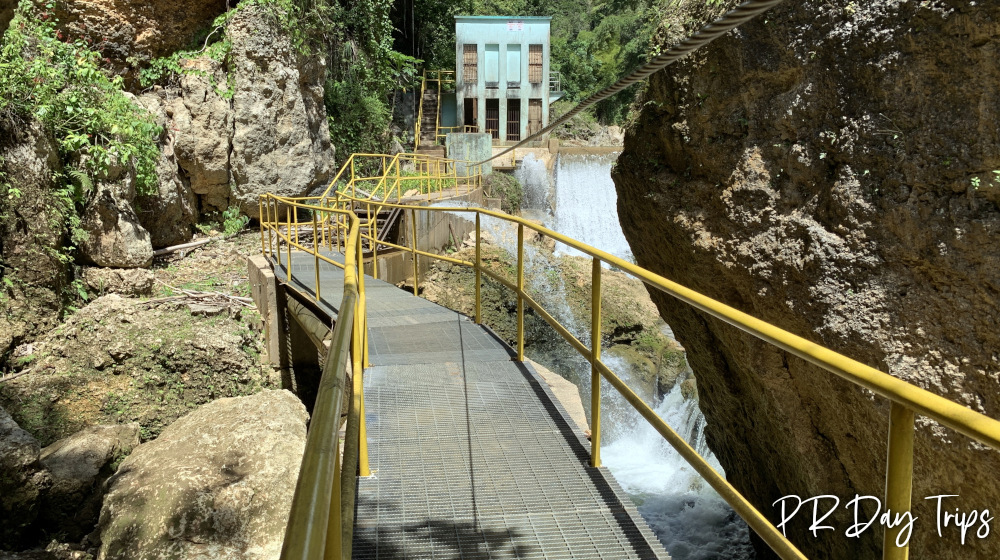 These waterfalls are located in the La Planta sector of Arecibo, about an hour west of the San Juan area. Two of the waterfalls are together, and the third waterfall ("Jurassic Park") is located about a 5-minute drive up some tiny roads from the first two. You take this tiny road until you get to a gate at the water company. We parked outside the gate. The gate was open, so we felt it was OK to walk in. It appears that there are a few houses inside this gated area, so I guess it is a public road.
Right at the water company, they have diverted some of the water from the river to this building. Now, it rushes out of the side and makes a beautiful waterfall, which continues downhill and becomes the first waterfall you see at the original La Planta waterfall.
It is maybe a 20-minute walk along the road, which becomes a dirt road after a while. At any point where you have a choice, go to the right (following the water pipe). It is a small road, and I did notice maybe 1 or 2 places where you could park along the way, if you didn't want to walk as far. But it is a thin road, so turning around if someone is already parked there might be a problem.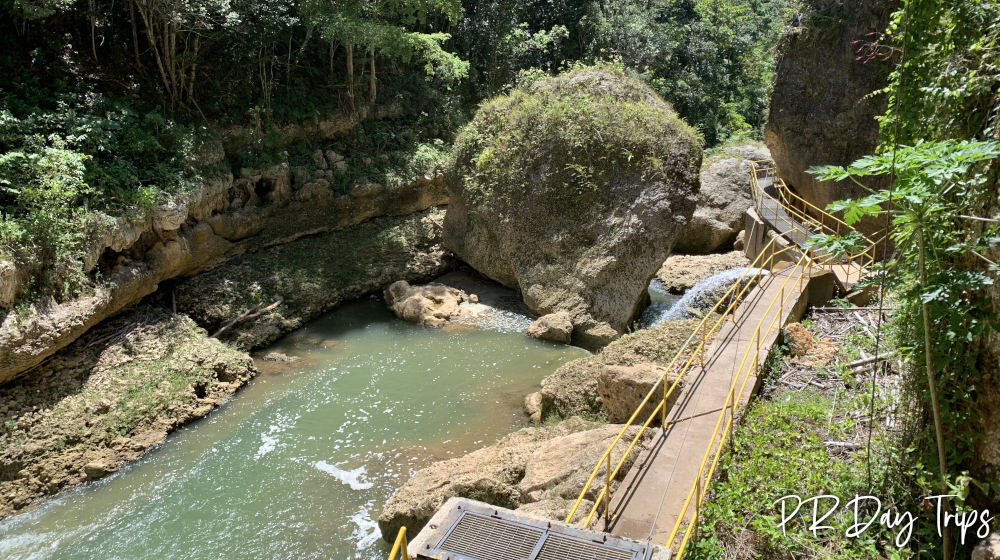 The walk was almost my favorite part. Someone has planted the sides with all sorts of pretty flowers and plants. The butterflies loved it.
Eventually, you will get to a metal walkway that says do not enter, then you have to pass a metal AAA door that says you should not go beyond it. But seriously, you can see the waterfall and all … We'll leave that up to your decision.
There is a little building there, where you can see where they divert the waterfall. There is no floor, so be careful if you go in there!
The waterfall is smaller and shorter than the other two La Planta falls, but the large rocks in this area are super pretty. I have seen pictures of people playing in the water and on the rocks … we did not venture off the walkway.
Be super careful of flash floods in this area.
Bring water to drink, and wear comfortable shoes. Do leave any trash!
Click on a placename below to view the location on Google Maps ...
PuertoRicoDayTrips.com assumes no responsibility regarding your safety when participating in the activities described in this article. Please use common sense! If your mother or that little voice in your head tells you that you are about to do something stupid … then don't do it!