Chorros del Rio Hondo- La Planta Waterfalls
This area is open for your enjoyment.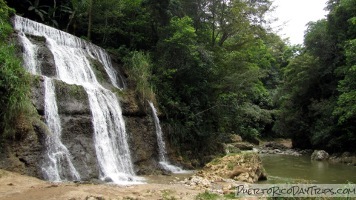 If you're a waterfall person, we have another one for you — Charco del Río Hondo, or Chorros La Planta in Arecibo. While not a destination in itself, these waterfalls are a great quick stop while visiting something else in the Arecibo area.
I like waterfalls, so whenever I see a picture of one I don't recognize, I send it around to all my "local" friends. Someone always knows where it is, and we get to go off exploring.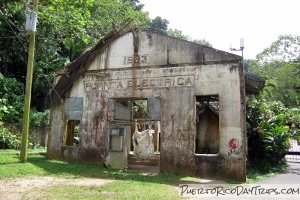 These pretty, man-made waterfalls are located on the Río Tanama, in the Río Hondo and La Planta sectors of Arecibo. Originally built as part of a hydro-electric, but no longer used in the generation of electricity — now they are just pretty waterfalls. The remnants of the defunct hydroelectric plant (built in 1923) are still there, it's actually where you park to get to these falls.
We parked at the end of the road (near the old hydroelectric plant), where there seems to be parking for about 10 cars. To get to the falls, walk past the old electric plant, and along the sand on the river-edge. There is one fall right there and another larger one upriver about 5 mins. We brought our lunch and had a picnic on the sandy area on the left side of the falls.
Update 6/15- we went back recently and checked out the 2nd falls. Getting to them requires some river trekking- climbing up over or around rocks. With the first falls on your left, just walk upriver a bit. Cross the river, walk up a bit and then you need to cross back. Here, you can either go all the way by river (where you will have to swim a tiny bit in deep water), or if you want to stay dry, use the "High way" on land, but this way requires just a bit of climbing. These second falls are larger/wider than the first. Worth the effort to get to them.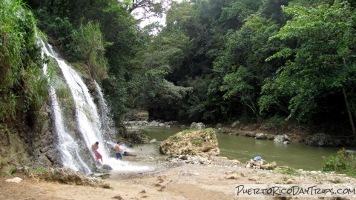 Some local teenagers were there, swimming and playing on the rocks, but be very cautious of the river. Watch the water level — as with all rivers, flash floods happen unexpectedly, with rapid currents, and people are washed away in a flash.
It should be noted that getting to these falls (on a dead-end road) was a little tricky. The roads are very narrow. Locals like to go here on weekends for picnics. I would hate to see this area with lots of traffic. I can't imagine that 2 cars would actually be able to pass each other on these roads! You may want to park by the ball court and walk in.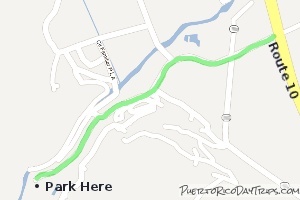 You can use this map to help find your way, but if you get lost ask a local. They will all tell you how to get there. We had to ask a number of people, and everyone seemed very friendly and helpful. I would suggest avoiding the weekends and only going here during the week.
Safety Note: never go in the rivers during a rain (flash floods happen a lot and the water levels rises high and fast ) or even a day or two after a rain, since the current can be too strong to be safe. People have been hurt/killed while playing in rivers, jumping from the rocks and climbing around the rivers. Respect nature and be safe. And don't litter. This is a pretty secluded parking area….don't leave anything of value in the car.
There is now space for about 15 cars at the river entrance and a local man seems to hang out there, he keeps the area clean and watches the cars (for a donation of a buck or 2). Well worth it for piece of mind!
What Else is Nearby?
Like we said, visiting this waterfall might not be a trip in itself. Other things that you might want to visit in the surrounding area include Cueva Ventana, the Arecibo Radiotelescope, Rio Camuy Caves Park, Lago Dos Bocas, Cueva del Indio, the Arecibo Lighthouse park, or even Outlet Shopping in Barceloneta.
Details
Driving directions from Route 22 or Route 2 in the Arecibo area … Take Route 10 south. You'll eventually see a sign to the right for the Arecibo Telescope/Observatory. Once you see that, continue on Route 10 south for about another 2 miles. Then you'll see a sign to the right for Río Hondo. That's where you turn. Follow road and you will pass a ball court, continue to follow the thin road to the end (do not go over the bridge). There will probably be little signs for the falls.
Click on a placename below to view the location on Google Maps ...
PuertoRicoDayTrips.com assumes no responsibility regarding your safety when participating in the activities described in this article. Please use common sense! If your mother or that little voice in your head tells you that you are about to do something stupid … then don't do it!