Relax in Nature on a Lago La Plata Boat Trip
Lago La Plata is a beautiful, man-made lake in Puerto Rico. Created as a water reservoir for the boundary towns of Bayamon, Naranjito, and Toa Alta, it is known for its lush greenery, abundant wildlife, and calm waters. One of the best ways to experience the lake is by taking a boat ride. If you don't have your own boat, Captain Carlos from La Plata Boat Trip. is your ticket! He will provide a nice, relaxing day the whole family can enjoy.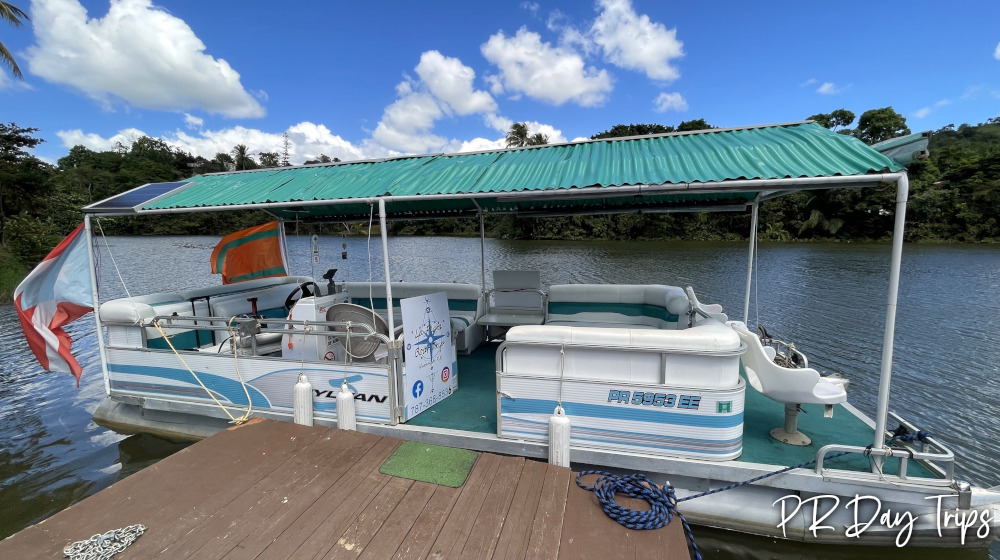 The La Plata Boat Trip dock is located in Naranjito, a town in the north central part of Puerto Rico, about 45-60 minutes from the San Juan area. Captain Carlos (CJ) takes his pontoon boat out on various routes around the La Plata lake. The lake is calm and flat, so no waves = no seasickness. The boat is covered, so you can always be in the shade and as the boat travels, you get a lovely breeze. It is hard to beat.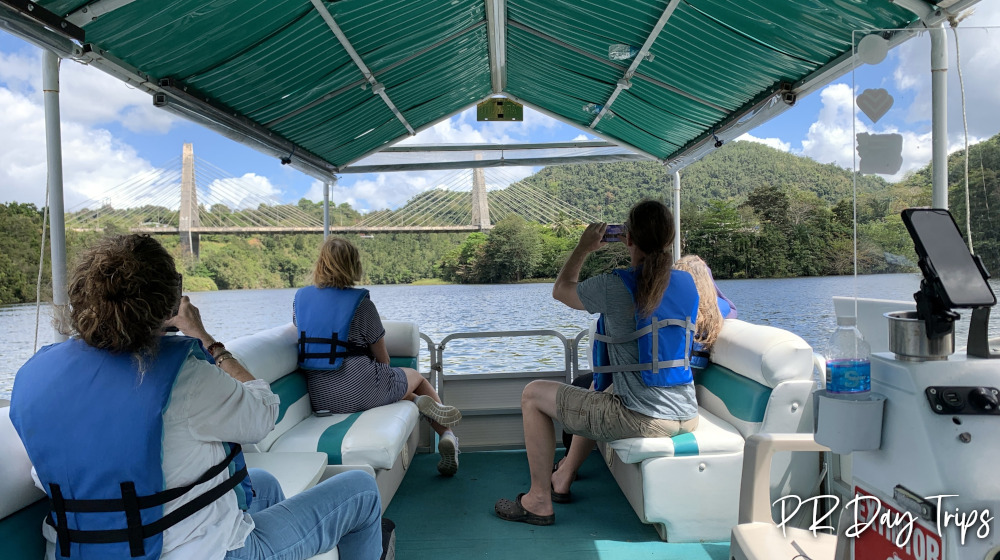 The lake is home to a variety of plant and animal life, including iguanas, turtles, and a wide range of bird species. This is an ecotour, so Captain Carlos describes the flora and fauna you are passing, and he also recounts the history of the lake and the man-made structures around the lake's perimeter.
The lake is used recreationally for fishing, as it is stocked by DRNA every year with a variety of fish. You will notice people fising on the shores, in kayaks, and boats … all ready to wave a friendly hello! It iss a peaceful and serene place, perfect for a relaxing boat ride. And, the lush and verdant river bank and mountains make for some beautiful photos!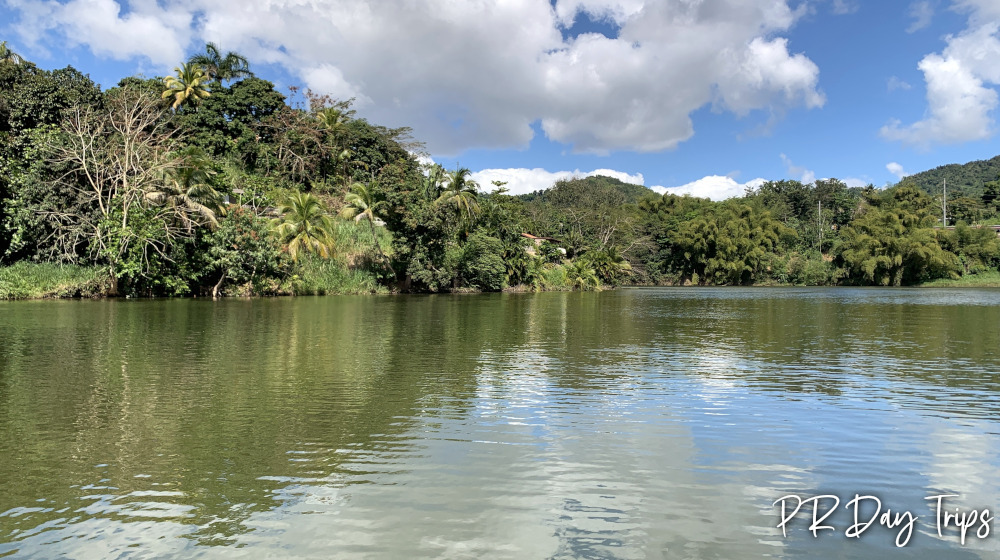 At this time, La Plata Boat Trip is the only boat tour available in this area. But they do it right! They offer a number of different trip you can choose from, different routes to see different things, lasting various times. You choose what you want. We chose to go and see the different bridges, going up the La Plata river.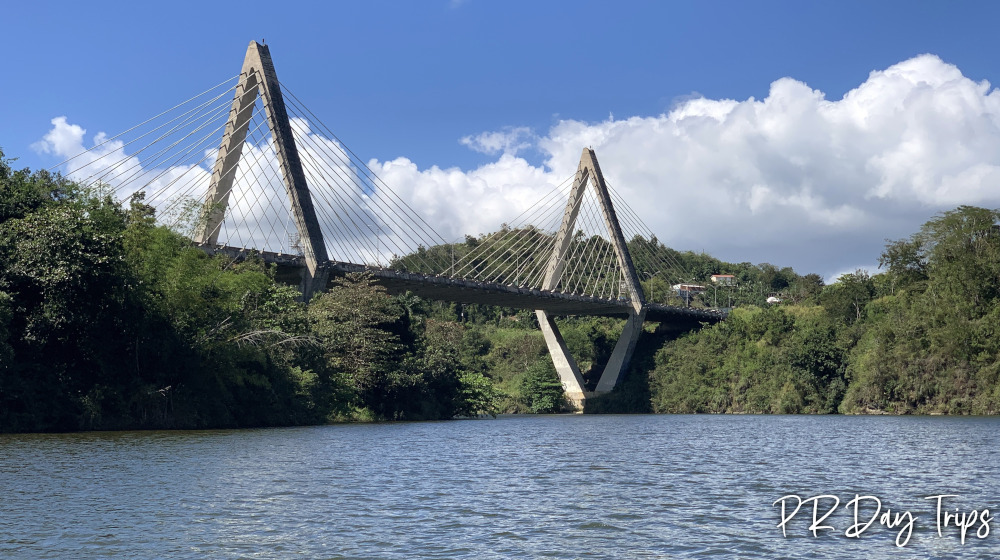 We saw iguanas sunning themselves in the trees, turtles, ospreys, egrets, and a load more shore birds. We were on the lookout for caiman sunning themselves, but didn't see any. And we had lots of laughs with Captain CJ — he was funny and interesting, and he even offered to take photos of our group at various times along our route.
They supply water and soft drinks if you are thirsty. We really enjoyed this, and felt all the family would be able to do this tour and have a nice time. From the lovely views to the diverse wildlife, this trip is a must-do for nature lovers, and anyone seeking a peaceful escape from the hustle and bustle of daily life. Isn't that exactly what vacation is for?
Details
They offer a number of different tours, ranging in price from $12 to $45 for adults, and $8 to $25 for kids (ages 3 to 10). They accept payment via cash or ATH Móvil.
Tours are offered Friday, Saturday, and Sunday from 10am to 6pm.
It is best to have a reservation, but they may be able to fit you in if you just "show up" and don't mind waiting. There is a minimum of 3 people, and maximum of 6 people, for most tours.
The duration of the tour depends on which one you choose. They range from about 25 minutes to over 2.5 hours.
You can call them (bilingual) at 787-226-6743 for more information.
You can visit their Facebook page for more information.
You can contact them via email at LaPlataBoatTrip@gmail.com for more information.
You can also contact them by regular text message, or WhatsApp, to 787-368-8536. Put "LPBT Reservacion" in the message.
They are located next to the Lagolandia restaurant in Naranjito. You can grab something to eat there before or after your tour (and they have restrooms at the restaurant).
They are located about 45-60 minutes from the San Juan area.
Click on a placename below to view the location on Google Maps ...
PuertoRicoDayTrips.com assumes no responsibility regarding your safety when participating in the activities described in this article. Please use common sense! If your mother or that little voice in your head tells you that you are about to do something stupid … then don't do it!