Kayak Tour in Lago Dos Bocas
2/2023 They are currently closed due to damage from Fiona, but they should reopen sometime this year.
Utuado is one of my favorite towns in Puerto Rico for outdoor activities. It has so much to offer — so much natural beauty, loads of different types of tours, and amazing history. Lago Dos Bocas is a beautiful man-made lake, created by damming two rivers. It used to be one of "the places to go" on the island, but it has lost its glow. Today, Utuado is working on getting tourism back to the Lago Dos Bocas area, and Hacienda Las Cascadas is leading the way! This new family-owned company has a beautiful property right up-river from Lago Dos Bocas, where they have started a new kayak tour, and are planning so much more on the Agrotourism front!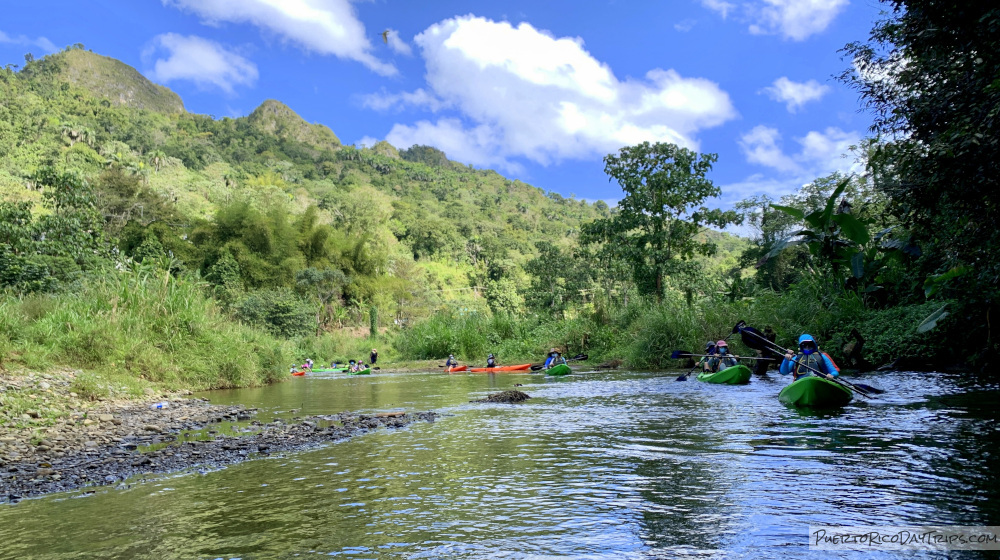 Utuado is a town in the center of Puerto Rico, about 1-1¼ hour drive from San Juan. While I love it for many things, the natural water features are high on the list! The rivers, waterfalls and lakes are just so pretty. The first tour being offered by Hacienda Las Cascadas is a kayak trip down the Limón River to Dos Bocas Lake. After the kayak trip, they offer (if you are up to it) a short trek to 2 of the 14 waterfalls on their property, on which they grow bananas, other fruit, and coffee.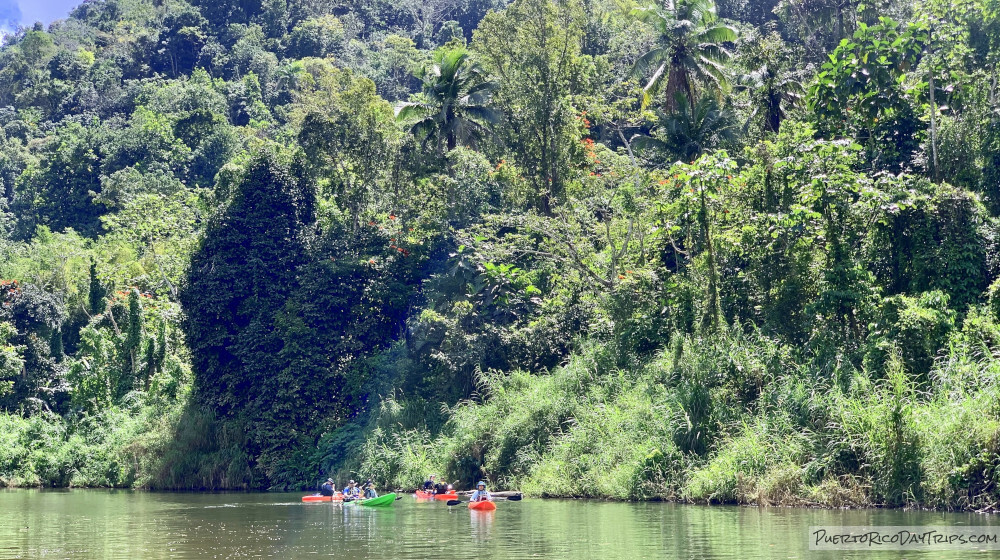 Our trip
We met our group and guides at ther "basecamp". Once the basic information and rules were explained, they handed out life vests, and we headed down to the river. Once at the river, we crossed it, and walked a little bit to where the kayaks were waiting. Our guides gave quick "how to kayak" talk, and then we were off.
They have plenty of guides to make sure that all is OK every step of the way. We had about 20 people on our tour (so about 10 double kayaks). Depending on the depth of the river water, there were spots where we had to get out and float the kayak over shallow areas, but it wasn't bad. The river gets deeper as it gets closer to the lake, and you are going down-river, so it was not a hard job to kayak at all!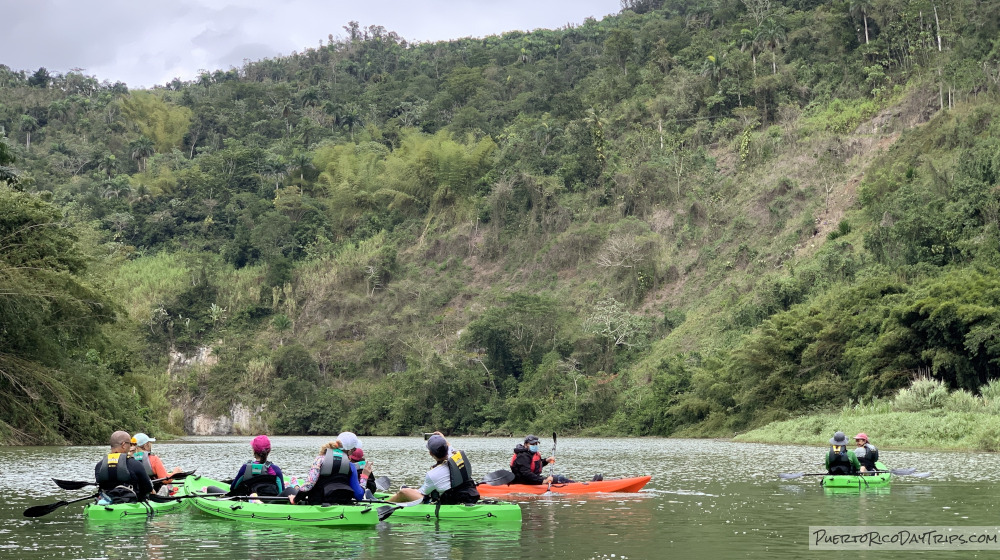 The guides made plenty of stops for resting and photos. There were many birds along the river, and the views were really pretty. Once we got to the open lake, we had to put some effort into kayaking, but it was fun and good exercise. Once we got to the Dos Bocas boat ramp, we were taken back to basecamp by van — so no hard paddling up river!
At basecamp, they had fresh, homemade empanadillas for purchase — very good and inexpensive. You really work up an appetite kayaking! Then, after that break, we had the option to go with the guides to see two waterfalls. They are just a short walk from basecamp. The smaller one (at the river level) is "Charco de los Enamorados", and the larger one (up a steep hill) is "La Gavioita". Both very pretty and refreshingly cold! Well worth taking the little extra time to check them out!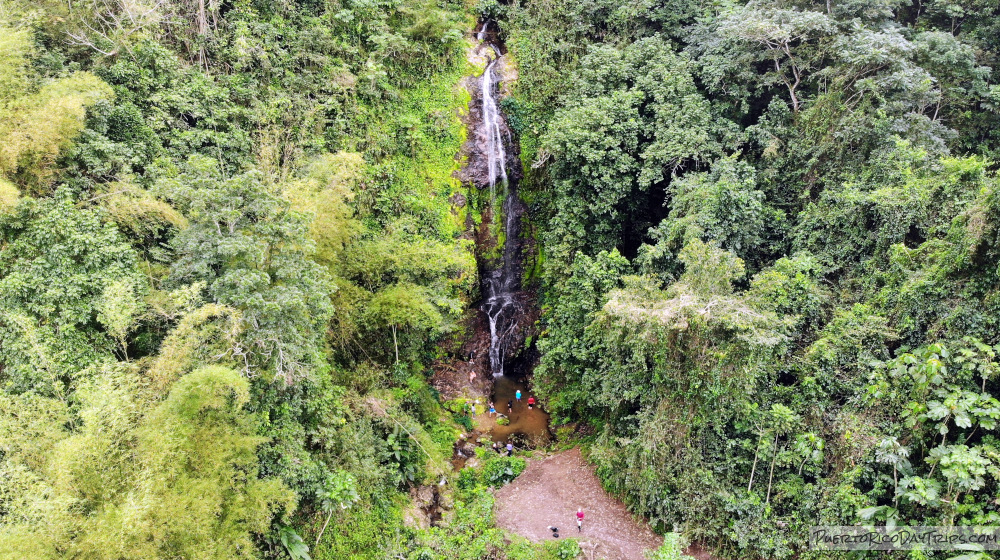 This is just the beginning for Hacienda Las Cascadas, they have plans for a suspension bridge over to see the waterfalls, a rental unit so you can stay there, tours of the farm, tours of the other waterfalls, and a kayak rental operation at the Dos Bocas Lake area.
Details
As of 5/21, The cost of the kayak tour was $40/person, plus $7/person if you want to hike to the waterfalls. Payment methods are ATH Movíl or PayPal.
Currently, tours are offered at 10am on Saturdays and Sundays. In the near future, the hope to offer a second tour on the weekends, and maybe on Fridays.
Wear comfortable clothing and closed-toe shoes that can get wet. Sunglasses, hat, sunscreen, etc are recommended. You can bring snacks/water for the trip if you want.
The kayaking portion of the tour took about 3½ hours. Add in another hour or so if you plan to eat lunch and do the short hike to the waterfalls.
There is a minimum "age" for this trip, but it depends on height and weight. Contact them for specifics. 10 yo and up should be fine.
Bilingual guides are available, ask when you make your reservation.
There is a restroom at their basecamp. Make use of it prior to the kayak trip!
You can get more information on their Facebook page. You can make your reservation through Facebook Messenger chat or call Tel. (347) 327-1372 or WhatsApp: (787) 988-9941.
They are located on Carr 146 KM 5.8 in Utuado. Parking is inside their gated property, or on the street.
Click on a placename below to view the location on Google Maps ...
PuertoRicoDayTrips.com assumes no responsibility regarding your safety when participating in the activities described in this article. Please use common sense! If your mother or that little voice in your head tells you that you are about to do something stupid … then don't do it!