Visit The Historical Park Maria de la Cruz in Loiza
The park is open and they are offering tours of the cave. They also have workshops of bomba, bee-keeping or turban tieing etc with reservations.
Loiza is a town just east of San Juan, on the northern coast of Puerto Rico, and it is one of the earliest-settled areas on the island. Evidence of pre-Columbian cultures was discovered in Maria de la Cruz cave (Cueva Maria de la Cruz), a cave close to the center of Loiza. Following the completion of the archaeological studies of the cave, the cave and surrounding land were turned into a community area for everyone to enjoy. It has become an Historical Park, where you learn a little about the area's cultural history. It's not a big park, but it is worth a quick stop if you happen to be in the area (say, on your way to or from Piñones). In 2018, they have made this area more of a destination- with guides and artisans, music and educational information about the history/culture. Now called Parque Histórico Cueva María de la Cruz.
Some History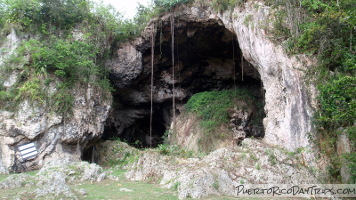 In 1948, archaeologist Dr. Ricardo Alegría found evidence of very early human inhabitants in the area of Maria de la Cruz cave. He undertook a huge archaeological dig, and discovered human artifacts dating back through a number of periods — from possibly as far back as 4000 BC on up to 100 AD. These findings are evidence of the first (most-likely nomadic) human inhabitants of Puerto Rico.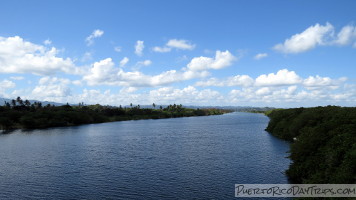 Also in the area of the cave, archaeologists found artifacts from the Taino people — who were also a pre-Columbian culture, though a much later and more advanced people. The Tainos left behind pottery, tools, bones and shells of all types, and burial sites.
In later years (post-Columbian), the cave was used by both free and slave Africans for shelter. It is believed that the whole area near the river (Río Grande de Loiza) might be archaeologically significant, so preservation and further study is needed.
Our Visit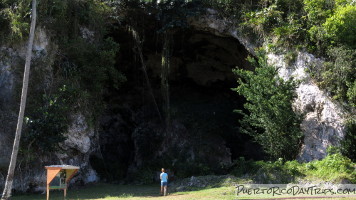 This cave is more of a large open area than a deep cave system. The cave measures 50 meters wide, 25 meters deep, and 30 meters high. Because it is open, there is light inside and you can get some photos. There are a number of bee hives on the ceiling of the cave, so just be quiet when inside the cave and they shouldn't bother you. They now sometimes have guided tours of the cave and surroundings.
The tour of this cave is interesting, and it is very historically significant. They have a few of the items found in the cave on display here, though many more of the archaeological findings are displayed in the museum of the University of Puerto Rico.
In addition to the cave visit, they offer cultural experiences through out the day (something happening every hour). A Bee Keeping talk, a workshop on how to tie turbans in your hair, and a Bomba presentation about the different types of Bomba music and dance around the island. There are restrooms in the office building, some artisans, food stands and some playground equipment in front of the cave. There is also an Art Gallery of local artists in the area.
Details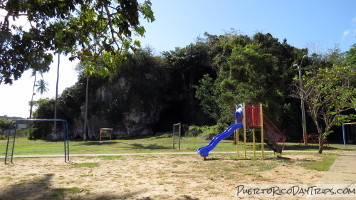 Tickets available at the office. Park entrance is $5pp, workshops at $8 and up. I would suggest you call and make sure they will have workshops when you want to visit.
The Park is open Wednesday-Sunday 9am – 4pm. The workshops may be available from some days, Call to ask and make a reservation for them. The guided tour of the caves may be available on demand. Most are in Spanish, but interpreters are available.
This little park is used by the Loiza community. There may be special events going on (especially on weekends). You can get some more info (but it may only be in Spanish) 787-876-1040 ext 2600 o via email rvelazquez@municipiodeloiza.net..
For more info, check out their Facebook page
This cave is located east of Piñones. The new entrance is off of RT 188 (you will see the sign). Or if you are on Road 187 in Loiza, turn onto Calle San Patricio (there is a Total gas station on the corner).
Click on a placename below to view the location on Google Maps ...
PuertoRicoDayTrips.com assumes no responsibility regarding your safety when participating in the activities described in this article. Please use common sense! If your mother or that little voice in your head tells you that you are about to do something stupid … then don't do it!