Los Picachos Trail – Some Great Views in El Yunque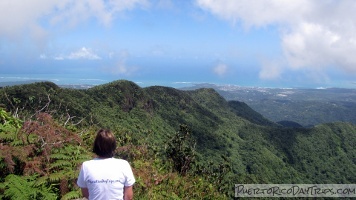 Update- 7/2020 New rules- in order to visit this and the other trails and features along RT 191, you need to make a reservation on Recreation.gov webpage or via mobil app.
Update- This trail is open!
We are fortunate to have El Yunque rain forest as our backyard, so we have had the opportunity to hike all of the trails in El Yunque National Forest.
Los Picachos trail is a short, side spur along El Yunque peak trail, that is definitely worth the time and effort it takes to get there. Los Picachos trail heads to the east, and leads to an incredible 360° view.
Los Picachos trail is only 0.2 miles long, and the trail map sign rates its difficulty level as easy. That's somewhat misleading. It is not as easy as they make it out to be.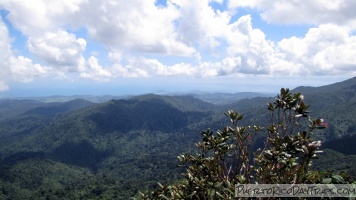 In order to get there, you need to walk about 2 miles up the El Yunque peak trail, which is rated as challenging. Then, at the end of Los Picachos trail, in order to get to the look-out point, you need to climb 60 steep steps.
However, once you get to the look-out point, you are well-rewarded.
From this eastern-most look-out area, you get a view of the northeast coast, the east coast, and (on a clear day) the islands beyond Fajardo. You also get great views of Yokahu Tower, the Mount Britton Tower, and the tower at El Yunque Peak.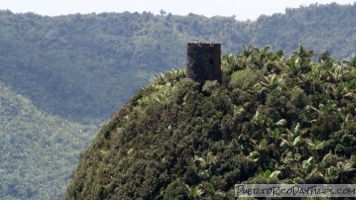 The stairs are tough, but take your time. There are some nice breezes and views as you rest on the way up the steps.
The trail map sign says that the elevation at Los Picachos is about 3,175 feet, so it is breezy, and sometimes the cooling clouds blow by. But the look-out is in full sun, so wear a hat and sunscreen. And bring plenty of water.
This trail is one of the less-than-well-maintained trails in the forest, so I recommend appropriate hiking shoes.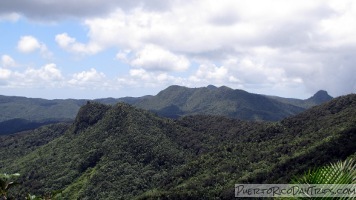 Once you are done with Los Picachos peak, you need to head back to El Yunque trail. At that point, you can continue up the El Yunque peak (you might as well … you'll be almost there), or you can retrace your steps and head back to the car.
On this most recent trip, we skipped El Yunque peak and just headed back to our starting point. That hike took us about 3 hours, up to Los Picachos and back to the Palo Colorado Visitor Center.
Click on a placename below to view the location on Google Maps ...
PuertoRicoDayTrips.com assumes no responsibility regarding your safety when participating in the activities described in this article. Please use common sense! If your mother or that little voice in your head tells you that you are about to do something stupid … then don't do it!