Mar Chiquita – A Beautiful Beach in Manati
The north shore of Puerto Rico has miles of beautiful shoreline and it is one of my favorite spots for great views on the island. The Atlantic Ocean is always pounding against the rocky outcroppings along the shore carving it into interesting shapes. But that is not to say you can't find a calm beach on the north shore.
Mar Chiquita (or Little Sea) is just that — a small cove of a beach protected from the rough Atlantic by a rocky wall. This picture-perfect beach, located in the town of Manatí, is not always good for swimming, but it is always beautiful.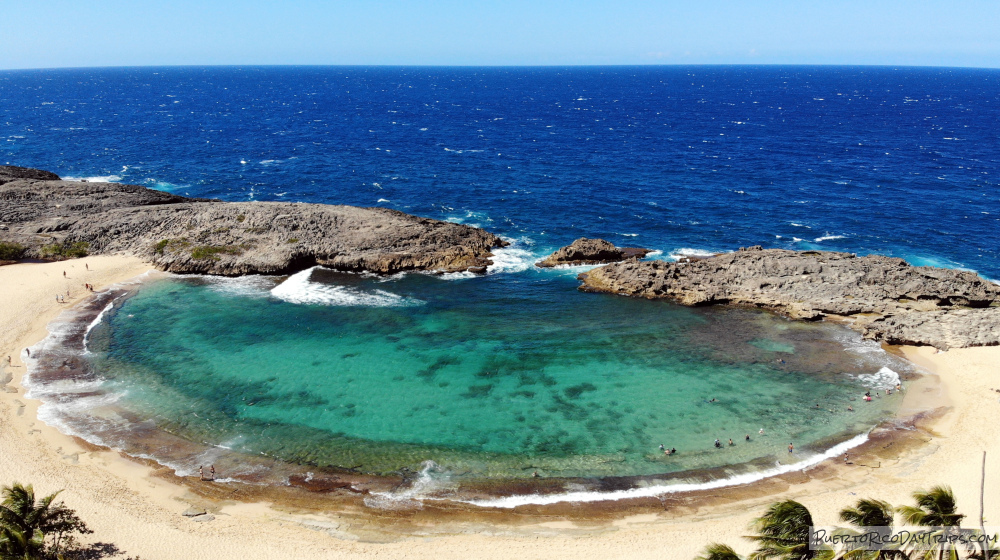 About Mar Chiquita
This beach usually makes the list of the top beaches in Puerto Rico for a reason — it is stunning! It is an oval-shaped, golden-sand cove, protected from the open ocean by large natural limestone walls. The ocean water comes in through a small opening in the rocks. There is some flat limestone at the shoreline, so that could be slippery, and it gets deep quickly as you walk in. At either side, closest to the rocks (far right and far left), the bottom was more sandy. If you go into the water, I would suggest wearing water shoes.
The beach sand was pretty clean (it looks like someone rakes it). I have heard there is snorkeling here, I assume by the rocks to the right (east). We have heard on calm days at low tide, manatees sometimes come in the area.
From the beach, if you look to the far right you will see an old concrete wall with holes in it. There is another cove with a beach there. It also is semiprotected by some large rocks.
While it is possible to walk on all the rocks, be aware, the limestone rocks were a bit slippery in spots and they are SHARP. Shoes are necessary — flip flops are not sturdy enough. If you slipped and fell, it would hurt a lot! Another thing to watch out for is giant waves that have been known to come over the top of the rocks (especially in winter months). Stay alert!
In the southwestern part of the parking area there is a cavern area that has been made into a Virgin del Carmen grotto. The cavern has some stalagmite and stalactite formations that are nice. There are a number of stray dogs here, so watch your step!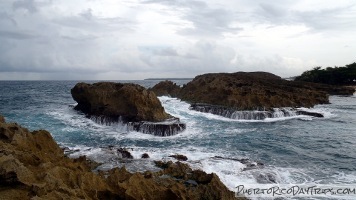 One word of warning — People need to be cautious in the water. One must watch surf and tide conditions. Due to the shape of the cove and the narrow area between the rocks where water comes in and goes out, there can be serious undertows. It is possible to get sucked out into the open ocean when the water flows back out of the cove. Usually, it is calmer in the summer months. But there is no lifeguard on duty here, so swim at your own risk.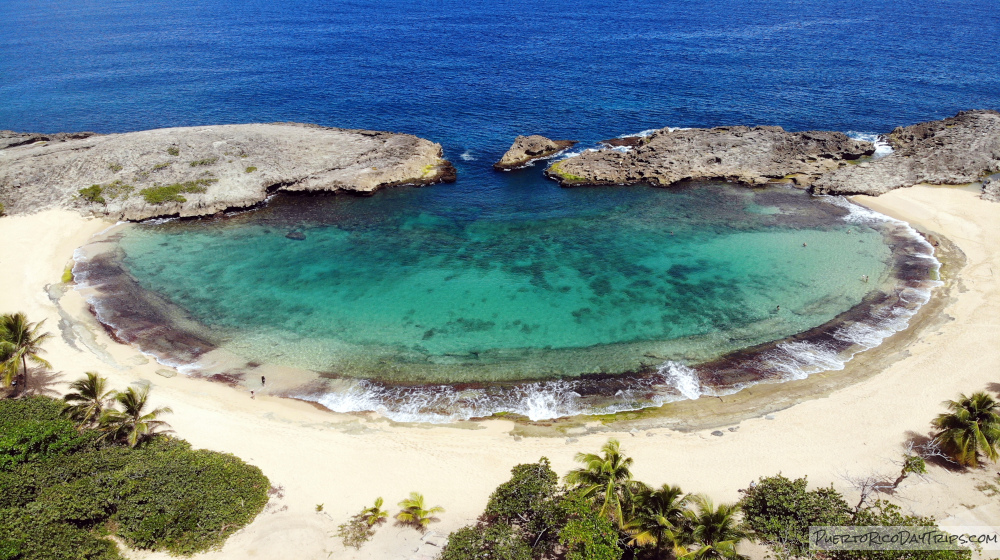 Our Visit
We went on a day when Hurricane Tomas was in the area. It was mid-week, so there were only a few other visitors that day and the kiosks were closed. The seas were really rough, it was a grey day, and it was low tide — so it was not the prettiest of times to visit. Even in Mar Chiquita there were waves, so we did not go into the water. But even with all that, it was still great. ps- lots of sea glass here too!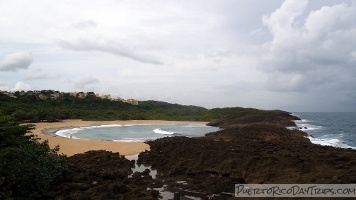 We went on a walk on the rocks, found the geocache that is hidden there, and took about a thousand pictures. Then we had our picnic lunch on a log, under a palm tree looking at the water. It was one of those days that reminds us why we enjoy living here!
I have also heard that there is Cueva de las Golondrinas nearby, Update 8/14- Orlando found it for us- it is a another beach in Manati called La Poza de las Mujeres. We will have to go exploring again!
Details
The beach is free and so is parking (on a packed-sand parking lot).
There is no lifeguard on duty at this beach, so swim at your own risk and pay close attention to the ocean conditions, currents and undertow.
There are no restrooms nor showers at this beach. The only "facilities" are food kiosks that are open on the weekends. (Note- on a 6/15 visit, there were some Port-a Potties in the parking area.)
This beach is popular with locals and tourists alike, especially on weekends and in the summer. Be aware…this area does occasionally have car break ins. So don't leave anything of value in your car and park close to food stands/other people.
Mar Chiquita is located in Manatí. Take Route 22 to exit 46 to Route 686 north. Then take Route 685 west to Route 648 north and follow to the end of the road.
It took about 45 minutes to drive to Mar Chiquita from the San Juan area.
Click on a placename below to view the location on Google Maps ...
PuertoRicoDayTrips.com assumes no responsibility regarding your safety when participating in the activities described in this article. Please use common sense! If your mother or that little voice in your head tells you that you are about to do something stupid … then don't do it!