Isla Mata la Gata – A Tiny Island Paradise
2/2023- Last I heard, the island is officially closed by DRNA, but people still go, in droves! The hurricanes and earthquakes have caused damage and raises the sea level. No maintenance is being done, and the place looks pretty abandoned (especially the dressing rooms and bathrooms).Lots of trash (so if you go, please take yours and some extra with you). Picnic tables are being eaten by the water and mangroves, some parts of the inland boardwalk are messed up. I saw local volunteers are trying to help and fix the cay up, which is good as it needs a lot of work.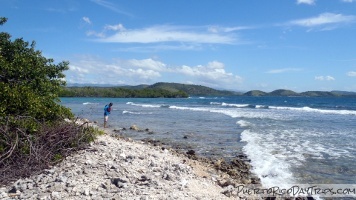 The mangrove cayos (keys or cays in English) in La Parguera are really something to see. They are tiny specks of green in middle of the blue ocean. Most are nothing more than clumps of mangroves and broken coral. However, there is one in particular — Mata de Gata — that has the facilities that you need to make a perfect setting for a picnic.
Being an island, you will need a kayak, boat or another type of watercraft out to it. But once there, you may never want to leave!
Kill the Cat?
The name of the cayo, Mata la Gata translates literally to Kill the Cat. However, loosely translated in local vernacular it means Nurse Shark Grove.
Isla Mata la Gata is situated between Cayo Enrique and Cayo Caracoles, which are all part of La Parguera Nature Reserve. If you are trying to find these on a map, they are located 1 to 2 nautical miles south of La Parguera, which is in the town of Lajas, which is in the south-west part of Puerto Rico.
Isla Mata la Gata is a small island, measuring only about 1500 feet long and 1200 feet wide. It was formed by coral fragments that got caught in the red mangrove roots.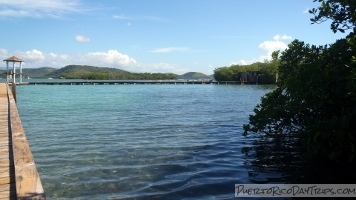 The island is under the control of the Department of Natural and Environmental Resources (DRNA), and they have constructed a boat dock for dropping-off passengers, picnic tables (both covered and uncovered), BBQ area (bring charcoal, aluminum foil, and all cooking implements), restroom (with composting toilets), changing rooms, and showers. It has a SMALL beach area with white sand.
They also enclosed an area of the calm ocean, making a natural ocean pool that is protected from surges and currents. And the fencing around this natural pool helps keep the jellyfish and other sea critters out.
You need to bring any food and beverages, because nothing is for sale on the island. There is a small boardwalk trail through the mangroves that leads from one side of the pool to the other.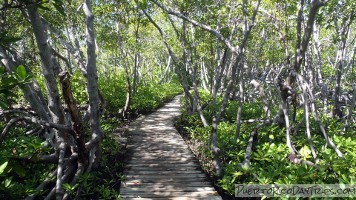 There is a decently healthy coral reef all along the south side of the island, but you need to be careful of the waves and currents. This reef also runs along toward a deep boat channel on the east side of the island. If you snorkel in this area, make sure you have a marker so that you are visible to boaters.
We visited Mata de Gata during a great kayak trip on the Sunday of Veterans Day weekend (in November), and the place was empty. I have read it is very well-used, but I am guessing that is only during weekends in the summer months. It seems like all the local boat crowd anchor and hang out by the small cays.
Details
There are a couple different ways to get to Mata la Gata. You can hire a boat to take you, you can rent a small motor boat and drive yourself, you can go on a guided kayak tour. If you want to take one of the tours, I'd recommend contacting them ahead of time to make a reservation.
The first step is to get yourself to La Parguera in Lajas. Once you get there and park (see map below), there will be a number of different tour operators hovering around the parking lot hawking their tours. You can talk to one of them about getting to Mata la Gata. They will typically drop you off and return to pick you up at a pre-determined time.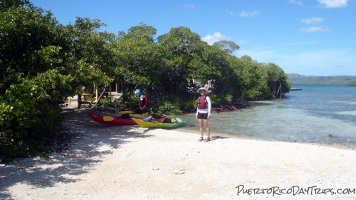 The island is "open" Tuesday through Sunday from 9am to 5pm. Closed on Mondays.
Boat rides usually cost about $15 per person, round trip. Price will depend on time of year, size of your group, and where you want them to take you. Typically, cash only.
Boat rides from La Parguera take 10 to 15 minutes to reach Mata la Gata.
Some operators that offer kayaking in La Parguera include
Parguera Water Sports Adventures — offering kayak tours
phone 787-899-6086 or 787-390-6086
Kayaking Parguera Tours — offering kayak tours and/or hourly kayak rentals
phone 787-899-6086 or 787-390-6086
Some operators that offer boat rentals and/or boat taxi service in La Parguera include
No pets allowed. No jet skis.
Bring towels, sunblock, food/drinks, bathing suits &meash; everything you need for a beach day. There is nothing for sale on the island.
Click on a placename below to view the location on Google Maps ...
PuertoRicoDayTrips.com assumes no responsibility regarding your safety when participating in the activities described in this article. Please use common sense! If your mother or that little voice in your head tells you that you are about to do something stupid … then don't do it!