Experience Mosquito Bay Biobay in a Kayak
3/21 Tours have restarted at the Vieques Biobay! But not all companies listed below have restarted, so call and check!
There are only a few bio-luminescent bays left in the world, and Puerto Rico is fortunate enough to have three of them. The biobays in Puerto Rico are Laguana Grande in Fajardo, Mosquito Bay in Vieques, and La Parguera in Lajas — with Mosquito Bay being the brightest of the three.
To experience this sparkling glow, you need to get onto the bay on a boat of some sort. Currently, you can kayak, take a ride on an electric boat. No matter how you go, the biobay is a must-see when visiting Vieques.
Some Background
Bioluminescence is a flash of light caused by microscopic organisms called dinoflagellates (Pyrodinium bahamenses, to be specific) in a body of water. Multiply each spark of light by the many hundreds of millions that are in the water around you and you will understand the effect.
When agitated, the dinoflagellates make a blue/green glow, but you can see each one sparkle if you are close to it. Each one is like a tiny, twinkling star.
Vieques is a small island about 7 miles east of mainland Puerto Rico. You need to take a boat, ferry, or plane to get to Vieques, but it is worth the extra effort for the beaches and the biobay.
The biobay is not easily accessible — there are 2 put-in spots, but each requires a 10-minute ride down a really dark and bumpy road. All of the biobay tour companies have vans or buses to take you from various meeting locations to the biobay. Understand that most of these vans are not too cushy, since they get lots of wear and tear. Just hang on, and think of the ride as part of the adventure!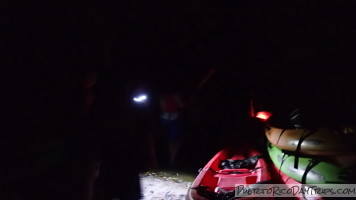 Companies need to have the required permits to take guests out into the bay, and there are a few other companies that do it without the required permits. Tour companies are not permitted to allow guests to swim in the bay.
The DRNA (Department of Natural Resources) and other involved groups are evaluating how best to conserve the bay, standardize the guest education about the bay, and enforce the rules … so expect some changes in the future.
Our Kayaking Trip
We had been to this biobay a number of times in the past, using Island Adventures' pontoon boat. But since the ban on swimming in the biobay now being enforced, we wanted to be closer to the water — so we decided to take a kayak trip. We went with Black Beard Sports, and we were happy that we did.
They picked us up in Esperanza, and we were the last pick-up location before heading to the bay. Then we got the bumpy-ride portion of the trip, and finally we got to the bay.
Once at the bay, we met our guides Che and Albert. They gave us our gear — PFD (personal flotation device) — and paddles, and explained to us how they wanted us to get into the kayaks. They also passed around Deet-free bug repellent. I didn't notice any bugs, but the biobay is surrounded by mangroves — I guess it is called "Mosquito Bay" for a good reason. I took them up on their offer of bug spray, just to be safe.
They asked everyone in our group of 5 kayaks (their maximum number) about our kayaking experience. Since everyone on the group had kayaking experience, they didn't give their "how-to-kayak" lesson. But, if you're new to kayaking, they will take the time to explain kayaking to you. Next, we paired up and got into our kayaks.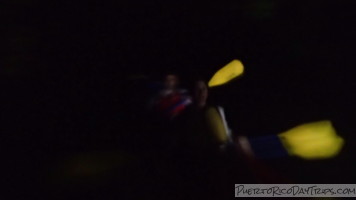 The lead guide had a glo-stick, and we followed the colored light out into the middle of the biobay. During the entire trip, if you looked at your paddle, you could see it glowing/sparkling all around each stroke. The small wake caused by the kayaks was glowing, too.
The night we went there were no waves and no wind, so it was easy paddling, but I guess wind conditions could change on occasion and make it a little more difficult.
When we got to a place where the bay was extra bright, we grouped up. Here, the guides told us about the bay, what causes the sparkle/glow, and why there are only a few places like it in the world. During this, we had time to play in the water with our hands and paddles — swirling and agitating the water — to see the glow.
Then, Che took out a laser pointer and pointed out the stars and constellation … he knew lots of them! The stars in the sky were just as spectacular as the tiny ones in the water. Since it is really dark around the biobay, you could see millions of stars in the sky.
After splashing around the water and star-gazing, we slowly paddled back to where we put-in — watching our paddles glow all the way. All in all we were out on the water about 1 hour.
Normally, when we review an activity that is not free to the public, we pay the admission price out of our own pockets. However, we just want you to know that the folks at Black Beard Sports were kind enough to offer us this kayak trip for free. While we don't feel that this free ride influenced our review one way or the other, we felt that we should tell you, just as a matter of fact.


Details
These companies have the required DRNA permits to take guests into Mosquito Bay (I think- it is hard to keep up with changes!)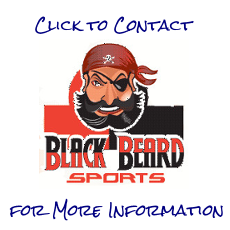 There are a few other companies and local fisherman that may take people out into the biobay, but they may not have the required DRNA permits to operate these tours.
If you are unable or don't want to kayak, there is a new company Vieques Sea Tours that takes an electric boat out into the Vieques BioBay.
If you are on the Puerto Rico mainland and don't want to spend the night on Vieques, Puerto Rico Tour Desk offers a trip out of Fajardo and they use kayaks to go into the biobay.
The cost to visit Mosquito Bay (for trips originating in Vieques) is usually around $45-$60 per person.
When you're planning your trip to the biobay, you need to take the brightness of the moon into account. Luckily, we've already done the work for you, and you can simply check our biobay-moon calendar to see when the moon will be favorable for visiting the biobay.
Due to environmental effects in 2013 (both natural and some man-made), the biobay had an almost complete wash-out, but it has since recovered perfectly. When we went at the beginning of March 2014, the bay was about 60% as bright as it usually is (for that time of year).
Click on a placename below to view the location on Google Maps ...
PuertoRicoDayTrips.com assumes no responsibility regarding your safety when participating in the activities described in this article. Please use common sense! If your mother or that little voice in your head tells you that you are about to do something stupid … then don't do it!