Explore Underground Rivers and Caves
Puerto Rico has some really interesting and beautiful natural areas that not many people get to see. A large part of the island is comprised of "karst", which, over millions of years of water filtering through it, makes some of the coolest formations and designs. There are many underground rivers and caves in the karst region of the island, and exploring them safely is best done through guided tours. NaturHabitat EcoTours has a great tour of the Charco Azul and Cuevas Arenales in Vega Baja that we highly recommend.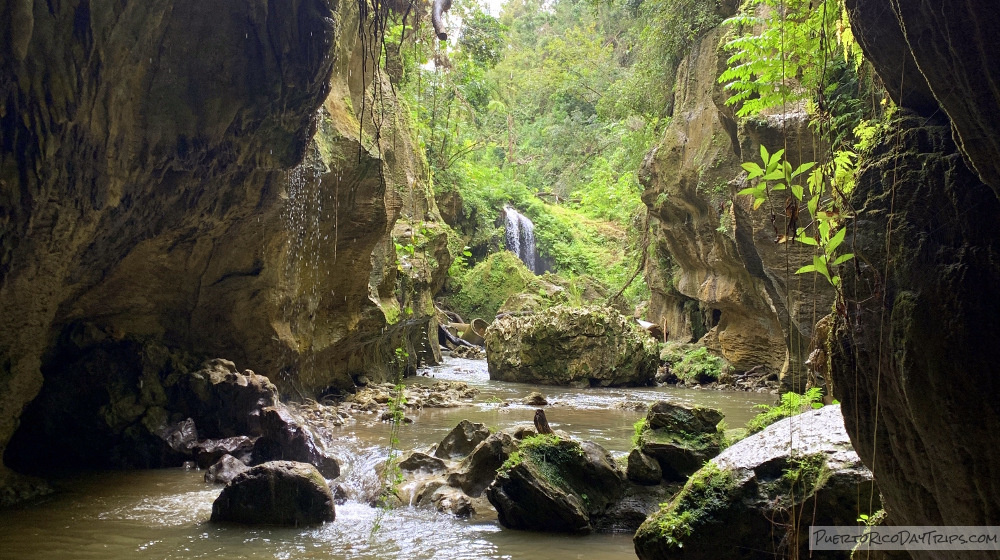 Many years ago (pre-Maria), we had visited Cuevas Arenales, and were really impressed by the beauty. The rock formations were really cool. And we had heard about the real underground caves that you can go through, but didn't want to explore them alone. So when we had a chance to go with NaturHabitat EcoTours, we took advantage of the opportunity. And it was so worth it!
Our group met up with Albert (owner/guide), our other guides, and other participants, signed the waivers, then we all drove to the starting point. There we parked our cars, they handed out our gear (life vests and helmets), and were introduced to our guides for the day (Yafed and Irmaurey) who are both biologists. They gave us a briefing on what flora and fauna we will see on our trip, and about what to expect from our adventure. Then we started our walk down to the river. We stopped a few times to discuss the trees and nature things on our way.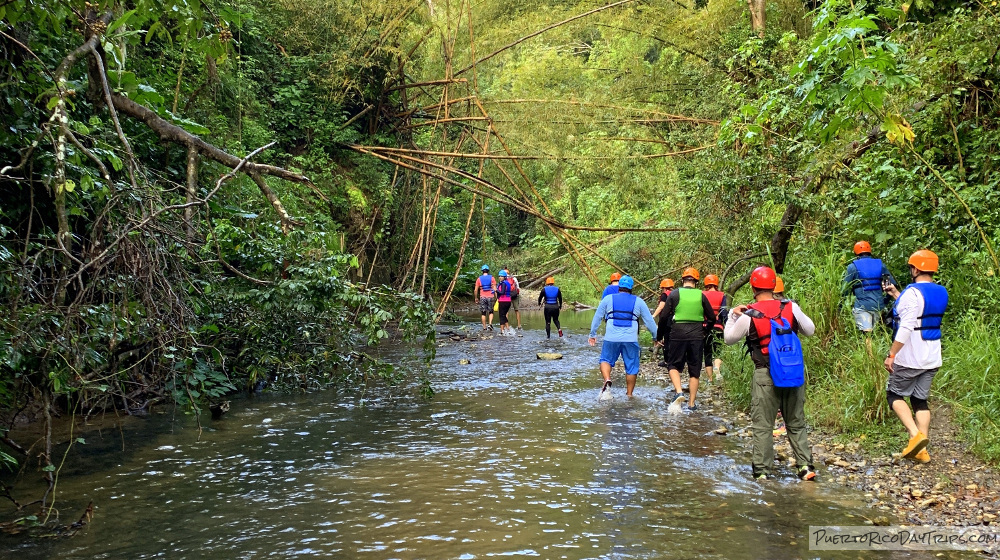 After a walk down a really slippery road, we walked into the river. We went up to this beautiful canyon area that has water-worn rocks on both sides. You float up and down this area. It really is beautiful. Yafed told us about how the rocks were formed, and other cool things about the karst area (like how you may find shells or other fossils in the area from when these rocks were underwater). We always had one guide in front and one guide in back, making sure we were all OK every step of the way. They were very good!
From there, we walked a little bit (technically over the cave), and then went to a down river area where we climbed down and got into the river and entered the mouth of the cave that we had just walked over. It had a waterfall at its entrance. Here, they handed out headlamps, discussed the caves, animals we may see in the caves, proper bat/light etiquette, and what else to expect in the cave.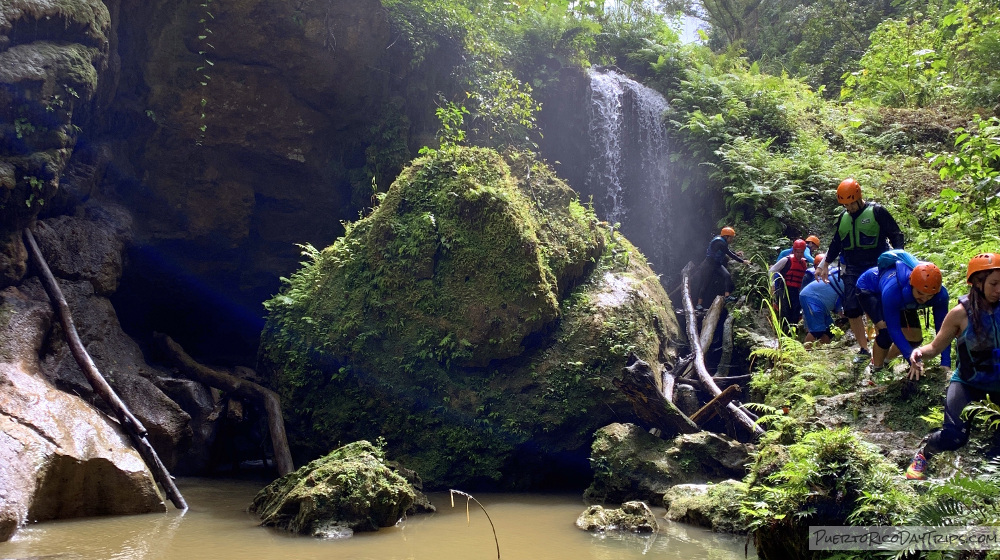 These caves are pitch black, so having the lights was a must. There are submerged trees/rocks that the guides would point out and we all did a telephone like, pass the info back to the guy behind you, so no one would accidentally bump into it. We spent probably half the time floating in the river, and half the time walking.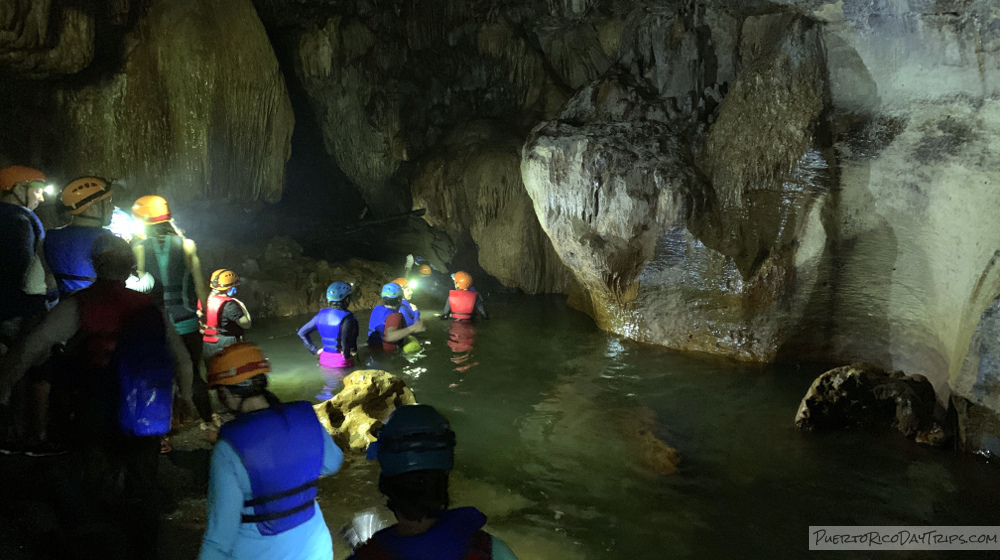 There were really beautiful colors and formations inside these caves. And at the end of this cave, there was a waterfall that came from above ground dropping into the cave. When we were all done with photos and enjoying this cave, we backtracked and continued downriver. Yafed told us about the history of the place … both the modern (destroyed concrete water pipes) and nice Taino petroglyphs on the rock walls.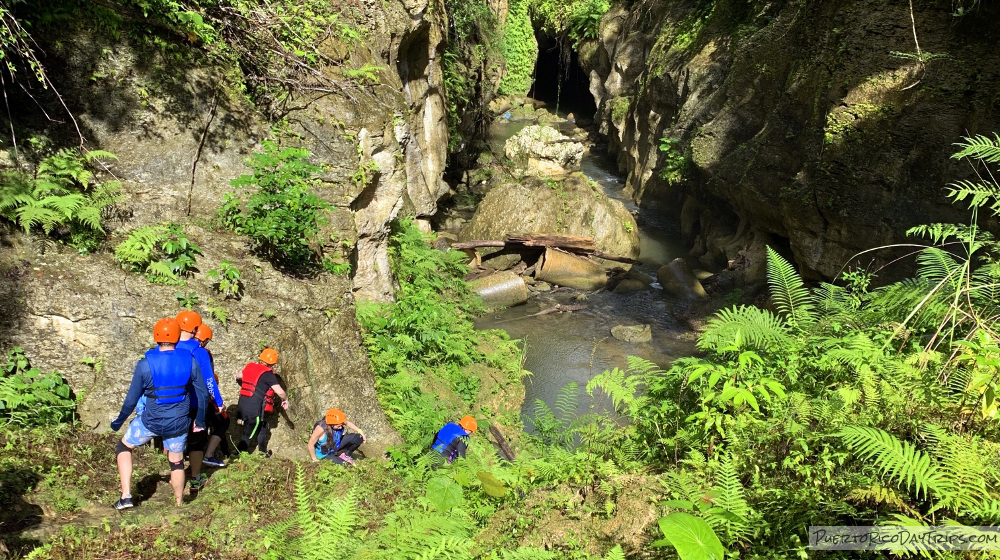 We then went into another cave, where we again floated, observing all the beautiful cave formations above and along the walls. At the end of this cave was a nice deep pool. Yafed showed the trail up so people could jump into the pool from about 12 feet (though it seemed higher when you are standing at the edge!).
Once everyone was done having fun, we had to scramble up this really thin path along the edge of the rocks and up and up until we got to the path that led back to the road. We then hiked up to the cars.
We really enjoyed this trip. It is extremely beautiful, it was exciting and interesting. We felt safe with guides that know the area. It took about 4-5 hours, which was a good amount of time … not too much, and not too little. But realize, you will be wet most of the tour. And it is not for everyone…there is some walking, climbing and scrambling over rocks involved. But most active people can do it!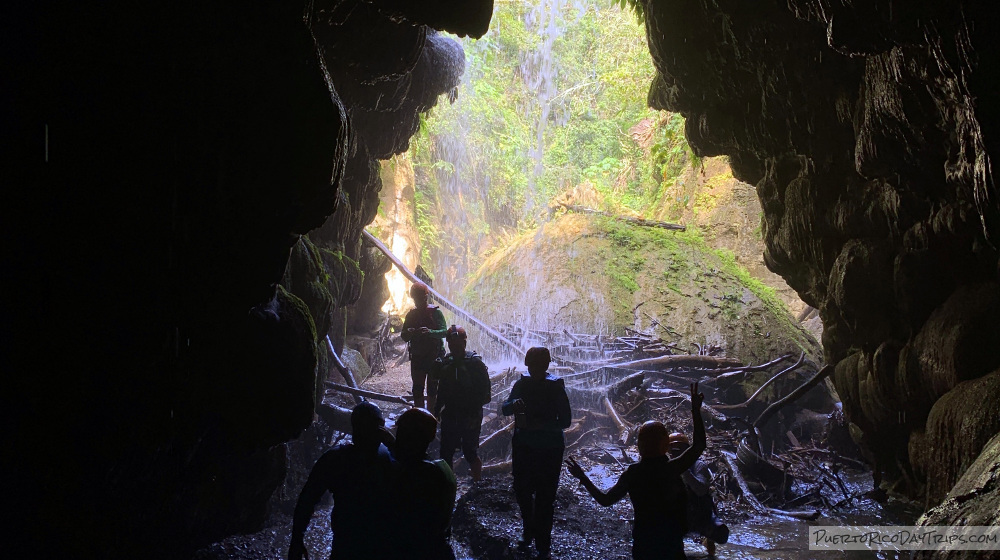 Details
Contact NaturHabitat EcoTours via their Facebook pagefor pricing and other information and to make reservation. Tours require a minimum and maximum # of people. There is a minimum age to participate. Guides are fully bilingual Parking is an additional $3 per car paid to property owner.
Some important things to note for this excursion — You will be wet, from walking and floating in the river, most of this trip. Make a point to wear quick-dry clothes. If you get cold easily, wear 2 layers. Most of the time when you are wet will be spent out of the sun. Wear good-grip shoes that stay on your feet; you will be walking on a really slippery road and rocks. It is probably rated a Moderate adventure (not easy!).Bring a waterproof camera because this place is beautiful. Make sure everything you have with you is OK being soaking wet or make sure everything is protected from being wet (car keys, phones, snacks etc) – a ZipLoc baggie is not sufficient. Bring water and snacks…you are burning calories this trip, you will get hungry! Hurricane Maria left her mark on the area, so there are a lot of downed trees in the rivers and caves.
They will provide life jacket and helmet. You must wear comfortable clothes (bathing suits, shorts, or quick-dry long pants) and non-slippery shoes. Sandals and Crocs are not permitted. You might consider bringing a pair of gloves. Tours are subject to weather conditions and availability. NaturHabitat Ecotours can cancel the expedition at any moment, and you can select another date for the adventure, depending on their availability.
Non-swimmers can do this tour. The life jackets keep you afloat quite nicely – you just need to doggy-paddle in the right direction.
The excursion itself takes 4 to 5 hours, not including drive time…you drive yourself.
You can get more information from their Facebook page.
The meeting point is the Burger King parking lot at Exit 35 off of Route 22 in Vega Baja. There is also a Church's Chicken next to Burger King. If you are driving from the San Juan, you will find Exit 35 (currently unmarked) on your right after the "Puente del Indio". If you are coming from the west, you will see the Burger King on the left (north) side of Route 22, and Exit 35 is to the right.
Click on a placename below to view the location on Google Maps ...
PuertoRicoDayTrips.com assumes no responsibility regarding your safety when participating in the activities described in this article. Please use common sense! If your mother or that little voice in your head tells you that you are about to do something stupid … then don't do it!