Get Close to Nature in Luquillo
The Northeast Ecological Corridor is a protected nature reserve located on the northeast coast of Puerto Rico. It is about 3000 acres of land that runs from Luquillo to Fajardo. There are many types of ecosystems/habitats in the area, from beach to forest, rivers, mangrove swamps, marshes, fields and more. Many types of animals and birds call this area home. Taking a tour, via kayak or stand-up paddleboard, on the rivers through this area is relaxing, beautiful, and interesting. We recently enjoyed a trip with with Sun Capital Paddlesports and had a nice time. Check it out!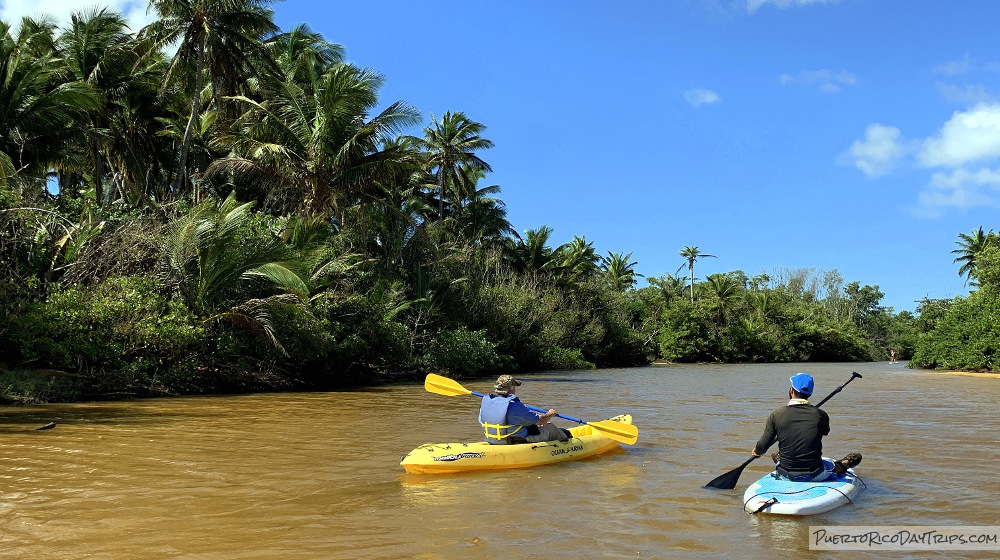 There are a few rivers that run through the Northeast Ecological Corridor (NEC). Sun Capital Paddlesports offers a tour (called "Interpretando La Vereda Acuática Río Sabana Luquillo" or "Interpreting the Río Sabana Water Trails of Luquillo") on the rivers that form the estuaries in Luquillo, right at La Pared beach. We meet our guide, Ramón, and other tour member at the La Pared steps.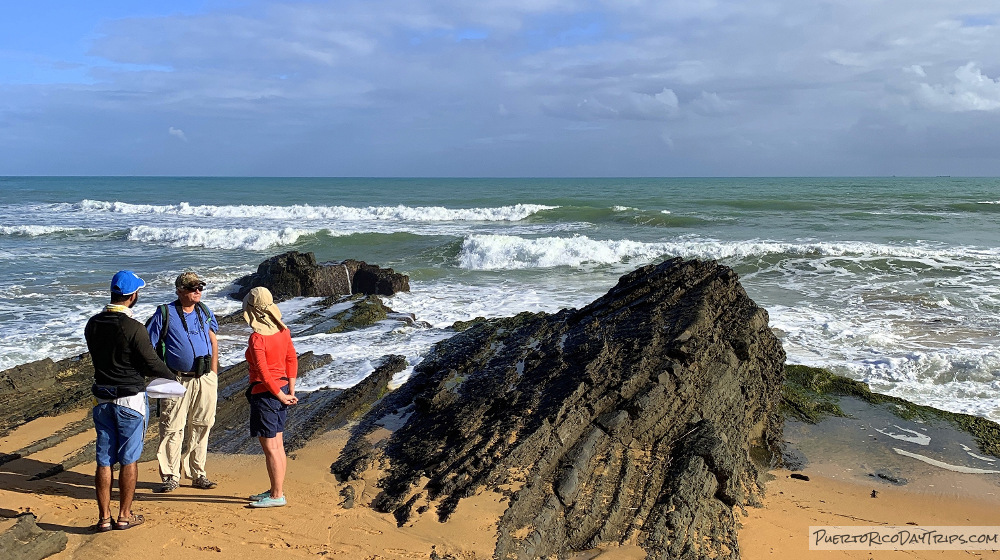 From there, we took a short walk to the river where the kayaks — he also offers stand-up paddleboards (SUP), if you prefer — and equipment were waiting for us. Ramón explained how to correctly paddle and generally what we would see. And off we went.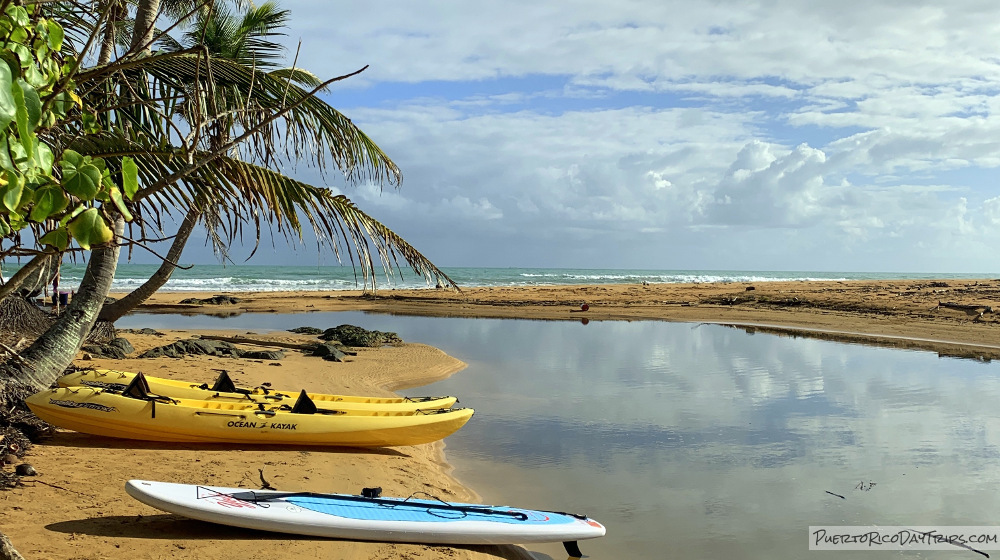 The river is calm, so it is easy paddling. We took our time, and Ramón explained things along the way. We made a stop at the beach, where he talked about the importance of conserving the area because it is a nesting site for the endangered sea turtles, including the leather back. If you are there in-season (April to June, or so), you will be able to see the nests, and maybe the tracks made by the females when they come ashore to lay their eggs. Or from June- Aug, maybe some hatchling tracks!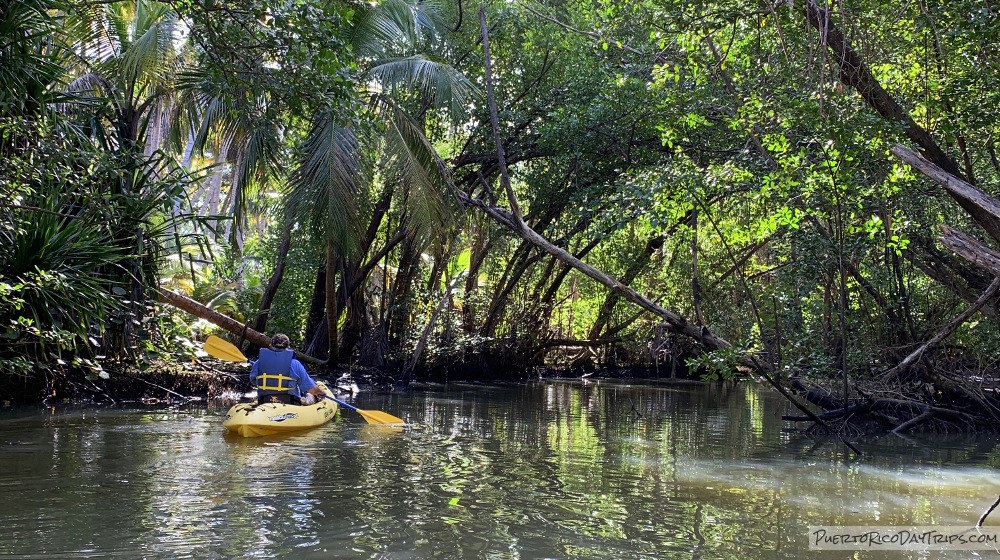 We then continued up-river, and he told us about the history of the area, from the sugar era. Fields of sugar cane were grown there, there was a large sugar mill called "San Miguel", and the "sugar train" train tracks went through. You can see the remains of the "sugar train" railway bridges. After sugar production stopped, the area was used for cattle, and along the way we saw some water troughs.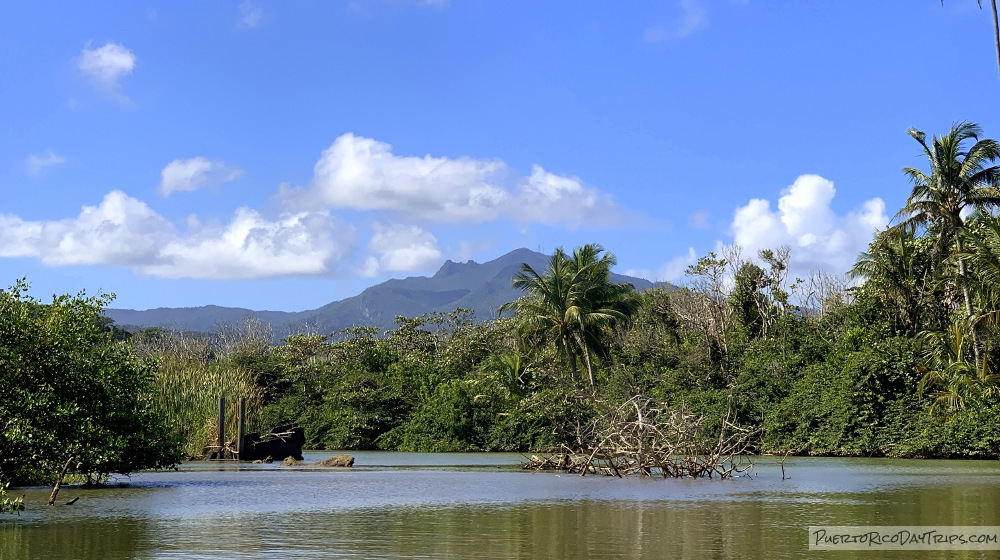 But the most important info was what it is used for today … to provide nature habitats for wildlife, some of it endangered. He pointed out and talked about different things we saw along the way, like plants, iguanas, birds, river turtles, and more. He also told us some folk tales of the area. It was all very pretty and green. It is an eco-tour, so he emphasizes the respect that people should have for nature.
I really enjoyed this trip, it was relaxing, easy, and only lasted about 2½ hours, so you have time to enjoy the beach or have lunch while you're in Luquillo. I think it is a nice trip for the family.
Ramón offers his tours in English, Spanish, or bilingual if needed. Just make sure to tell him your language preference when making your reservations. We did a kayak tour, but he also has stand-up paddle boards. He offers tours in other rivers if you would like. He offers paddle board lessons, and even sunset sessions, so you can watch the sunset and see the colors from out on the water. He will also rent his kayaks or SUPs, and deliver them to you. Contact him and discuss what you want to do!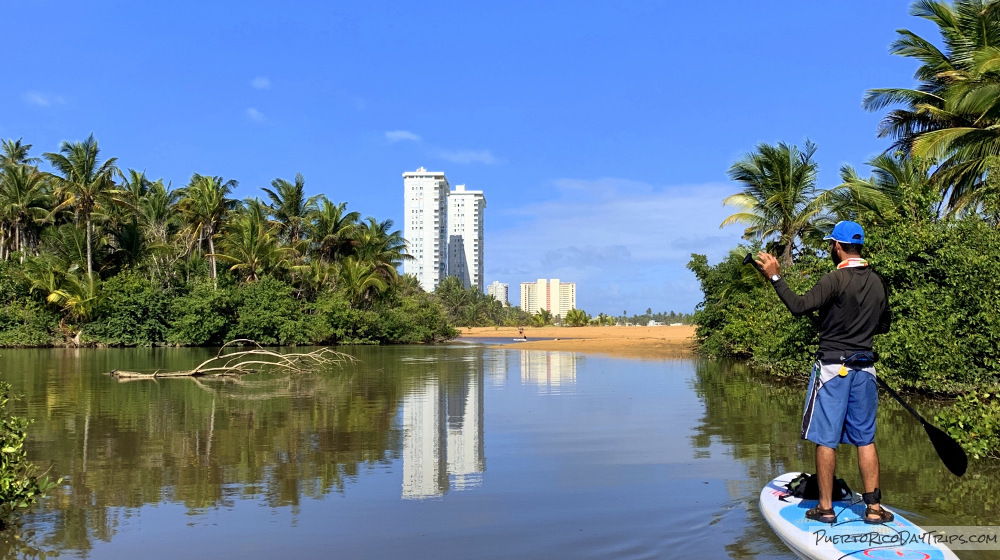 Details
The tour described here costs $30/person, including all equipment (kayak, paddles, & personal flotation device). Board rentals are $20 per hour, pp.
If you're happy, let them know it — Don't forget to tip your your bartender, tour guide or trip operator if you enjoyed yourself. Gratuities are appreciated and typically aren't included in the price they charge you.
Tours are available M-Sat at 9am. Reservations are required.
Wear clothes and shoes that can get wet. Required footware is something like water shoes, or Keens (no flip-flop or Crocs). Bring water, a snack, a hat, sunscreen, sunglasses, and waterproof camera (or plan some way to keep your camera/phone dry).
There are no restrooms in the area, so plan ahead for that.
The tour described here lasts approximately 2-2½ hours.
You can call or text them at 787-403-6653 for more information or to make a reservation.
You can get more information about Sun Capital Paddlesports on their Facebook page. You can contact them through Facebook to arrange your tour.
They have 6 double kayaks, so the maximum tour size is 12 people. Minimum required for tour is 4 people.
Click on a placename below to view the location on Google Maps ...
PuertoRicoDayTrips.com assumes no responsibility regarding your safety when participating in the activities described in this article. Please use common sense! If your mother or that little voice in your head tells you that you are about to do something stupid … then don't do it!