Zoom Around Old San Juan on a Jet Ski
There are many different ways to experience Old San Juan … like walking tour or on the trolley. But if you are looking for a more exciting (and cooler) way to see Old San Juan, you can get a tour of the 500-year old city from a different angle — on a Jet Ski! San Juan Water Tours offers a Jet Ski Tour that is wet and wild, and combines some history and a lot of fun.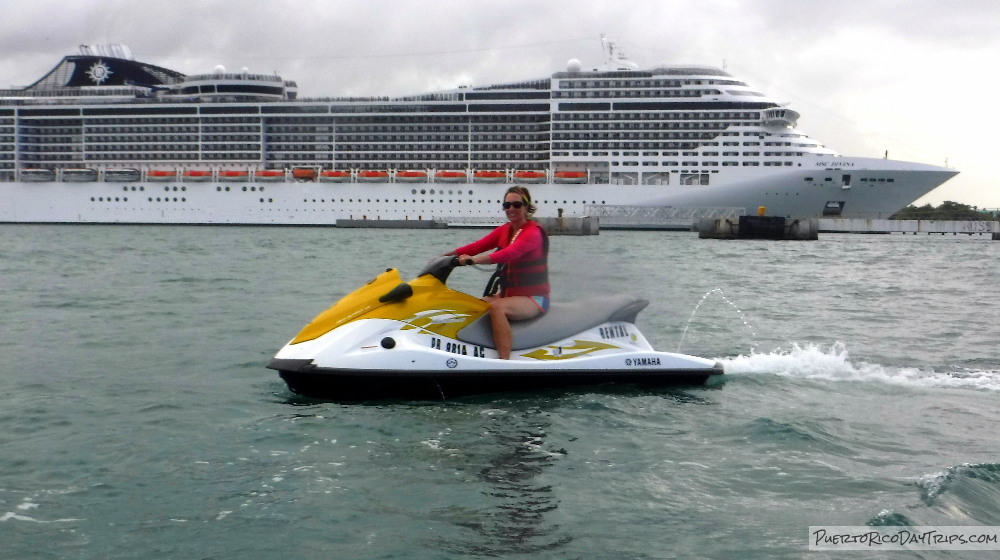 Our Tour
We went to Old San Juan to see a few things and then do some water based tours with San Juan Water Tours. Their location, right in Old San Juan at Pier 6, is super convenient. We could see a few land-based sites, have lunch in town, and then just walk to their dock.
After signing waivers and meeting our fellow tour mates and guide, we went down to the jet skis and got our life jackets. These were nice jet skis (Yamaha Wave Runners) – not too big to maneuver easily and not too small. We went with a couple who had no problem fitting on one jet ski.
Our guide, Vanly, gave us a quick course on using the jet ski (seriously – super easy!) and then got us on our jet skis and we were ready to go! Driving the jet ski is easy, but it does take a little practice until you get the feel for it in the changing water conditions. At first, waves were a bit intimidating. But, after a bit, they became fun to ski over! There are times when we just had "the need for speed", and on these smooth waters deep in the bay, we were able to go full throttle – Ray got to 50mph!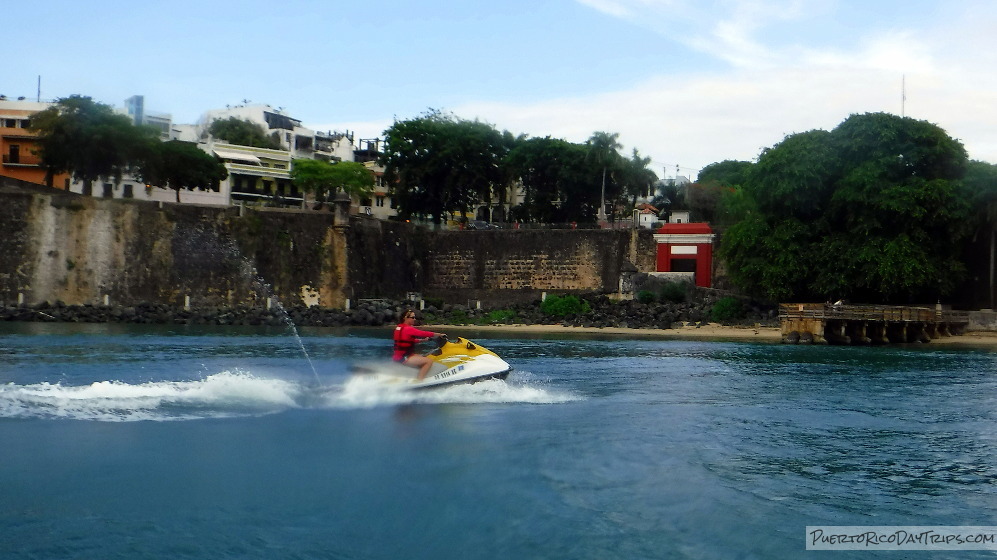 All in all, we went to three different areas around the San Juan Bay, super fast. Vanly had us stop near various local and historic sites that we were passing — the marinas in the bay, the San Juan Convention Center, the Puerto Rico capitol building, the Hato Rey area, and then out to the entrance of the bay, to see the Old San Juan City Wall, the Old San Juan Gate, the Bacardi Factory, El Morro and Fortaleza. He gave us some information about each of the sites, and he set us up for some quick photos at each of these spots. These historic sites are beautiful from the water. And while the historical information is interesting and all, we all know why we were really there … to zoom around on the jet ski! Vanly gave us plenty of time to zoom!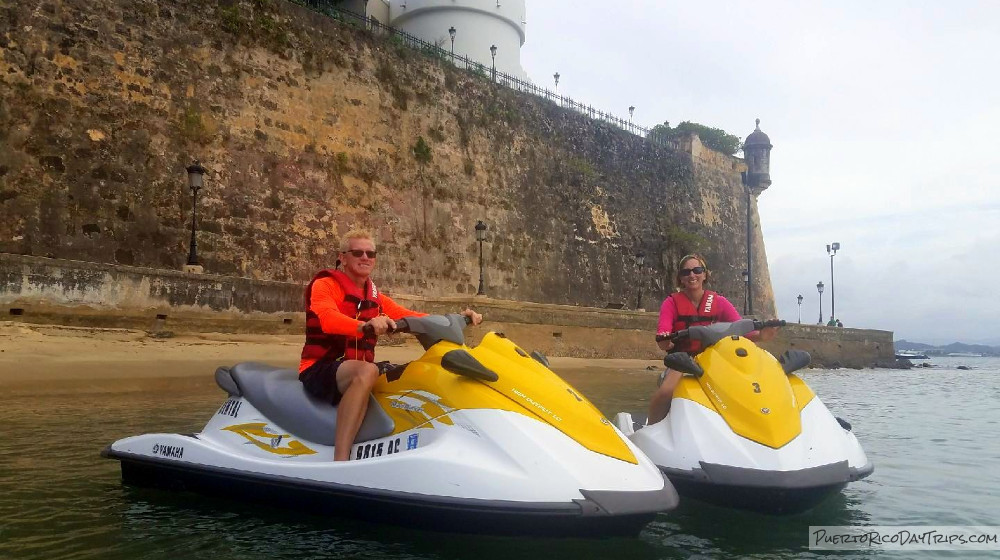 Normally, when we review an activity that is not free to the public, we pay the admission price out of our own pockets. However, we just want you to know that the folks at San Juan Water Tours were kind enough to offer us this trip for free. While we don't feel that this free ride influenced our review one way or the other, we felt that we should tell you, just as a matter of fact.


Details
The cost for a jet ski is $140 (either 1 or 2 people), plus tax and service fee. Each jet ski can hold up to 400 pounds, 1 or 2 adult passengers, or 1 adult and 2 children. 3 adults are not allowed due to safety reasons. You can book your tour directly online through their web site.
They offer tours at 10am, 11:30am 1pm, 2:30pm and 4pm. Reservations are required.
Drivers must be at least 18 years old, and must have a valid driver's license. Passengers must be at least 7 years old.
They can handle groups of up to 6 people, with people riding double.
The tour is about 60 minutes. Allow about 90 minutes total for the whole process.
You can contact San Juan Water Tours 787-624-6295 for more information.
You can visit the San Juan Water Tours Facebook for more information or to book your trip online.
Make sure you have adequate protection from the sun. I recommend a rash guard shirt to keep the sun off your back and arms. We were wearing waterproof sport sunscreen on our faces, but it still ran down into our eyes and stung. I am unsure how to avoid that problem because the sun on the water will burn your face quickly, and a hat will fly off in the wind/water. We wore sunglasses with a safety strap, which kept some of the water out of our eyes. I was glad to have them — lots of water in the face on this trip!
There are a few other Jet Ski operators that offer tours in the San Juan Bay (WoW and Aquatica), but San Juan Water Tours is located right in Old San Juan at Pier 6. It is super convenient (just a short 4 minute walk) from the Pier 3/4 cruise ship piers. And it saves the time and cost of a taxi that you need to get to the marina where the other jet ski operators are located.
We are in the process of updating the maps we use on our web site. While we're working on that, you can click on the GPS coordinates below to view the location on Google Maps ...
PuertoRicoDayTrips.com assumes no responsibility regarding your safety when participating in the activities described in this article. Please use common sense! If your mother or that little voice in your head tells you that you are about to do something stupid … then don't do it!