¿Dónde Está el Baño?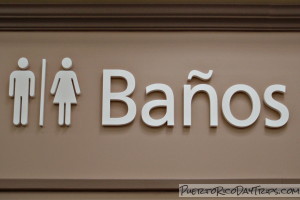 You have decided to spend the day on a DIY walking tour of Old San Juan. You're visiting forts & museums, doing a little shopping, sampling some local treats from the street vendors, and just generally enjoying all that the old city has to offer. And then it happens — maybe to you, maybe to one of your kids — nature calls! And the immediate next thought is where am I going to find a restroom?
You might think this is a strange topic to be writing about. But, admit it — it's happened to you at least once while you were in a strange place. When you are out and about in Old San Juan, and nature calls (and she will!) this list of restroom locations will come in handy! You can thank me later.
First Things First

When you get to the door of the restroom, it may not say Men or Women. Here in Puerto Rico, most of the Ladies' rooms will say Damas or Mujeres, while the Men's rooms will say Caballeros or Hombres. Also, throughout Puerto Rico (and especially in Old San Juan), much of the plumbing is old and gets clogged easily. They usually ask that you throw the toilet tissue (and any feminine products ) in the waste basket by the toilet. Sometimes there's a sign. Oftentimes there's just a waste basket next to the toilet. It may seem weird to you, but go along with it. You don't want to be the one who stopped up the toilets!
The List
Here's a list of semi-public restrooms in Old San Juan. All of these are open only during normal business hours.

At the new SJ Visitor's Center on Comercio St- the peach building by the Tapia Theater (behind on Cristobal Plaza) just off of Recinto Sur– Clean.
At the Marshall's on 154 Calle Rafael Cordero (on Plaza de Armas)– the bathrooms are located on the second floor. Clean.
At the Pier 2 Ferry Terminal on PR-1, Calle Marina – the bathrooms are located right past the entrance on either side. Decently clean early on, but gets worse as day progresses.
At the Bahia Urbana on Calle Marina – the bathrooms are located on the north side (by the parking area) of Cafe Ocho. Clean!
Along the Paseo de la Princesa there is a little bathroom with an attendant. It costs 50¢, but it is always clean!
Next to the Princesa building (on Paseo de la Princesa) is another small building (looks like an old carriage house). The left side door leads to the bathrooms. Free, always clean. You get there by going into the Puerto Rico Tourism building, past the art exhibits, into the courtyard and then take a left and walk all the way down.
Outside of El Morro fort on right side, down the hill a bit, is a little building with a store and bathroom. Clean during the week, might get a bit dirty on the weekend. $0.25 .
Inside the Forts (both El Morro and San Cristobal). These are clean bathrooms with great views! But you need to pay the fort admission fee to get in to use them.
The Ballaja building on Calles Norzagaray and Del Morro has a bathroom on the ground floor. Clean, free.
In the National Gallery building (entrance is in the corner, on the corner of Calles Cristo and San Sebastian), Located on the ground floor. Clean, free. This building is now closed.
In the Bus Terminal building on Corretejer Street. NOT clean, but free and open until 10pm or so. Will do in a pinch.
By El Convento Hotel, on Cristo Street — though usually reserved for restaurant patrons, no one will stop you from using these: Just outside the front door of the restaurant to the left there is a hallway. Nice clean bathroom there.
The San Juan the Baptist Cathedral on Cristo Street across from El Convento also has bathrooms that you could use. They ask for a donation at the main entrance.
The parking garages on Recinto Sur (Doña Fela and the Galeria Paseo Portuario building) have bathrooms. You may need to ask for the key. I was surprised it was clean.
There are bathrooms in a few other places that, if you ask, they will let you use. Try the School of Plastic Arts or some of the other museums. The school and most of the little museums are free, so tour around in them while you are there!
If all else falls, stop in at any restaurant or bar, order a beverage of choice, and then use their restroom. It is hot in Old San Juan, so you should probably be hydrating anyway!
And sometimes, when you gotta go, finding a restroom is priceless!
PuertoRicoDayTrips.com assumes no responsibility regarding your safety when participating in the activities described in this article. Please use common sense! If your mother or that little voice in your head tells you that you are about to do something stupid … then don't do it!