Peñón Amador Beach in Camuy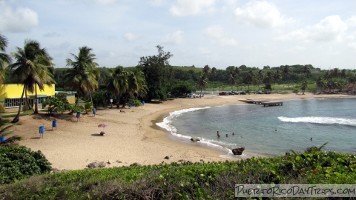 When people hear the town name Camuy, all they think of is the Río Camuy Caves Park. While the caves are great place to visit, there are more things to see in Camuy.
We recently stopped at Peñón Amador Beach, and I think it is another great place to visit while in town. This area is more than just a beach for surfing, sunbathing, and fishing — there is great scenery, and a surprise or two!
This beach was such a great surprise for us. We were driving by and saw the rock formation right off the fishing boat ramp, so we stopped and parked to look around. You can't help but notice the rock "island" that has a large cross on it — placed there as a memorial for all the people who have drown in the area.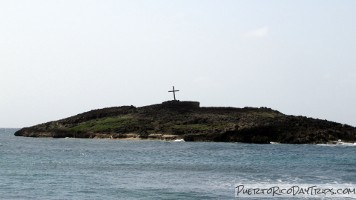 While we were there, we took a short walk on the beach. It has nice beige sand, no rocks.
The day we went it was relatively calm, but at times it is a good surfing beach and has decent waves (especially in the winter/spring). This also means it has rip currents, so it is not really a swimming beach — hence the cross as a reminder to everyone. The beach area was pretty clean.
We continued along the beach toward the rocky area, where we found the totem pole! How fun is that? I have no idea why it is here, but why not?!.There is now also a beautiful giant chair for fun photos.
We continued walking up on the rocks for some great photo ops (be careful … the rocks are sharp!). There is more nice sandy beach to the east of the rocks. It looked like there were some sea turtle nesting sites on that beach. We also found loads of sea glass and beautiful tiny shells and stones.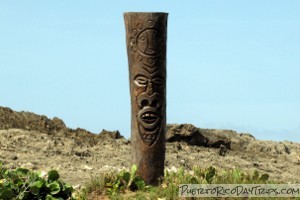 We were walking back to the car, and looked across the street from the beach, and noticed a cow pasture with a pond in the middle. I was looking at all the water fowl and saw … wait for it … a pink flamingo! Now, how cool is that? However, Post Maria, The Flamingo "Pinky" spends most of his time in another cow field just down (west) RT 485 about 1 mile.
As of August 2019, I hear Pinky has left (hopefully only for a while). But always keep an eye open for his return! As of 2/21- he is still gone 🙁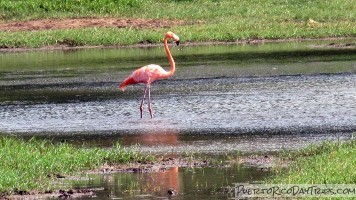 Apparently, the flamingo showed up in early 2009 and seems to stay here often. Whatever it eats seems to thrive in this little pond. But it is alone — no mates have shown up.
Details
This is a free beach, with on-street parking, and no facilities.
Don't park in front of the boat ramp.
Just east of the beach and boat ramp there is a parking lot and a great "pescadería" where you can get fresh seafood daily and one of the best seafood empanadillas.
Click on a placename below to view the location on Google Maps ...
PuertoRicoDayTrips.com assumes no responsibility regarding your safety when participating in the activities described in this article. Please use common sense! If your mother or that little voice in your head tells you that you are about to do something stupid … then don't do it!