Playa Grande Beach on Vieques
12/18- This beach area and wildlife refuge has reopened.
Vieques is known for it's beautiful, white-sand beaches with calm, sparkling blue water that are perfect for sunbathing and swimming. There are other beaches on the island that have rugged beauty and seem to go on for miles. Playa Grande is that kind of beach.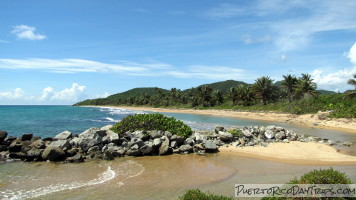 Playa Grande is too rough for swimming, but it is great for soaking up the sun, taking long walks, and for filling up the memory card in your camera. It also is a nice spot for enjoying the sunset and star-gazing. We have spent hours on this beach, enjoying every minute of it!
Vieques is a small island municipality of Puerto Rico that is located just about 8 miles off east coast of the big island. It is truly an unspoiled island, with only about 9000 inhabitants.
It is known for its miles of beaches, which are mostly in their natural state — no resorts and little beach-front development. It has a few beaches that are more popular than others, because they are in protected bays and are great for swimming.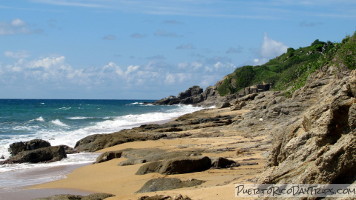 Playa Grande is not one of those. Playa Grande is an exposed beach, running along the south west corner of the island. It has rough surf and rip currents, so swimming there is not advised. Due to this fact, the beach is not often visited, which makes it a great place to get away for it all!
Playa Grande translates to Long Beach, and that is what it is. It is the longest stretch of beach on Vieques. It has slightly coarse beige sand. But my favorite part is that, as you go west, it has the most beautiful rocks/boulders that flow every so often into the ocean.
Located in a US Fish & Wildlife Service (FWS) area, it is nicely maintained and has a decent road going in. There is plenty of parking available (probably more than is ever needed!).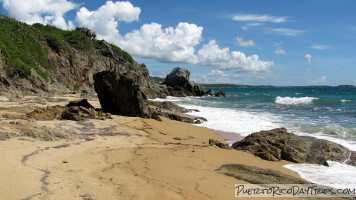 There is a marsh on the north side of the road where we did a little bird-watching. The beach that runs from the entrance to the last parking area before the gate is just sand, no trees. I did a little sea glass hunting here. But we spent most of our time walking westward. We parked at the last spot, went to the beach and just walked until we couldn't go any more! You need shoes with hard soles to scramble over the boulders, but we thought it was so nice. Bring plenty of drinking water!
There is a sign on the gate at the entrance that had opening/closing times on it, and people enjoy watching the sunset
The F&W National Wildlife Refuge is open 7 days/week, from 7am – dark ( 6:30pm Sept – Feb, 7:30p rest of year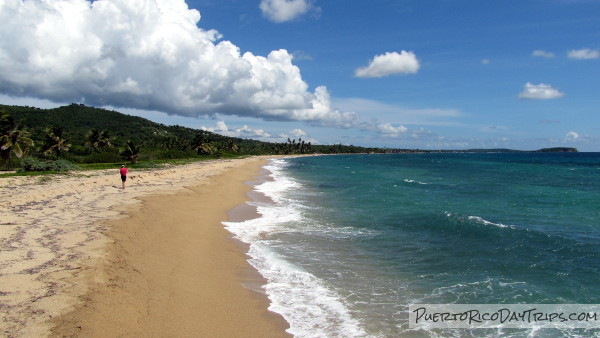 Click on a placename below to view the location on Google Maps ...
PuertoRicoDayTrips.com assumes no responsibility regarding your safety when participating in the activities described in this article. Please use common sense! If your mother or that little voice in your head tells you that you are about to do something stupid … then don't do it!