My Favorite Beaches on Vieques
The beaches in the F&W Reserves are open 7 days a week from 7am – dark (until 7:30pm March-Aug, until 6:30p, Sept- Feb) Gates close automatically. Also some beaches may be closed on and off if they are doing munitions clean up. They will post signs.
Vieques is a small island located in the Caribbean. And guess what? It is loaded with beaches! And not just any beaches — some really amazing beaches. They come in all shapes, sizes and sand colors. I bet everyone that visits Vieques has a few that stand out for them as favorites. With so many beaches to choose from, it is hard to choose which one is the best!
Background
The municipality of Vieques is a small island, located about 8 miles off the east coast of Puerto Rico. Up until 2001, the US Navy occupied almost ⅔ of this beautiful island, and they used that part for bombing practice. While this was detrimental to the inhabitants in many ways, one good thing it did was keep most of Vieques from getting developed with beachfront resorts.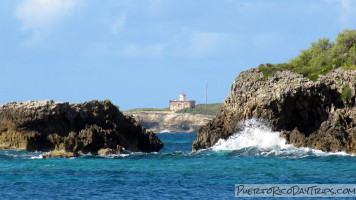 After 2003, the Navy transferred all of their land to the US Fish & Wildlife Service (FWS), who now protects the land as National Wildlife refuge. Most of the beaches in the Fish & Wildlife area now open for public use, and available for all to enjoy in their natural state. However, there is still a large section of Vieques that is off-limits due to unexploded ordinances.
In addition to the beaches in the nature reserves, there are a number of other beaches outside of the reserves that deserve to be explored and enjoyed.
One thing that you need to keep in mind is that as the seasons and weather change, the conditions of each beach change, too. Sometimes, wind and waves cause sea grass to wash up. Some beaches get more flotsom at different times of year. There are seasonal changes to the quantity of sand on the beaches. There are even seasonal changes to the number of people on a beach — expect more people on weekends and in the summer — that will affect your impression of a beach.
Obviously, what is "best" in a beach is very subjective. Some people like waves for body boarding or surfing. Some require availability of snorkeling. Some like wide open sandy beaches. Some like the convenience of food stands and restrooms.
I like white sand, cove-shaped beaches with calm water. The beach needs to be picture postcard pretty. A beach gets a +1 if there is snorkeling. Since I like coves and protected waters, all of the beaches on my list are on the south side of Vieques.
You can use this list for ideas, but you need to go all over Vieques and explore all of the beaches to pick your own favorites! And, since Vieques is small, you can easily enjoy 2 or more beaches on any given day.
My List of Top Beaches on Vieques
These are in no particular order …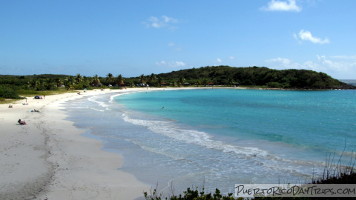 Playa Caracas (aka Red Beach) is located in the Vieques National Wildlife Refuge (Camp Garcia area). White sand, blue water, generally calm water, surrounded by rocks on one side and green hill on the other. Just picture postcard pretty. It has some facilities — there are some covered picnic pavilions and a composting restroom. The road to the beach is paved, so you can take a taxi/publico there. This easy access and beauty make this beach a favorite with locals and tourists alike. It can get crowded, so get there early. Extra points — there is some snorkeling on these eastern side of the cove and you can walk along rocks on eastern point and get a nice shot of the old lighthouse. Lots of parking in the open space.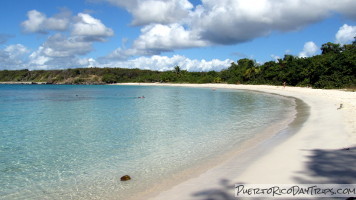 Pata Prieta (aka Secret beach) is located in the Vieques National Wildlife Refuge (Camp Garcia area). It's another beautiful cove with white sand and blue water. Green hill on one side, rocks on the other. To reach the sand, there is a little "hike" (maybe 200 feet) from parking lot, so not a ton of people go here. Bonus — There is fairly good snorkeling on both sides of the cove. And it you walk out on the rocks on the east, you can get some great pictures of the old lighthouse. There is a thin strip of sand with some trees/bushes for shade. No facilities.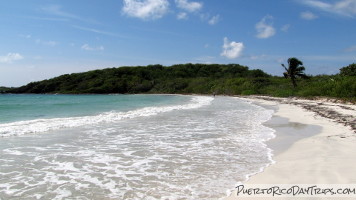 Playa Plata (aka Silver Beach or Orchid Beach) is the farthest east of all open beaches in the Vieques National Wildlife Refuge (Camp Garcia area). It's another amazing cove with soft white sand and clear blue water. This one is also surrounded by rocks and green hills. At Playa Plata, just around some rocks to the east is Playa Platita, which is a tiny beach … if you are the first one there you can claim the whole beach as your own! It has cool standing rock "sculptures". It is a REALLY bumpy ride to get to Playa Plata, which means it is not as busy as other beaches. This beach gets extra points for snorkeling! Sea grass tends to wash up on the western end of the beach. No facilities.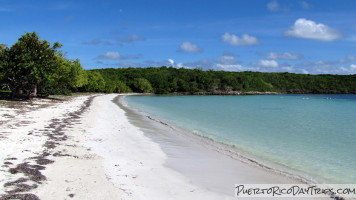 Playa Media Luna, located past Playa Sombe (Sun Bay), is maintained by Puerto Rico Parque Nationales Department. This little cove is the most protected, so the water is almost always calm. There is white sand, with some picnic tables, and lots of trees for shade. The water is shallow, warm, clear and blue, with a roped-off swimming area. With green rock hills on both sides, it is just so pretty! You get there by taking the dirt road from Sun Bay. The dirt road is in decent shape, and most people just stay at Sun Bay, so Media Luna is not usually crowded. There is some sea grass washed up on the western end. No facilities.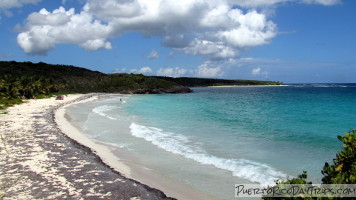 Playa Navio is also located in the Puerto Rico Parque Nationales area, on a road past Playa Media Luna. Playa Navio is amazing — it's close to picture-perfect for me. Amazing blue water, white sand. Bonus points for neat "caves" at water's edge on the east side and hiking "trails" on both sides. Usually has some waves, that are great for body surfing. To get to this beach, you need to go on a really bumpy dirt road, so not usually more than a handful of people are ever at this beach. Sea grass often washes up on the western end of the beach. No facilities.
Honorable Mention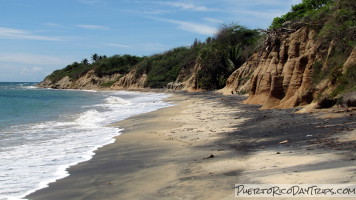 There are too many beaches on Vieques that I like, all for different reasons …
Playa Negra is a black sand beach west of Esperanza, that we've written about in the past. It's very cool to see the black sand. But to get to this beach, you have to allow an hour or so because you have to hike to get there. There are no facilities at Playa Negra, and due to rough seas, we consider this more of a hiking expedition than a swimming expedition.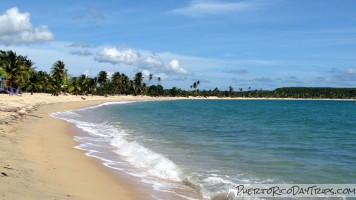 Balneario Sun Bay on the eastern end of the beach — Sun Bay (or Sombe) is a balneario operated by the Puerto Rico Parque Nationales Department, and it has a lot of positives. It is a beautiful, large cove-shaped beach with soft almost white sand (plenty of room to spread out). There are lots of trees for shade, and it has full facilities (restrooms, showers). It's easy to get to, and you can walk there from Esperanza. On the eastern end of the beach, the water is usually calm and it faces westward, so you'll see great sunsets from this part of the beach. There are some pretty cays (like Cayo de Tierra) for photos, too!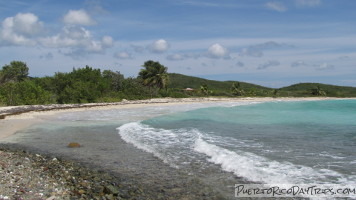 Playa Chiva (aka Blue Beach) is in the National Wildlife Refuge (Camp Garcia area). This is a long beach, with clear blue water and white sand. Parts of it are spectacular depending on the season (the sand comes and goes). There are pretty cays for photos. Many areas have trees for shade. Playa Chiva gets bonus points for some snorkeling to far east side. But there is limited parking and it can get busy.Best spots are areas 7 to 15 (the beach entry points have numbered signs – this will make sense when you see it). There are no facilities.
Getting to these Beaches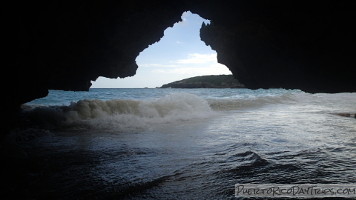 First, you need to get yourself to Vieques. You can either take the ferry from Ceiba or take a short flight. These flights are available from San Juan International Airport (SJU) and Isla Grande Airport (SIG) in the San Juan area, or Ceiba International Airport on the east coast.
Once on Vieques, you'll require a Jeep rental (high clearance 4WD) to get to most of my favorite beaches. And before you even ask … no, you really shouldn't take the car that you rented in San Juan to Vieques on the ferry. It usually voids the contract and/or there will be no one to help you if you have car trouble/flat etc.
You can now get a shared taxi (publico) from the ferry terminal to take you to Sombe (SunBay), Caracas, Playa Negra's trail head and to Playa Chiva. Get their telephone number and call them when you want to return. Should be about $10 per person each way.
The beaches in the F&W Reserves are open 7 days a week from 7am – dark ( 6:30pm Sept-Feb, 7am- 7:30p rest of year.)
Click on a placename below to view the location on Google Maps ...
PuertoRicoDayTrips.com assumes no responsibility regarding your safety when participating in the activities described in this article. Please use common sense! If your mother or that little voice in your head tells you that you are about to do something stupid … then don't do it!