Welcome to La Jungla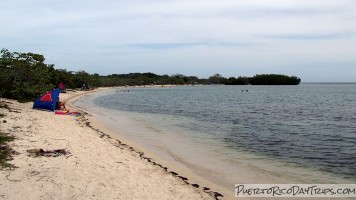 3/21 They did some work on repairing dunes, planted many trees to help restore mangrove, and improving parking etc, so the road is closed with a gate. They are starting a $2 pp "donation" for beach and road maintenance etc. Guanica residents and kids under 12 yo are exempt from fee. They have trolleys to take you to the beach from the parking area.
Looking for a calm cove beach while visiting Guánica? Playa La Jungla is a little beach that is mostly visited by locals. Located just north-west of Playa Santa, this little beach is more natural and calm.
Playa Santa is one of the better known beaches in Guánica — it offers a party atmosphere, with a beach bar and water sport rentals. It is a great place. But sometimes you want something a little more natural or a little more laid-back.
Playa La Jungla is surrounded by mangroves, so the water is clear. There is some snorkeling in the area and it is calm, perfect for kayaking.
There is not a ton of sandy beach (maybe 12 feet wide), but it is long — in fact La Jungla is a whole area that has a number of sandy coves, and some little beaches hidden among the mangroves. You kind of just drive go along the little dirt road until you find a spot that looks good.
Just be careful not to damage the mangroves — the Department of Natural Resources (DRNA) and US Fish & Wildlife Service are working to restore the area.
I hear this area gets very crowded in summer and on weekends and DRNA will limit the number of people if needed. We went during low season, so it was not too crowded.
There is also a mangrove pond across the road from La Jungla that was great for viewing water-fowl.
Getting there is half the fun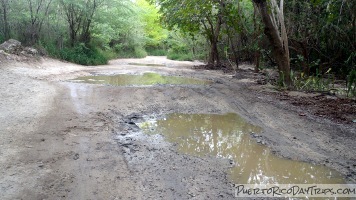 In Guánica, take Route 325 to the end (by the large round building). Then to the right of the paved road and a gate. Park and walk in on a dirt "road". Follow that dirt road until you find the beach.
In some parts of the road, you'll encounter large, deep, water-filled pot holes — so go slowly and carefully. If the gate is ever open, it may be easier to drive in, but be careful of the the branches on the road sides that may scratch your car (so keep that in mind if you have a rental car).
Click on a placename below to view the location on Google Maps ...
PuertoRicoDayTrips.com assumes no responsibility regarding your safety when participating in the activities described in this article. Please use common sense! If your mother or that little voice in your head tells you that you are about to do something stupid … then don't do it!