Playa Santa – A Great Place for Beach and Sunset
The beach is open!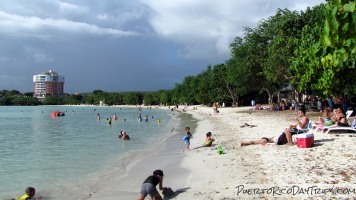 When you hear about the Guánica area, you probably hear all about how hot and dry it is. But, actually, Guánica also boasts some great swimming beaches — like Playa Santa.
This lovely beach is a free, public beach, so it is open all the time, and it is a great place to cool down and relax.
Some Geography
Guánica is a small town, located on the southern part of the island. It is most "famous" for the Guánica State Forest & Bioshpere Reserve (Bosque Estatal de Guánica, in Spanish). But Guánica is a coastal town, and part of it juts out into the Caribbean Sea. Playa Santa is situated on the western side of this peninsula, so not only does it have beautiful blue water, it's also a great spot to watch the sunset.
The Beach
This beach at Playa Santa is thin, but long. As you approach it from the dead end street (where you park), you first come to the watersports area. Then you turn to your right and walk on the beach as far as you want until you find your favorite spot.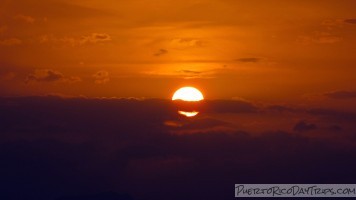 The sand was light-colored, and fine. The day we went, there were just small waves, but enough to take the sand particles into the water, making it cloudy.
There is a roped off swimming area, but I don't recall if were lifeguards. The Water quality is tested every 2 weeks by the Junta de Calidad Ambiental (JCA) to ensure it is clean and safe for swimming.
All across the back of this sandy beach is a row of trees, so you can set up your stuff next to the trees and be out of the sun if you want. There are no facilities — so for restrooms, you need to buy something at the nearby restaurant to use theirs.
Watersports & Restaurants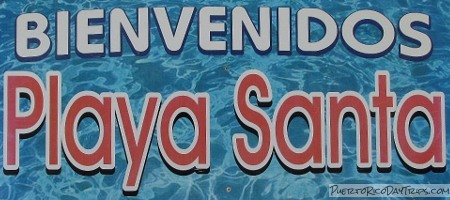 There is a watersports concession at the beach operated by Pino's Boat & Water Fun. They offer banana boat rides, jet ski rentals, pedal boats, kayak rentals, beach chairs, and other fun things. Across the street there is a restauarnt/bar, El Ancla Flotate, for food and beverages. In front of the restaurant is a nice malecon, where you can sit and enjoy the sunset and see the tarpon in the water.
Popular Local Beach
This beach is very popular with locals. This means that on weekends, holidays and summer months, you can expect LOADS of people and LOTS of boat and watercraft in the area. It can get to be quite a party scene. There are Public Ordinances of the rules posted, but I don't think they are really enforced. We only saw spaces for about 20 cars on this dead end street.
Details
There is no charge to use this beach.
Driving directions from Guánica — Take Road 116 west to Road 3116. Turn left (south) onto Road 325. Follow Road 325 until it comes to a tee, and then turn left at the tee. Then make your first right and look for a parking spot. There were some signs along the way, but your best bet is to have a GPS (or a really good map).
Click on a placename below to view the location on Google Maps ...
PuertoRicoDayTrips.com assumes no responsibility regarding your safety when participating in the activities described in this article. Please use common sense! If your mother or that little voice in your head tells you that you are about to do something stupid … then don't do it!