Experience a Black Sand Beach in Maunabo
Black Sand beaches are so exotic to discover, and Puerto Rico is blessed with a number of them. One of the easiest to get to is Playa Los Bohios, located in Maunabo. Called Playa Negra or Playa Arena Negra in Spanish, these black sand beaches are rare and so worth a trip to experience them. Maunabo is on the south east coast of Puerto Rico, about 60-90 minutes from the San Juan area.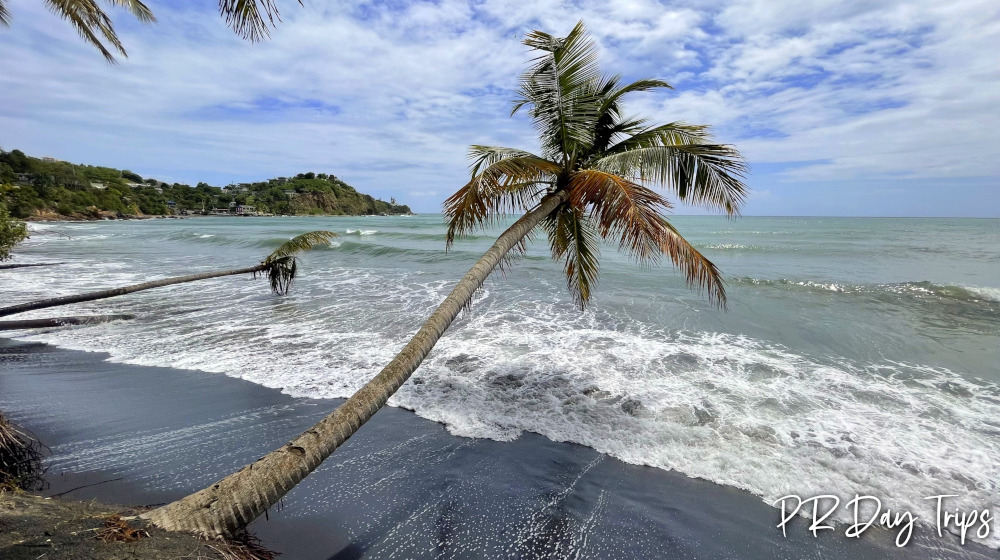 The black sand beaches in Puerto Rico are usually near a large river mouth. Playa Los Bohios is just north of the mouth of the Río Maunabo (and Quebrada Arenas) where it meets the Caribbean Sea. As rain erodes the rocks higher up in the mountains, the minerals that are locked in the rocks are released, and are washed down-river during rain storms. The heavy minerals (usually dark in color) settle to the ocean floor, but wave action deposits them back up on the beaches and — voilà — you have a black sand beach!
While this black sand beach is long, it is not a wide beach — there is not much beach area to set up blankets or chairs. But there are a lot of palms along the shore "dune" line and the flat parking area where you can hang out and enjoy the views. It is less than a 5-minute drive from the Punta Tuna Lighthouse, so the lighthouse is visible in the distance.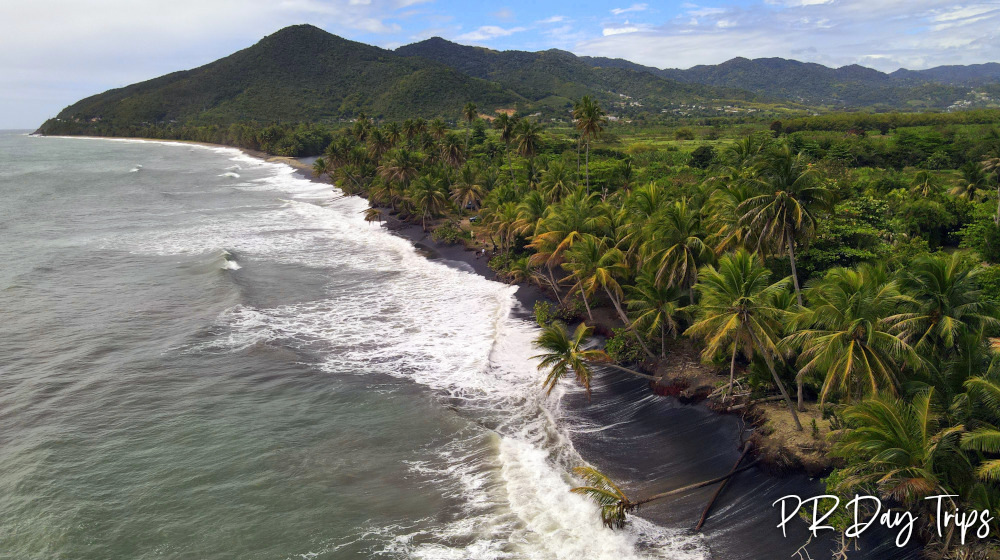 This beach is not a swimming beach — it is rough, it has rip currents, and there are no lifeguards — but surfers enjoy it. There are no facilities, so you need to bring everything you need with you. I found it to be more of an nice place to go, enjoy the view, maybe have a picnic lunch, and then go on and see other things in the area. Great photos and the leaning palms make this black sand beach especially Instagramable.
When we went in March, there was a lot of wave action, and the beach sand was dark black. However, be aware that the wave and weather conditions can change the make-up of the sand, so it may be much less black or even just the normal golden sand color at times. But you can dig down, the sand will be black. But have the kids bring a magnet — the black sand should be magnetic!
The town does provide trash cans, but they often get filled to overflowing, so please take your trash with you. It is an easy beach to reach, as it is just steps off the driveway/parking area. You will notice much of the packed sand of the higher area is also black! be careful as the black sand will be hotter on sunny days than lighter colored sand, and I find that black sand "sticks" to your skin and towels more than lighter colored sand.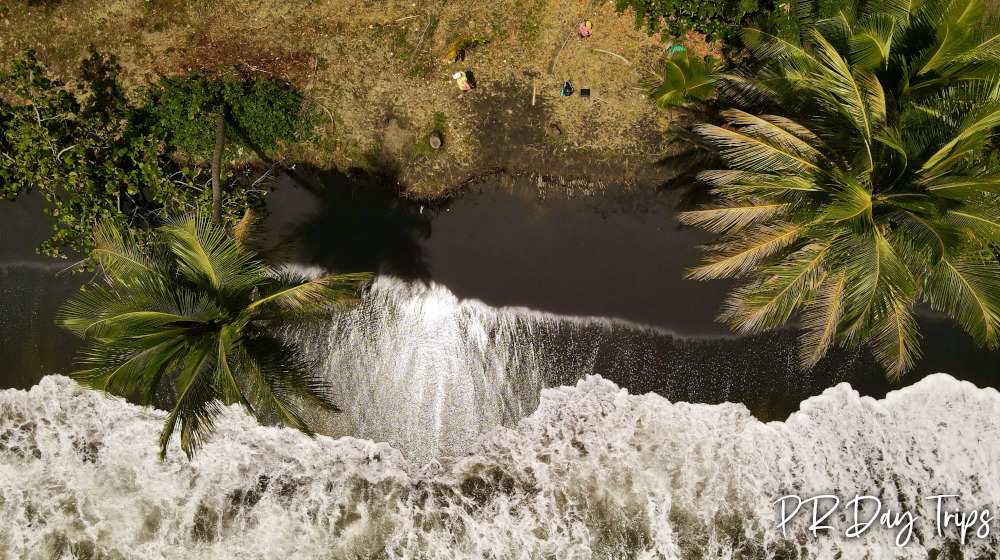 Details
There is no fee to access this beach.
Visit this beach during daylight hours.
There are no facilities at this beach.
This beach is just off Road 760 in Maunabo. There is a sign with the name of the beach (Playa Los Bohios) on Road 760 where you turn into the parking area. Park on the hard-packed sand.
Playa Los Bohios is about a 60-90 minute drive from the San Juan area.
Click on a placename below to view the location on Google Maps ...
PuertoRicoDayTrips.com assumes no responsibility regarding your safety when participating in the activities described in this article. Please use common sense! If your mother or that little voice in your head tells you that you are about to do something stupid … then don't do it!