Playa Puerto Nuevo – Another Beautiful Beach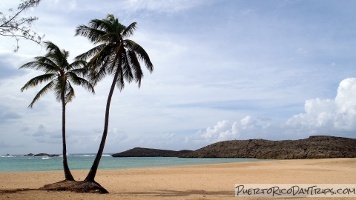 Playa Puerto Nuevo is another must-visit beach. I would have to say it is on my Top-10 list of beaches in Puerto Rico.
Located on the north coast, in Vega Baja, about 45 minutes west of San Juan, it is just beautiful. Sometimes called the Balneario of Vega Baja, or Balneario Puerto Nuevo, it is has something for everyone.
The Beach & Facilities
The beach is golden sand and is protected from the violent northern swells by huge limestone rocks. The rock outcroppings act a as a wave break, but also offer magnificent views and photo opportunities.
These rocks make for 2 types of water fun. First, there is a nice natural pozo or pool that is gently filled and flushed constantly with the wave action. The water in this pool is almost always calm. It is shallow on the edges and deeper in the middle. Second, there is the beach on the left that is open to the ocean, however one side is a cove protected by the limestone rocks. Go to the west (left) for more wave action.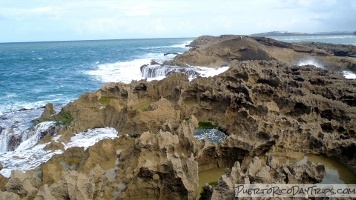 The limestone rocks are beautiful and they call out for you to climb them to get some beautiful photos. But you need to be careful. Huge waves do occasionally crash over them. Check YouTube for some amazing (and scary) videos of this beach in the Spring of 2010.
If you want to climb on the rocks and explore, be very aware of waves conditions, wear sturdy shoes (the rocks are sharp) and do so at your own risk.
There are picnic tables, bathrooms, lifeguards, parking, showers, a playground and food kiosks. And, because it is a balneario, water quality is monitored by la Junta de Calidad Ambiental (Board of Environmental Quality).It has been awarded the Blue Flag award in the past, not not currently. And if you coordinate with the lifeguards, they also have some "water chairs" for handicapped people to enjoy the beach and water.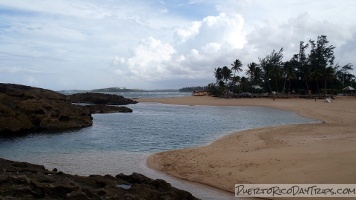 Like many beaches on the island, there were a large number of stray dogs hanging around. And we saw some broken bottles in the sand. So watch your step!
For beachcombers, I did find some sea glass and occasionally nice sea shells on the beach.
I did not get in the water with my snorkel gear, but I saw a number of fish in the pool and around the rocks.
Details
It can get crowded, especially on weekends and in summer.
Playa Puerto Nuevo is about a 45-minute drive west from the San Juan area.
The beach is located on Route 686 at the intersection with Route 692 in Vega Baja. There is a Parking area at the Balneario for $3 per car M-F, $4 S/S/Holiday. There used to be a parking area outside the balneario gates where people park and walk in for free, but when we went on a weekend, looked like it was closed off and there were food trucks. you my be able to find some street parking in the area, but it is good to help support the salaries of cleaning staff and maintenance of the beach by paying the parking fee.
Click on a placename below to view the location on Google Maps ...
PuertoRicoDayTrips.com assumes no responsibility regarding your safety when participating in the activities described in this article. Please use common sense! If your mother or that little voice in your head tells you that you are about to do something stupid … then don't do it!