Playa Sardinera in Dorado
4/21 This beach has reopened! However in 12/22, parking lot was closed. Park on street.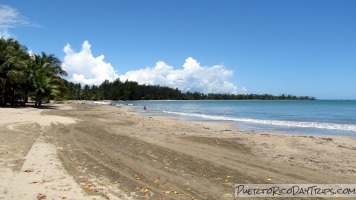 Beaches abound on the islands of Puerto Rico. Playa Sardinera, located in Dorado on the north coast, is another one that we visited recently. It is a balneario, so you know that the water quality is safe, and it should have all the services that you could want on a beach. It is a nice long stretch of sand that provides access to the typically calm water.
Playa Sardinera (officially known as Balneario Manuel "Nolo" Morales) is administered by the Compañía de Parques Nacionales. Since it's a balneario, there is a roped-off swimming area, gated parking, bathrooms, showers, lifeguards, and water-quality monitoring. Food concessions are also available, as are chair rentals in high season. There is a long strip of sand and then a row of trees that provide some shade. There are also some picninc tables in the shaded area.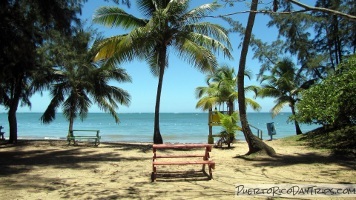 The parking and restrooms were to the far west end of the beach. This is a pretty popular beach with locals. So expect weekends and summer to be very busy and loud, and you will have trouble finding parking.
There is an open air restaurant on the beach (pool tables, too!) where you can get food and drinks to eat there or bring back to your blanket/chair. Or you can go to one of the many food stands or bars across the street.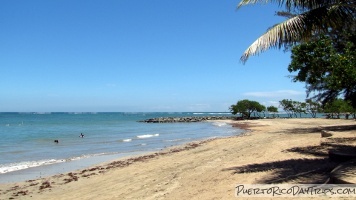 To the far east end of the beach there is a rock " jetty" separating the nicer side, where swimming is allowed, from the part of the beach where swimming is not permitted. The sign posted on the beach said that this area has lots of underwater rocks and it drops off the deep water very quickly.
I know that everyone has an idea in mind of their own personal "perfect beach". This beach does not fit my image of a perfect beach. Some people really like this beach. I wish that I could say all the glowing things other people say about this beach, but I just don't like it.
We have been a few times during winter/spring months and the "services"-lifeguards on duty, showers, restrooms and parking were unavailable.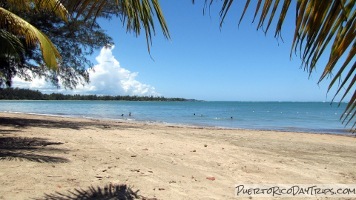 But my main issue is that I just think it is an unappealing beach because the sand is a dark beige color and it leaves a blackish color on you and your beach blanket. The sand is also very fine and it makes the water cloudy with each wave. Even though we could see that they swept and cleaned the beach, it still had trash and lots of seaweed on it.
Looking at the photos, it really looks nice. But, personally, I would skip this beach and go to Balneario Cerro Gordo in Vega Alta, which is the town next to Dorado.
Details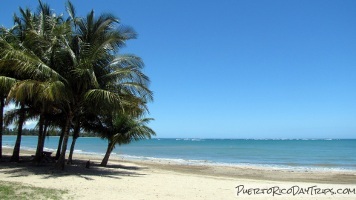 If the lot is open, The fee for parking at the balneario is $4 for cars, and $5 for minivans and SUVs (plus tax). There is also some free on-street parking available.
The balneario/ facilities is open Wednesday to Sunday (and holidays) from 9am to 5pm. They are open 7 days/week during summer "high season" (mid-May to mid-August) with facilities from 8:30am-6pm..
You can call 787-796-2830 for more information.
Driving directions in Dorado, take Road 693 to Carr 697 North. Follow Carr 697 until it ends at the beach, then turn left to get to the balneario parking lot.
Click on a placename below to view the location on Google Maps ...
PuertoRicoDayTrips.com assumes no responsibility regarding your safety when participating in the activities described in this article. Please use common sense! If your mother or that little voice in your head tells you that you are about to do something stupid … then don't do it!