The Beauty of Ponce's Main Plaza
Ponce is a large town, in fact, it is the second largest city in Puerto Rico It has many interesting, historical and modern things to see and explore. The starting point for most people who want to check out the city will be Ponce's main plaza. Called Plaza de Las Delicias, it is the center of the historic area, with many of the older buildings having been maintained and restored. The city name (Ponce) and its nickname La Ciudad de los Leones (City of Lions) are references the famous explorer Ponce de Leon and his descendants. You will see lions all around town.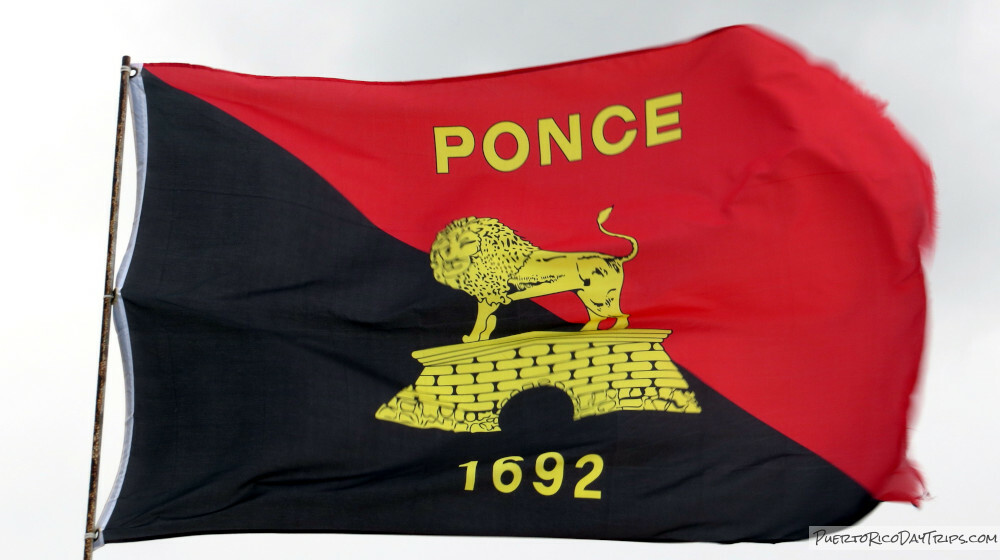 Overview
Ponce is located on the south coast of Puerto Rico, just west of middle of the island. The Spanish Crown officially founded the town of Ponce in 1692 by request of the grandson of Juan Ponce de León, though the area had been settled much earlier. The town grew, the main plaza was born, and, as was custom, the plaza became the center of the action.
The main plaza is actually two separate plazas (Plaza Degetau and Plaza Munoz Rivera), though everyone just calls the whole thing Plaza Delicias. Here, people came to socialize, promenade, to see and be seen, to do business, and attend religious services. The church and government offices were here on the plaza, as well the homes of many of the wealthy families. It was a the "in place" to sit, relax, see and be seen.
Today, the plaza continues to be a cool place to sit and relax. Though it is no longer the center of the business district, it remains an active and historic area, so many people come to enjoy its beauty. The plaza has benches located around and under some lovely trees, surrounded by fountains and statues. This is where the town holds concerts and festivals. And for scenery, there is the cathedral, a firehouse, some restored neoclassical buildings and homes, the mayor's offices, restaurants, hotels, souvenir shops, banks, and more. It is well worth your time to walk around and explore the area.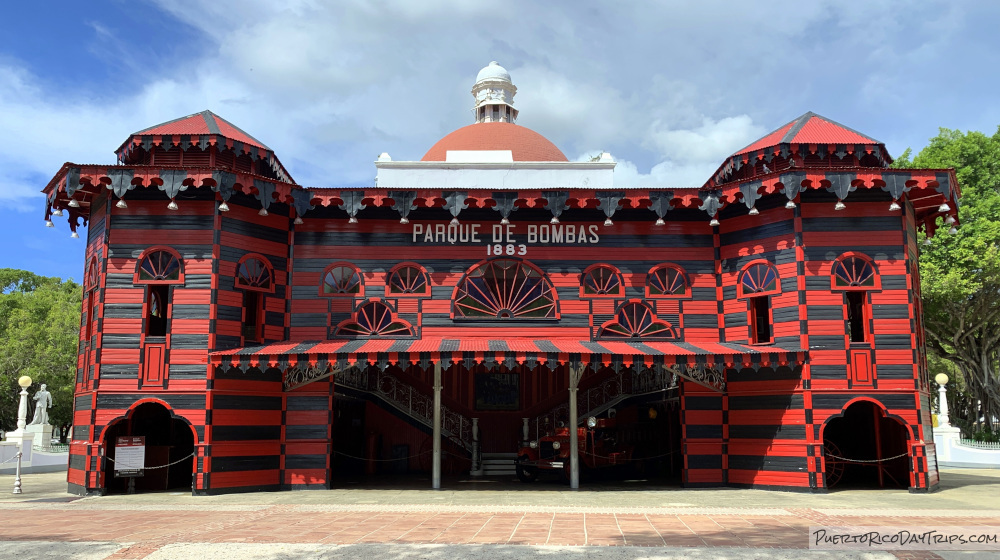 Some Things of Interest Around the Plaza
Parque de Bombas (the firehouse) — This striking red and black striped wooden building was built as an exhibition hall for a fair in 1882. It later became the firehouse. Today, it is a firehouse museum. It also houses a number of painted lion sculptures. It is listed on the US National Register of Historic Places. The museum is free, it is open 7 days a week, 8am-3pm.
Monuments — There are a number of monuments and statues of many historic and important Ponceños (people from Ponce) around the plaza. The monuments have plaques on them (in Spanish), with information about the person they honor.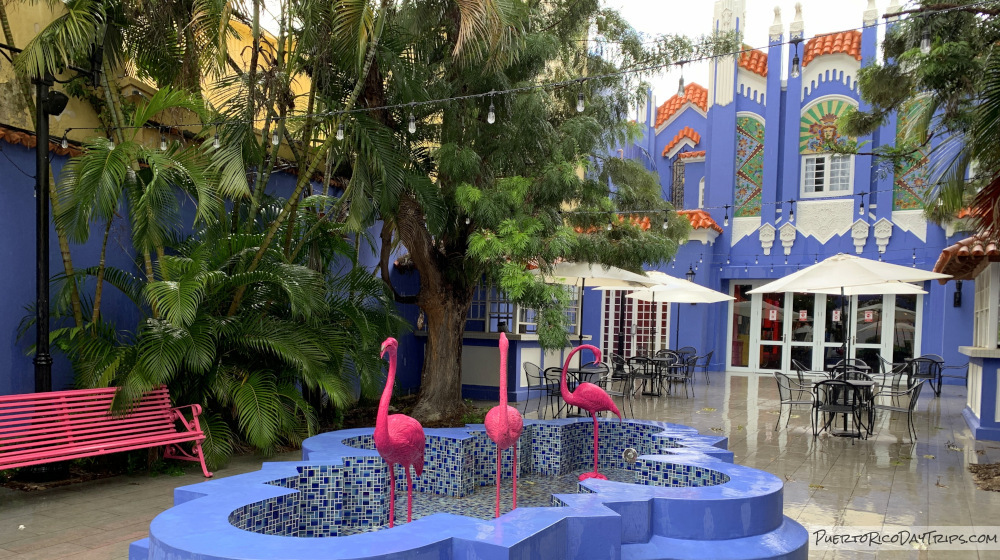 Teatro Fox Delicias — This art-deco buildin opened in 1931 as a Fox Studio movie theater. Today, it is a funky hotel. Very pretty details on the outside and the inside is really cute. Check it out!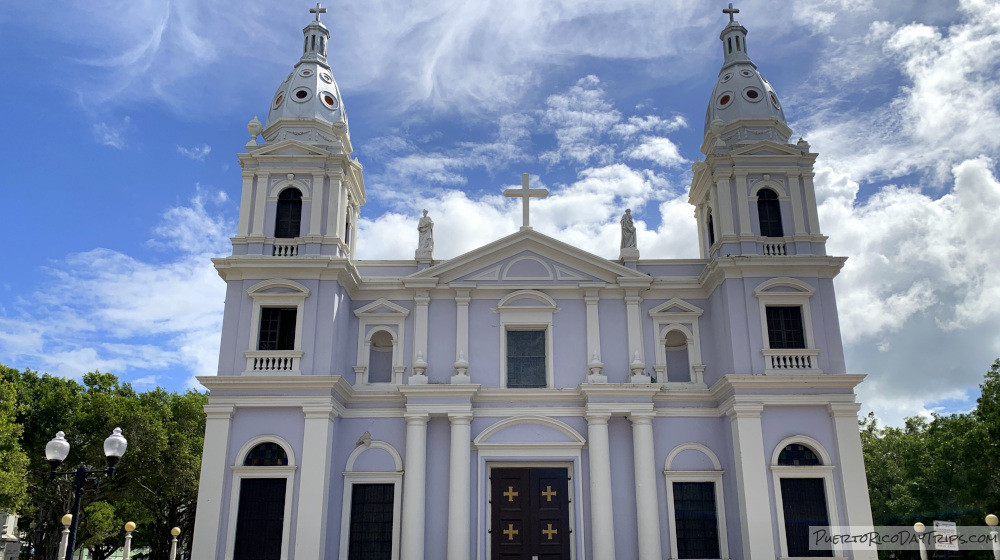 Catedral de Nuestra Señora de Guadalupe (Ponce Cathedral) — The Cathedral started as a humble church in the late 1500s and kept growing. The current Cathedral has been built/rebuilt a few times since 1835. It was damaged again during the 2020 earthquakes, so it is now closed and they are deciding if/how to repair it. You can visit the outside and take photos. It is on the US National Register of Historic Places.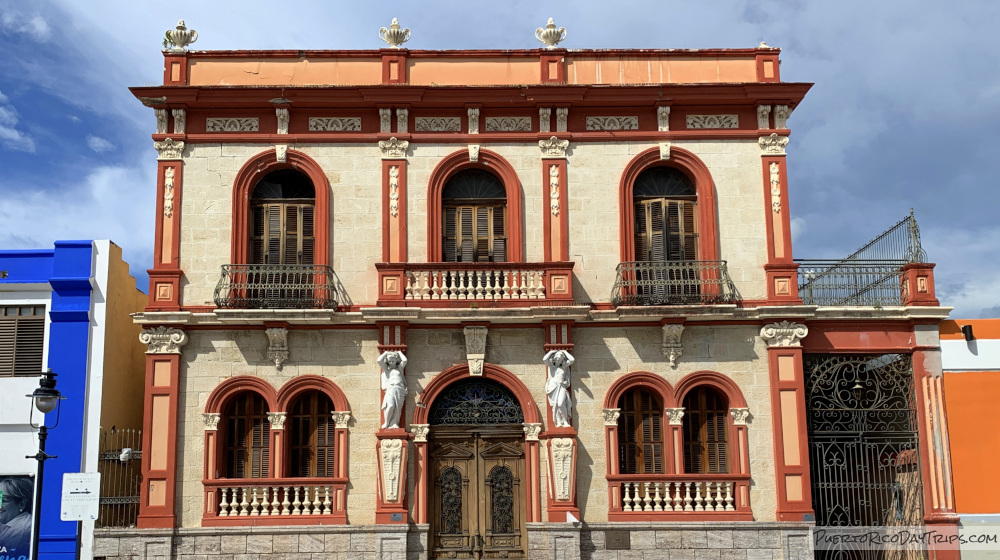 Armstrong-Poventud Residence — This beautiful building is located directly across from the Cathedral. Built in 1899, as the home for the wealthy Armstrong -Toro Family. Today, it is owned by the The Institute of Puerto Rican Culture (ICP) and was open for tours, until it was damaged in 2020 by the earthquakes. It is listed on the US National Register of Historic Places.
Fuente de los Leones — One of the prettiest features of the plaza is the Lion Fountain. This marble fountain has "spitting" lions. It is illuminated at night.
Ponce City Hall — The mayor's office and other municipal offices are housed here. Take a quick peek inside – it is a nice example of colonial architecture, with an open interior. They had some art exhibits and restrooms!
Banco de Ponce — This banking company built its main office on the square in 1924. It has beautiful architecture and is listed in the US National Register of Historic Places. Today, it is a Banco Popular branch.
Banco Crédito y Ahorro Ponceño — Built in 1924 as a bank and offices, it is a beautiful building, with great architecture. Today, it is a Santander Bank branch. It is registered in the US National Register of Historic Places.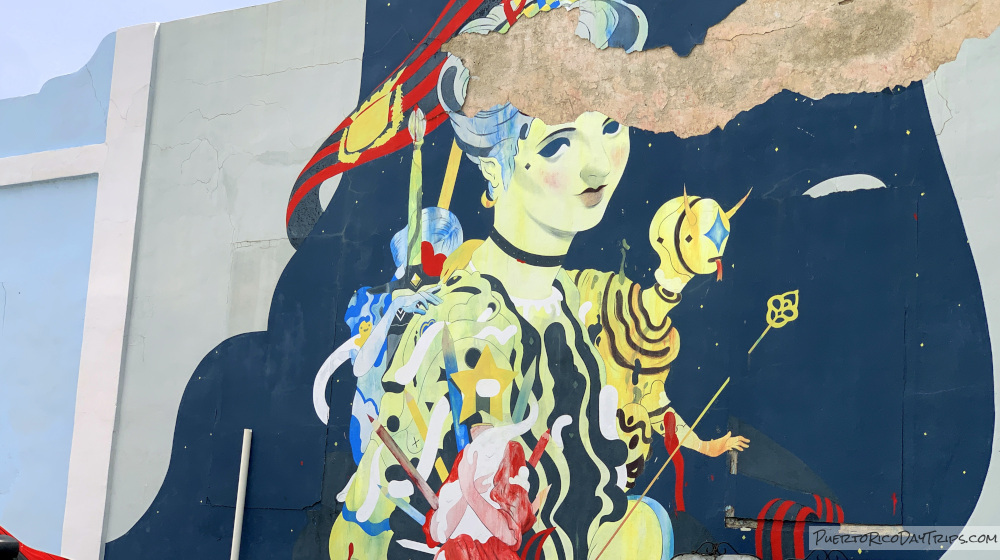 Callejon Amor (Lover's Lane) — Located between the two banks, this street has some nice which now has some nice murals.
Kings Cream — This ice cream shop is a personal favorite of ours. They have delicious ice cream in some unusual flavors. Check it out.
Other sights located around the plaza are the Ponce Plaza Hotel & Casino, some places to eat, and gift shops to buy some souvenirs (like the famous Ponce paper mache vejigante masks).
From the plaza, you can walk a few blocks in all directions to find more historic buildings, museums, murals, etc. But the city is large and spread out, so you will need to drive to some of the other highlights in Ponce.
Ponce is super interesting, and while not 100% necessary, having a guide will really make it easy and more enjoyable. We did a walking tour with Isla Caribe on a recent trip and really enjoyed it. Having someone explain everything you are looking at makes the area come alive.
Details
For more tourism information, you can contact Ponce Tourism Office at 787-284-4141 ext 2234.
Street parking may be hard to find (or metered). We like to park in a parking deck close to the plaza.
It takes about 90 minutes to drive to Ponce from the San Juan area.
Click on a placename below to view the location on Google Maps ...
PuertoRicoDayTrips.com assumes no responsibility regarding your safety when participating in the activities described in this article. Please use common sense! If your mother or that little voice in your head tells you that you are about to do something stupid … then don't do it!