Tease Your Taste Buds at a Food or Drink Festival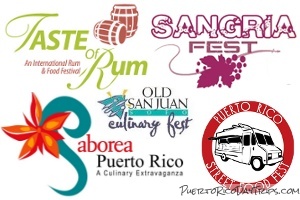 If you are a foodie, then Puerto Rico is a place for you! Besides the multitude of award winning chefs and restaurants (and lechon in Guavate!), there are a number of special food festivals and events held throughout the island every year. They range from local specialty-food celebrations to professional chef competitions.
Usually, along with the food, you will find a variety of delicious drinks to enjoy. There is even a rum festival in which, besides being able to try the different brands of Puerto Rican rum, you can taste food prepared with rum as an ingredient.
These food events occur throughout the year, but the exact dates are usually announced only a few months in advance. Make sure to keep checking our Event Calendar to get exact dates for upcoming events (posted as soon as we know them). Then get ready to enjoy Foodie Paradise!
Culinary Festivals of All Shapes and Sizes
If you make the time to attend one of the food festivals, you're sure to find a lot of the best food in one spot. Most of these festivals showcase chefs from some of the top, local restaurants who prepare special dishes just for the festivals.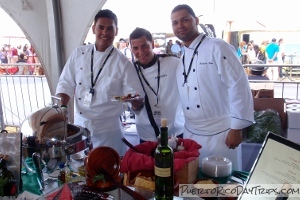 The settings vary for these festivals. Some are street festivals, and some are more staged, being set up in convention centers or other special venues.
Just like the name implies, street festivals are held on the sidewalks and in the street. They close the streets to vehicular traffic, set up tables outside of the restaurants, and you get to stroll around, checking out each restaurant's dishes. Some restaurants will set up tents and cook along the sides of the streets. You can easily bounce from restaurant to restaurant (paying at each for what you eat) for different courses, picking your favorites along the way.
SOFO Culinary Fest in Old San Juan — usually held in August and December
Condado Culinary Fest — usually held in May and October/November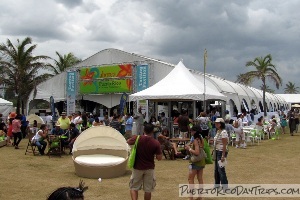 At the other end of the spectrum are the more organized events held in convention centers or other special venues. These are large events where you pay one price to gain admission to a closed venue. Usually, the admission price entitles you try everything — sometimes it is unlimited, sometimes there are limited samples. Other times, there is an admission fee to get into the even, and then the special food/drinks are available for sale.
It's at these special venue events that you can expect to find celebrity chefs and competitions. These events can be indoors or outdoors — be sure to check so you know how to dress.
Street Food Fest — in San Juan, usually in February
Sangria Fest — in San Juan, usually in March
Taste of Rum — usually in March
Saborea Puerto Rico — usually in the beginning of April- first weekend
Festival Gastronomical Porta Del Sol — in Mayaguez, usually in late May or June
Sangria Fest — in Mayaguez, usually in January and in SJ in September
PR Wine & Food Fest — in San Juan, usually in October
Also things like Coffee and Chocolate Expos and Beer Expos…all sorts of delicious things are celebrated!
Town Festivals: A Celebration of Local Specialties
Many towns here in Puerto Rico have a fruit, vegetable or special dish that they call their own, and they celebrate it with an annual, town festival. They will have this special ingredient prepared a bunch of different ways for you to enjoy.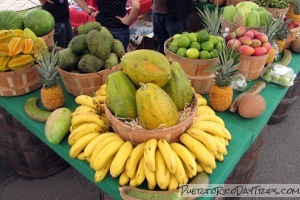 Some towns are famous for their festivals (like the Coffee Festival in Maricao) and some are pretty obscure (like macabeo fritters in Trujillo Alto). But the one thing that all these festivals have in common is that they are a taste of the real Puerto Rico that many people crave.
These town festivals occurs around the same time every year, but exact dates are not usually advertised until a few weeks beforehand. We'll post dates in our Event Calendaras soon as we know them. Your best bet, to find out exact dates and location, will be to call the town offices.
Festival del Chapin (a local fish) — in Naguabo, usually in February
Coffee Harvest — in Maricao, usually in February or March
Coffee Harvest — in Yauco, usually in February or March
Festival de la China Dulce (Sweet Orange Fest) — in Las Marias, usually in March
Festival del Maiz (Corn Fest) &mdash, in Canovanas, usually in April
El Festival del Tomate (Tomato Festival) — in Juyuya, usually in April
Festival del Apio (Celery Fest) — in Barranquitas, usually in April
Fiesta Nacional del Mango (Mango Fest) — in Mayaguez, usually in June
Festival del Guineo (Banana Fest) — in Lares, usually in June
Festival del Juey (Land Crab Fest) — in Guanica, usually in June
Festival de la Cocolia (Land Crab Fest) — in Mayaguez, usually in July
Mojo Isleno Festival (the local sauce) — in Salinas, usually in June or July
Festival Jueyero (Crab Fest) — in Maunabo, usually in August
Festival de la Buruquena (Crab Fest) — in Aguas Buenas, usually in August
Festival de la Cocolia (Land Crab Fest) — in Dorado, usually in August
Festival de la Pana (Breadfruit Fest) — in Humacao, usually in September
Festval del Chipe (Clam Fest) — in Anasco, usually in October
National Plantain Festival — in Corozal, usually in October
Cassava Festival (Yuca Fest) — in Isabela, usually in October
Festival de los Platos Tipicos (Coconut Fest) in Luquillo, usually in November
National Puerto Rican Pastel Festival — in Orocovis, usually in November
Festival del Macabeo (a fritter made from bananas) — in Trujillo Alto, usually in December
Music Makes it Better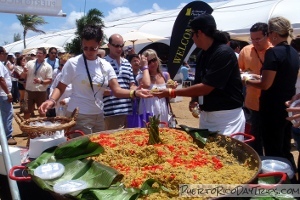 As an added bonus … Here in Puerto Rico, it wouldn't be a festival without music. There is almost always live music shows during all of these events. Many of the festivals also have cooking demonstrations and special guest stars.
These festivals are widely popular, so expect crowds. Get there early to get good parking and to miss some of the late crowd. And come hungry and try it all!
PuertoRicoDayTrips.com assumes no responsibility regarding your safety when participating in the activities described in this article. Please use common sense! If your mother or that little voice in your head tells you that you are about to do something stupid … then don't do it!