Explore Miles of Beaches in Rincon
All good at the beaches!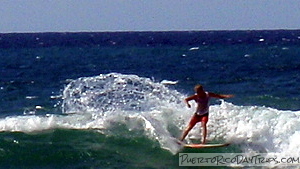 One great thing about being on an island is that there are beaches all around! Everyone looks for something different in a beach — some like waves, some like white sand, some like calm blue water. Luckily there is a beach to meet everyone's ideal beach.
Rincon is famous for its beaches, though mainly for the wild surf breaks that draw surfers from all around the world — primarily in the winter months. But one can also find some calmer waters and secluded stretches of sand. One thing you can get at most Rincon beaches is a great sunset view — that alone might be worth a visit! And another draw is the sea glass. Many of the beaches (especially in the winter and after storms) have lots of sea glass on these beaches.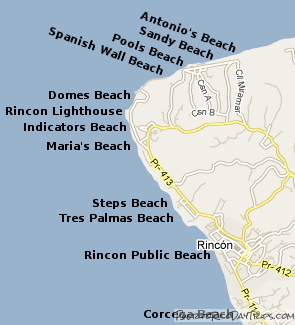 We went to Rincon in mid-October and explored some of the beaches. October is still low season, and the waves aren't too large yet, so there weren't many people around. The waves get really big in "winter" — December through March — and start getting smaller throughout the spring and summer.
We are not surfers, nor really beach people for that matter, but we like the look of a beach with lots of clean sand and small waves. From what we saw, most of Rincon beaches are pretty, but not always safe for swimming. But we did find a few beauties worth mentioning.
Some Beaches in Rincon
Our favorite beach for a large, unspoiled, sandy beach was Spanish Wall Beach. This beach is located north of the Rincon Lighthouse. It was a nice, clean beach with about 40-50 feet of sand to the waterline and all we saw was sand — it was a long, open beach. Waves were so-so — not really for swimming when we were there. When the waves pick up in the winter, I imagine this would be a good surfing beach.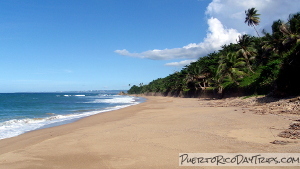 I enjoyed the walk from Domes Beach, and I also enjoyed finding shells and sea glass everywhere on the beach. When we went, we were alone for a while, then another couple showed up.
We walked from Domes Beach along a trail that starts right at the Domes fence and goes down along the top of the Spanish Wall. The trail was muddy in areas, but we had no problem walking it. It was maybe ½-mile walk.
I believe one may also be able to get there by going onto Pools Beach and turning left (west) and following a path to the next beach (over the rocks) , but I can't guarantee it since we spoke to some people and they said that way is now closed.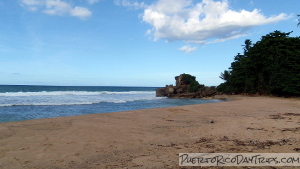 Speaking of Pools Beach, it looked like a nice beach, too, though much smaller in width. It appeared to be much more frequently visited since the water was calmer there when we went than at any other beach in the area. It looked like a nice swimming area — it seemed to have a very protected cove to the right, but there are no lifeguards, so be careful.
To get there, take Route 413, turn off at the road at the Puntas Bakery and follow the road to Pools Beach — it is the first beach as you come to the water at the curve. We parked on the street.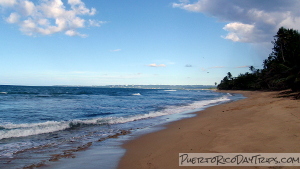 Heading north-east, Sandy Beach is the next beach after Pools Beach. Sandy Beach is usually an active beach, with a lot of lodging and restaurants in the area, but not in October when we went. It was deserted and beautiful.
It's a nice wide beach, with lots of sand (thus the name!). But with all the condos, guesthouses and vacation rentals in the area, I bet this would be a real busy place during high season. I thought it had decent conditions for swimming, but one should check conditions before going in. There are a few parking lots as you drive along the road. At this point, the sunsets are to the far left, so it's not the best beach for watching the sun set.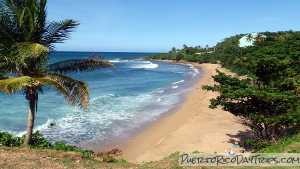 Domes Beach is at the end of Road 4413, right by the old nuclear plant domes. I thought it looked like a decent beach for sun bathing if one stays to the left (western end) of the beach. Most of the surfing was happening on the far right and the sandy beach became much thinner as we went east. There is plenty of parking right there and lots of surfers, too.
We spent quite a while watching the surfers. I think this is a great place to watch the sunset too. I liked this beach, but we did see some "deals" going on among the surfer crowd, which made me a little nervous.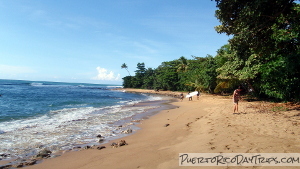 Maria's Beach is right at the point where Route 413 becomes Road 4413. There is a blue, whale-shaped sign with the name of the beach. It is a very small beach, kind of rocky. Lots of surfing in this area. We found it a nice to place to sit under an almond tree and watch the sunset and surfers. It's a great spot for pictures of the sun setting with Desecheo Island in the picture. There is some parking right at the beach.
The house we rented was right by the Tres Palmas Reserve, so we checked out Steps Beach while we were there. Steps Beach gets its name from a set of old cement steps that is sitting at the waterline.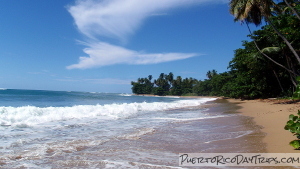 There is good snorkeling about 500 yards to the left of the steps (when facing the water). But you need to find a day when the water was calm enough to snorkel to avoid being smashed into the coral.
There is a "Steps Quick Lunch" truck sign to indicate where to turn off Route 413 (at KM 1.7). There is some parking at the end of the street. The beach itself is thin, maybe 10-15 feet wide, and there is some natural debris on the sand (like the almonds from the shade trees along the edge). Pretty for pictures and/or watching the sunset and when the conditions are right, swimming and snorkeling.
If one continues south on Route 413 and turn along the waterfront, they'll get to Playa Balneario. This is the "public beach" in Rincon, so it has facilities (it is the only beach we saw in Rincon with any facilities, actually).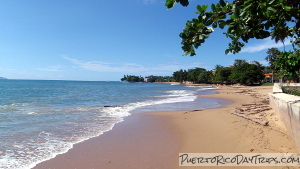 There was some sandy beach to the right, but most of the balneario seems to be a waterfront park, with grass, picnic paveleons, children's playset, food kiosks, restrooms and showers — all separated from the sand by a concrete wall.
Maybe it was the weather conditions (it had rained every night during the week we were in Rincon), but the beach had a lot of natural debris washed up on it — leaves, logs, seaweed, etc. It looked like a nice place to watch the sunset, but the wooden "bleachers", obviously put there for that reason, were in dire need of repair!
As we continued south, toward Corcega Beach, we found the beach was much the same — thin with some natural debris washed on shore. But this area had smaller waves, so we could comfortably swim there.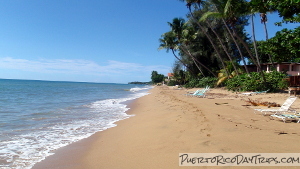 There are a number waterfront houses, hotels, resorts and restaurants along this stretch of beach and as you go farther south. Though, I bet if you search down side streets, you can find secluded stretches of sand.
I would recommend bringing beach chairs to enjoy the excellent sunset views from the beaches in this area. We brought our chairs and drinks, and sat at the water's edge to watch the sunset — it was lovely. We didn't see any signs for "named" beaches in this area, so we just turned onto some side streets to get to the water. Street parking in these neighborhoods is limited.
Wrap Up
These were just my impressions from the few days we have visited the area. I am sure that weather patterns and conditions make changes to these beaches at different times of the year — some for the better and some for the worse. There are miles of beaches to explore — we only just went to a few places. If you want, you can go and find your own favorite! Some of the beaches had great parking, some were marked. But, most of the time, the "named" beaches were not easy to find. And once you did find them, oftentimes there was no parking. If you're open to exploring, I bet you will be rewarded with a beach of your dreams.
Click on a placename below to view the location on Google Maps ...
PuertoRicoDayTrips.com assumes no responsibility regarding your safety when participating in the activities described in this article. Please use common sense! If your mother or that little voice in your head tells you that you are about to do something stupid … then don't do it!