Be an Ambassador of the Environment at the Ritz in Dorado
Ecologically, the Earth is in trouble. We all need to be aware of that, and learn what we can do to help. What better time and place to do that than while in Puerto Rico?
The Jean-Michel Cousteau's Ambassadors of the Environment program at the Dorado Beach Ritz-Carlton Reserve offers special "hands-on" programs designed to guide people through some of Puerto Rico's natural wonders and cultural heritage. At the same time, these programs promote the importance of ecology and sustainability. The activities you will participate in are fun natural experiences with Cousteau-trained naturalists as your guides.
Some Background
The Jean-Michel Cousteau's Ambassadors of the Environment program was developed over 15 years by Jean-Michel Cousteau, Dr Richard Murphy, and the education team at Ocean Futures Society. There are only a few centers worldwide that offer these programs.
The programs offer a variety of active and educational "lessons" that focus on ecological principles applicable to all natural ecosystems, including inter-connections, use of energy, recycling of waste, and beneficial biodiversity. They teach nature and sustainable living using comparisons between human communities and natural environments. They also add in location-specific subjects to keep the lessons pertinent to each Ambassador's center.
The hope is that by connecting the participants with nature, they will be inspired to want to protect it and to promote sustainable living in their own communities — thereby making them "Ambassadors of the Environment". The Dorado Beach, a Ritz-Carlton Reserve opened in December 2012 and offers this award-winning environmental education and eco-adventure program to both resort guests and outside visitors.
Our Visit
We arrived at the Dorado Beach Ritz-Carlton Reserve bright and early one morning, mid-week. Our plans were to spend most of the day with the folks from the Jean-Michel Cousteau's Ambassadors of the Environment program, to partake in a couple of their activities.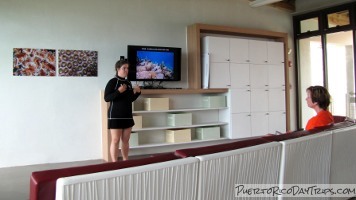 Unfortunately the weather gods were not happy that day, and it was grey and rainy. But we still managed to spend an interesting, fun, and educational day at the Reserve.
When we got to the parking lot, our hosts for the day (Ashley and Richard) met us with their electric golf cart. They drove us to their Ambassador House — the ecologically friendly building where the Ambassador programs start and finish.
Here, they showed us their gardens (watered with grey water), solar water heater, rainwater cistern, children's classroom space, and main presentation room. As we waited for some rain to subside, they gave us a quick overview of the presentation they do for kids called Coral Reefs – Cities Under the Sea. Then they took us next door and gave us the adult version of the same presentation.
For kids, the presentation is given against a beautiful underwater floor-to-ceiling mural (painted by Tansy Maki). For the adults, it is a slide presentation using underwater photos all taken from the reef right outside the building. They explain how every resident on the reef has a job, how they are all interdependent on each other, and any change in one part will affect the entire reef ecosystem. The presentation lasts about 30 minutes, or longer depending on how interactive the group is.
Although the weather hadn't cleared up, after the presentation we got geared up to go snorkeling. They provide everything you need for snorkeling, including a nice warm shorty wet suit (which will help keep you warm so you can snorkel for longer).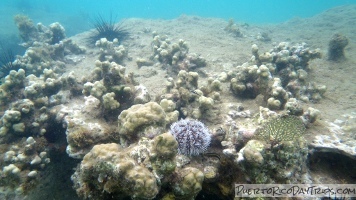 Because of the bad weather and winds, we went to West Beach (which is a nice protected cove). Visibility was not bad considering the weather, so we were able to see a number of species of fish and other reef critters like urchins, crabs, cuttlefish, and anemones. There were a number of healthy brain corals, along with other types of coral and sea fans. The guides stay with you all the time in the water, pointing out things of interest, telling you their names and habits, and answering any questions you might have.
We spent about 1 hour in the water. When we got out, they gave us nice fluffy towels and bottled water, and drove us back to the Ambassador House to take hot (outdoor) showers and to change into dry clothes.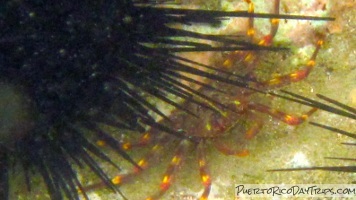 They have a number of areas that they use for snorkeling. The best area, called Sardinera Bay, is right outside of their office. They have a manatee that hangs out in that area, and lots of different corals and sea fans. Where you go snorkeling depends on the weather and water conditions. Snorkeling is limited to kids over the age of 9. For the little ones, they go to tidal pools and find different sea creatures to look at. They offered me an underwater camera to use, which was fun. It is not easy to take decent underwater pictures — though the offer a class in that, too. But I did take a couple good photos and had fun trying!
After we showered and changed, the weather was getting worse, but we decided that we would make the best of the day since we were already here.
They offered us waterproof wind breakers to stay warm as we went out to explore the Ritz-Carlton property. We wanted to do their Forest Pterocarp Eco Hike, but because the rain had made the path too muddy, we did a tour in the golf cart along the Rockefeller Trail instead. We were still able to see the trees, birds and some other wildlife along the route. Ashley was great the whole time — answering questions, giving information. She really knows these paths and trails through the forest.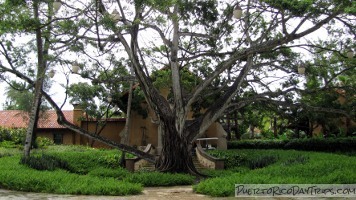 The Ritz-Carlton did an amazing job with this resort, they left huge trees and made sure not to mess up the natural areas during construction.There is an active Taino archaeological dig going on the property just at the edge of the forest. There are also the remains of a sugar mill on the property, which has been incorporated into a water park.
Some Thoughts & Observations
Even though the weather was less than good, we still were able to have an enjoyable day. The naturalist guides were very patient (with our never-ending questions) and really knew their stuff. They made the day more interesting than it would have been if we were walking around on our own.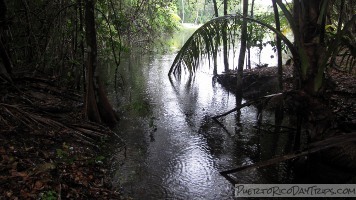 The Dorado Beach Ritz-Carlton Reserve is absolutely beautiful! You don't have to be staying at the resort to participate in the Jean-Michel Cousteau's Ambassadors of the Environment, or to use the restaurants, spa, or water sports facility — but you do need reservations.
Though the Ambassadors program can offer special family tours, they prefer to keep the children and adults separate. They have found that the kids act differently when they are without their parents — they have more confidence, participate more, and get more into the activities. These programs are designed to "force" the kids out into nature — away from the TV, internet, and their GameBoys. The kids end up having so much fun, that they don't even realize they are learning something that they can use when they get back home.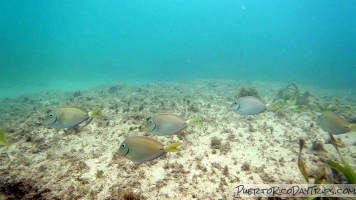 With the Cousteau name, obviously many of the programs revolve around the sea, like the snorkeling, kayaking, and reef adaptations. But some of the programs are also land-based, like the Pterocarp Forest Eco Hike, For the Birds – Survey, Taino Arts & Crafts, and Fun in the Sun. They offer an Ambassadors in the Kitchen where they use a "solar oven" to cook pizzas, and an eco arts & crafts program called From Junk to Funk that teaches recycling/repurposing. They even offer nighttime snorkeling (Night Life on the Reef), and nighttime hikes in the Pterocarp forest (Creatures of the Night). They have programs for adults and for children, and they are able to customize a tour for you. Just ask.
Many of the programs are designed for people without a load of experience with nature and ecology. But, even for the more experienced, the programs are interesting. The guides help you understand the local habitats and their connection to other things on a larger, global scale.
Normally, when we review an activity that is not free to the public, we pay the admission price out of our own pockets. However, we just want you to know that the guys at the Jean-Michel Cousteau's Ambassadors of the Environment program at the Dorado Beach Ritz-Carlton Reserve were kind enough to offer us this trip for free. While we don't feel that this free ride influenced our review one way or the other, we felt that we should tell you, just as a matter of fact.


Details
Prices differ depending on which program you want to do. There is a discount for groups of 2 or more who are not staying at the resort. Contact them to inquire about rates.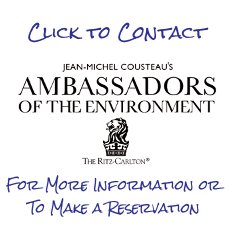 If you're happy, let them know it — Don't forget to tip your your bartender, tour guide or trip operator if you enjoyed yourself. Gratuities are appreciated and typically aren't included in the price they charge you.
Regularly scheduled programs are offered Wednesday through Sunday. Monday and Tuesday are typically reserved for private functions. Snorkeling programs are usually in the morning, while hikes are usually in the afternoon. Contact them to check their schedule, or to inquire a setting up a special time that fits your schedule.
The Ambassadors of the Environment programs include everything that you will need — snorkel gear, towels, sunscreen, bug repellent, water, snacks, restrooms, hot showers, etc.
Groups are usually small, typically about 10 people, with 2 naturalists. They also have team-building activities available.
The guides on staff are biologists (by education), and Cousteau-trained naturalists. They are bilingual.
Allow 2 or more hours, depending on which activities you want to do.
You can take a look at the Ambassadors of the Environment brochure (PDF) to get more information about all of the programs that they offer.
You can call the Ambassadors of the Environment office at 787-278-7277 (or resort extension 7277 if you are staying there) for more information or to make a reservation.
You can check the Ambassadors of the Environment web site for more information.
These activities take place at the Dorado Beach Ritz-Carlton Reserve, located about 30 minutes from the San Juan area.
Click on a placename below to view the location on Google Maps ...
PuertoRicoDayTrips.com assumes no responsibility regarding your safety when participating in the activities described in this article. Please use common sense! If your mother or that little voice in your head tells you that you are about to do something stupid … then don't do it!