Satisfy Your Need for Speed at Top Eliminator Dragster
Adrenaline junkies can get their fix of fun racing at Top Eliminator Dragster Puerto Rico. Located in Canóvanas (about 20 minutes east of San Juan), in the parking lot behind The Outlet at Route 66, Top Eliminator Dragster is one of the offerings at the Sector Sixty6 family-fun center. Climb behind the wheel of a real drag racing car and feel the G-forces of super-fast acceleration and deceleration in this dragster racing simulation ride. Who wants to try it?
The drag racing facility is open air, but covered by a roof, so they can operate rain or shine. It is clean and well-lit, so you can race day or night. The cars themselves are propane-fueled with like 300 horsepower engines – they accelerate from 0 to about 60 MPH in less than 4 seconds. There are 6 lanes, so up to 6 cars can race side by side to see who is the fastest. The sound of the cars roaring down the track is so cool!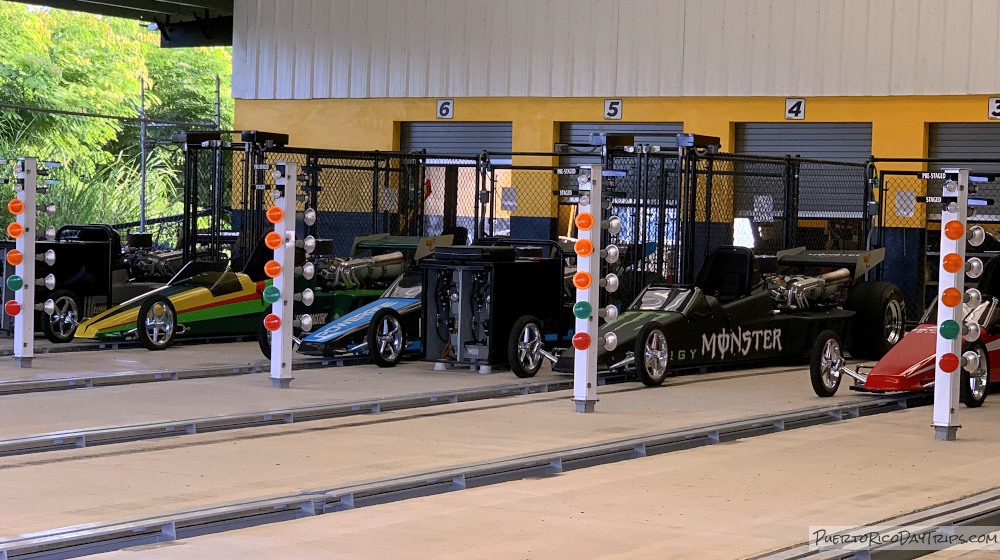 Our Visit
We went one afternoon to check out these dragsters. We watched a few other people race a couple of times. The cars are pretty cool looking, and loud when they zoom by. The track is not really long, about 200 feet, so each race took less than 4 seconds. A couple of us decided to try it.
They have a lot of rules – mainly for your safety, of course. The cars and tracks are equipped with safety equipment. The cars have a guide to keep people in their lane. They automatically shift gears if you don't do it when needed. The car will also stop (quickly) at the end of the track. But each driver has control over the gas, the brake, and the gear shift.
The employees will tell you how to operate the vehicle – how to accelerate, brake, and suggest when to shift gears – then they strap you into the car, and you are ready to go.
Once you are set and strapped in, you move to the starting line, and the lights change red-yellow-green-GO! It seems the way to get the best time has to do with accelerating fast off the starting line without gassing before the green light, and knowing when to shift. The times are displayed for each racer above their lane at the end of the track.
Once you reach the end of the track, an automatic braking system stops your dragster, and you move back to the starting line – where you get to repeat the experience for a total of 3 rides.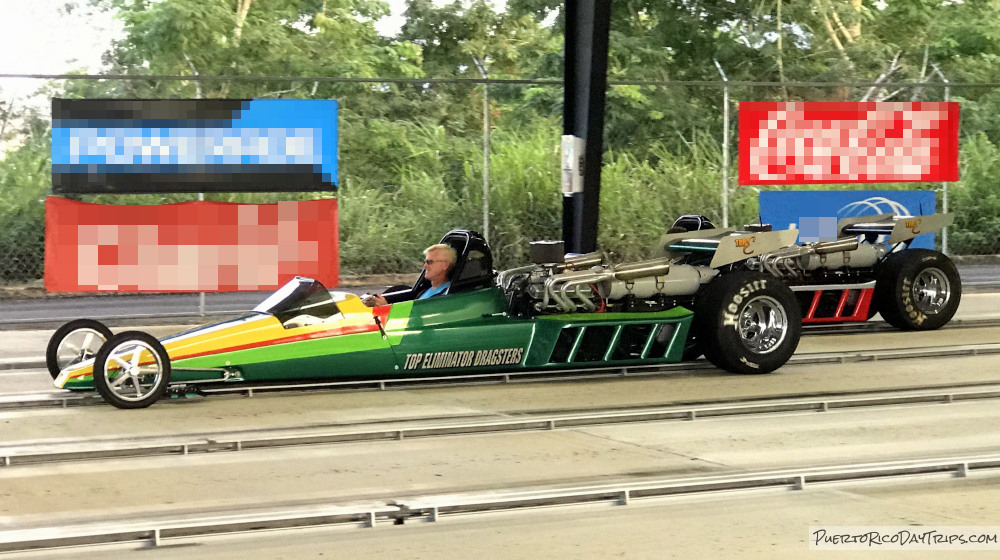 Ray described the ride with the thrills much like a roller coaster – the power of the acceleration and deceleration, and the anticipation of the start and stop. Really gets the heart pumping!
After that, we went inside, where they have 3-D Nascar simulator rides. In these, you "drive" the car on the race track that is played on 3 screens around the car. It is not as easy as you think it is! The car rocks and vibrates and twists and turns. Pretty fun – really felt like you were driving. The facility also has other rides/games, and a bar with snacks available.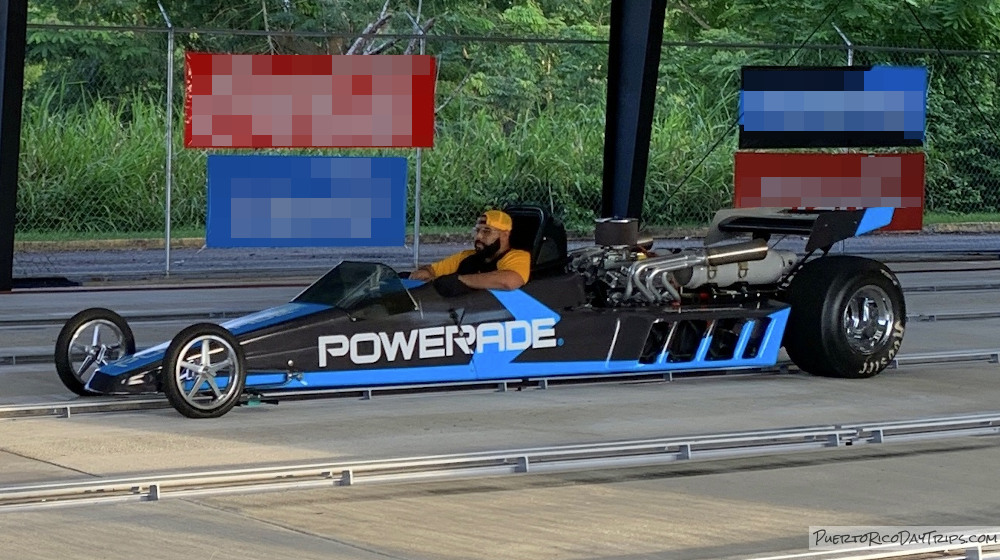 Details
The cost of 3 races is $19.99 plus IVU (sales tax).
They are open Saturday and Sunday from 12 noon 7pm.
You have to be at least 58″ tall, in good health, weigh maximum of 300 pounds, and wear secure closed-toe shoes (no flip-flops). Riders under 18 years old require parent's signature on waiver.
Allow about 30 minutes total. Each "race" takes about 4 seconds. But you have to sign-in, there is time spent on orientation before your races, and time between races.
You can call them at 787.696.1107 for more information or to make a reservation.
You can visit their Facebook page for more information.
From the San Juan area, take Route 26 east to Route 66 east (toward Rio Grande, El Yunque, Luquillo, and Fajardo). Continue on Route 66 to exit 14, which is the Loiza, Canóvanas, and Rio Grande exit. The outlet mall will be on your right after as your approach the intersection with Route 3.
Click on a placename below to view the location on Google Maps ...
PuertoRicoDayTrips.com assumes no responsibility regarding your safety when participating in the activities described in this article. Please use common sense! If your mother or that little voice in your head tells you that you are about to do something stupid … then don't do it!